Maxime Fohounhedo has spent the last four months behind bars but today he is a free man – all thanks to a secret audio recording that captured crucial elements of his conversation with a woman police once thought to be his victim.
Fohounhedo was a driver for the popular ride-sharing service Uber on November 16, 2014 when he picked up a 22-year-old woman to take her home. But the woman, who was allegedly intoxicated, fell asleep in Fohounhedo's car. The woman later accused Fohounhedo of taking her home and raping her, the Chicago Sun-Times reported.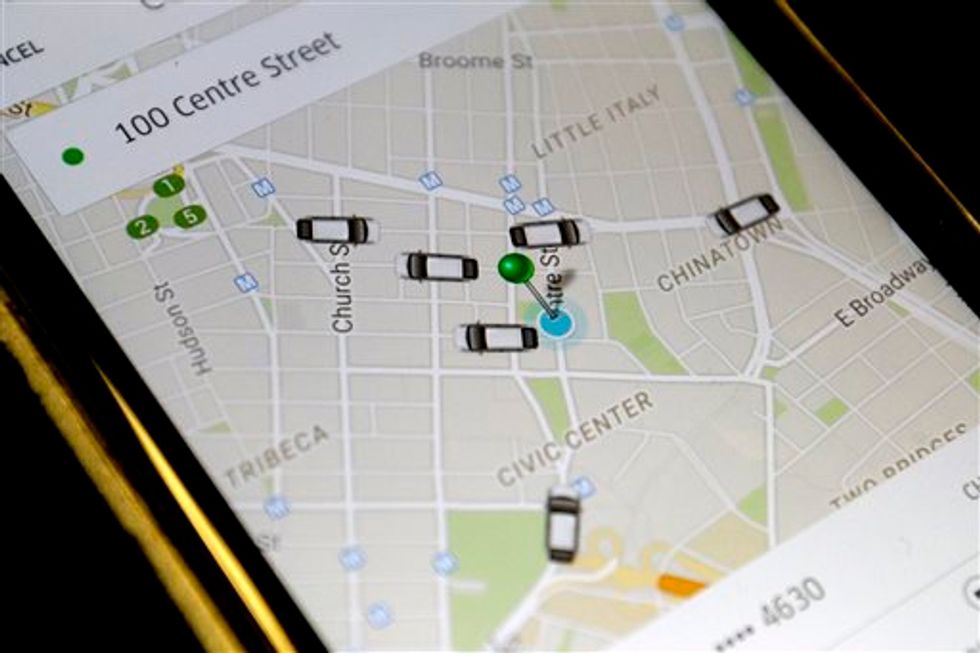 In this Wednesday, March 18, 2015, file photo, the Uber app displays cars available to make a pickup in downtown Manhattan on a smart phone, in New York. A new report by expense management system provider Certify shows that 47 percent of the ground transportation rides by its users in March were through Uber. (AP Photo/Mary Altaffer, File)
Following those allegations, it wasn't long before police pounced. Fohounhedo was arrested and charged in December. He was kept at the Cook County Jail in Chicago on $500,000 bond.
But on Monday that all changed: Prosecutors released Fohounhedo and dismissed him of charges after listening to a secret audio recording of his conversation that night with the passenger. Shady Yassin, Fohoundhedo's attorney, told the Chicago Sun-Times that the woman did, in fact, go home with Fohoundhedo, but added that the woman consented to going with him.
"Whatever happened there did not arise to anything criminal," Yassin said.
Fohounhedo had a "gut feeling" while he was talking to her in the car that he needed to protect himself. So Fohounhedo set up his cellphone to record their conversation before the two began talking, a decision that would later prove invaluable to establish his innocence.
The audio captured the moment the woman got out of the car and told Fohounhedo "thank you so much." Those four words would later help to exonerate Fohounhedo of rape charges since, as Yassin put it, "you are not buddy-buddy with a rapist. " Yassin said the woman also gave Fohounhedo a hug and a kiss, the Chicago Tribune reported.
Yassin said Fohounhedo isn't blaming the ride-hailing service for the accusations but said his client won't be returning to work, either. Yassin further suggested a rush to judgement, saying, "Nobody gave him a chance and everybody immediately thought he was guilty."
Cook County State Attorney's office defended the actions it took, however. Spokeswoman Sally Daly told Reuters the case was "charged in good faith" based on the evidence provided by the accuser as well as other "physical evidence." Daly then added that the attorney's office "thoroughly reviewed and authenticated" the audio recording after which charges against Fohounhedo were dismissed.
While he was exonerated, it was later discovered that Fohounhedo violated Uber's rules by picking up customers while using his wife's Uber account. It was also discovered that Fohounhedo was driving on a temporary Illinois driver license, although it isn't clear whether that is a violation of the company's rules as well.
Watch the local coverage as reported prior to Fohounhedo's release:
(H/T: Chicago Sun-Times)
–
Follow Jon Street (@JonStreet) on Twitter