We've all been there: You're invited to a function, you think you're just going to be a passive observer and then suddenly you thrust into the spotlight.
One guy apparently had that uncomfortable experience with the commander in chief.
President Barack Obama stopped by Hill Air Force Base in Utah last week to talk about the economy.
His speech was closed to the public, but the presidential team sent some invites to the media and industry leaders.
That's where things went wrong.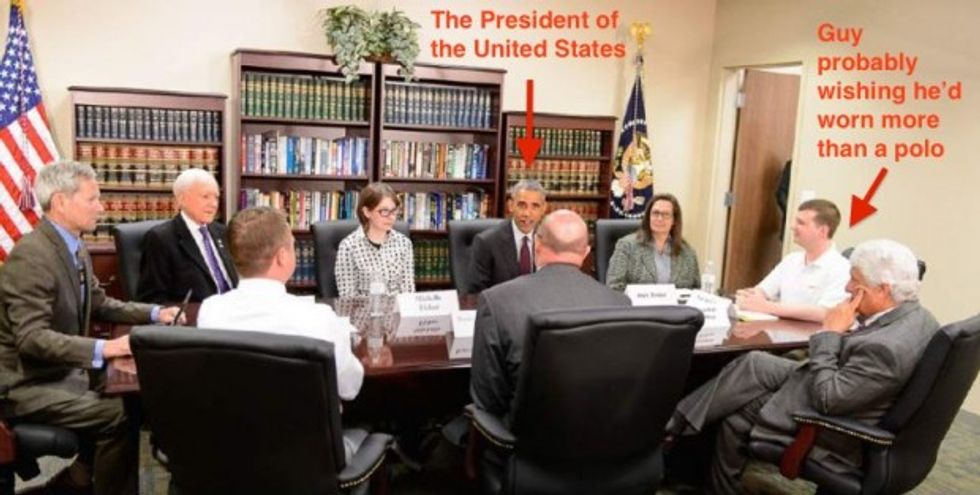 Image via imgur/TheBlaze
The above picture, posted to Reddit on Tuesday, apparently shows an unprepared, mid-level employee trying his best to blend into an intimate roundtable meeting with the president.
The man's company sent him, a leader in the firm's design department, instead of the company CEO because they thought he'd just be sitting in the audience, wrote the Reddit user who posted the picture.
The Reddit user explained:
The Obama administration sent an invitation to his speech in Utah at Hill Air Force Base. We thought they wanted a representative from our company in the audience. Turns out they wanted the representative for a special round table with the president. Due to this mix up we sent my friend (a leader in our CAD dept) instead of the CEO.
The Reddit user went on to explain that the company sent the design department guy because he's an Air Force veteran and they thought it appropriate since Obama would be talking about employing veterans.
The company didn't realize Obama was actually hoping to get input from industry leaders.
"I know the person responsible for the mix up is in some serious trouble," the user wrote. "But I'm sure the CEO is kicking himself over missing this chance to meet the president."
The Air Force Materiel Command media people salvaged the situation as best they could: They cropped the polo-wearing guy out of the picture.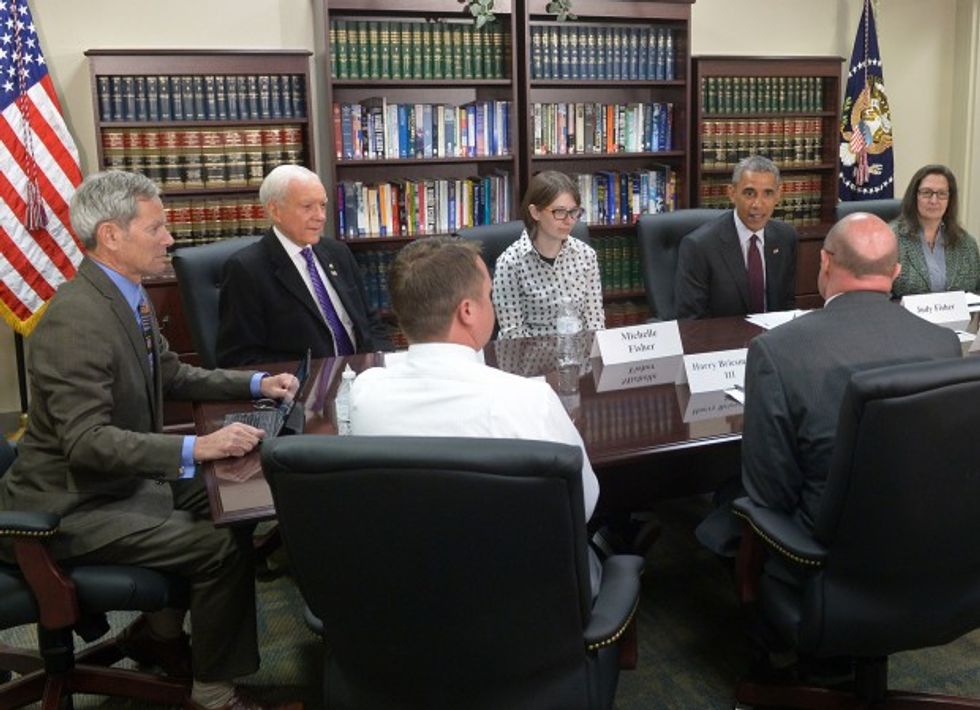 Image via Air Force Materiel Command
—
Follow Zach Noble (@thezachnoble) on Twitter