The Hempels had just about reached one of their favorite destinations.
It's a secluded patch of woods about an hour north of Spokane, Washington. Dubbed "Hempel's Hideaway," Moose and Chris Hempel, along with their two kids, have gone there for the last 10 years anytime they wanted to get away from it all.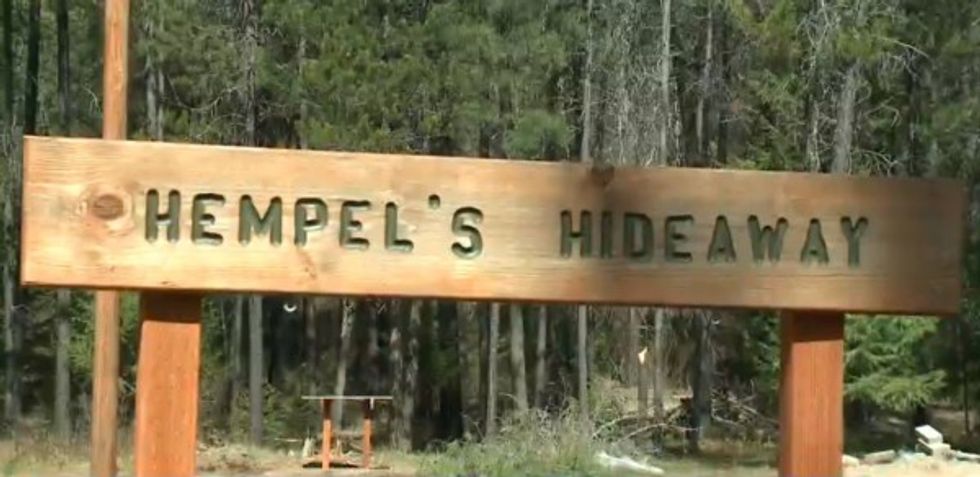 Image source: KREM-TV
"We come up here, we'd sleep overnight a couple times a year and just kind of ... relax, just chill out," Moose Hempel told KREM-TV.
They enjoyed hunting near Loon Lake along with their picnic shelter, a deck and, for the last four years, a small cabin.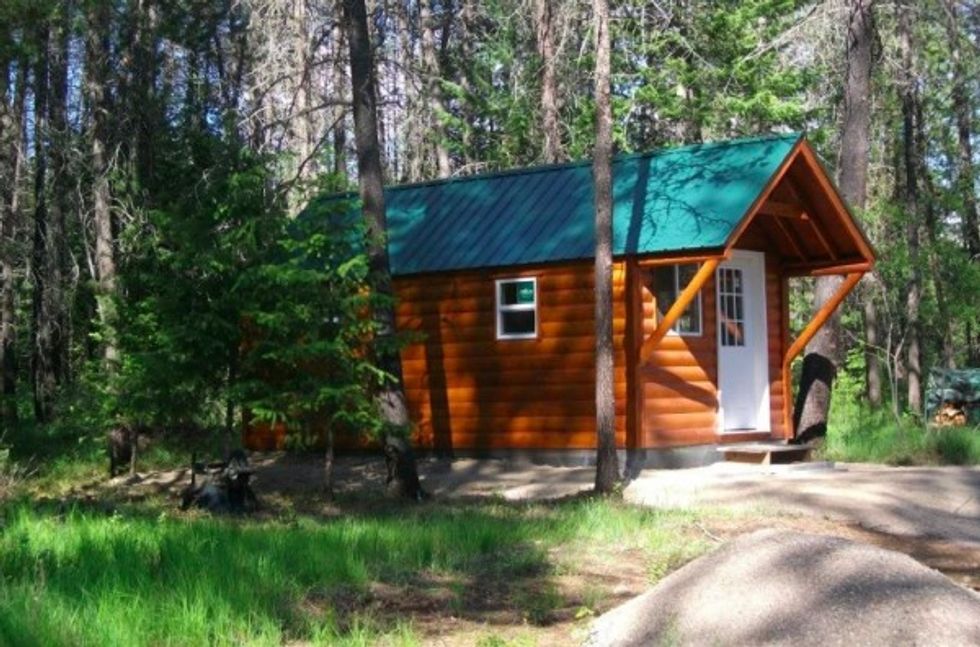 Image source: Facebook
But when they arrived at their property Tuesday, they noticed the front gate lock had been cut.
Worried at first that thieves had entered their cabin and taken camping gear, they discovered a bit more was missing.
In fact, the Hempels' beloved cabin was gone.
Only the concrete blocks the 10-by-20 foot structure had sat on remained.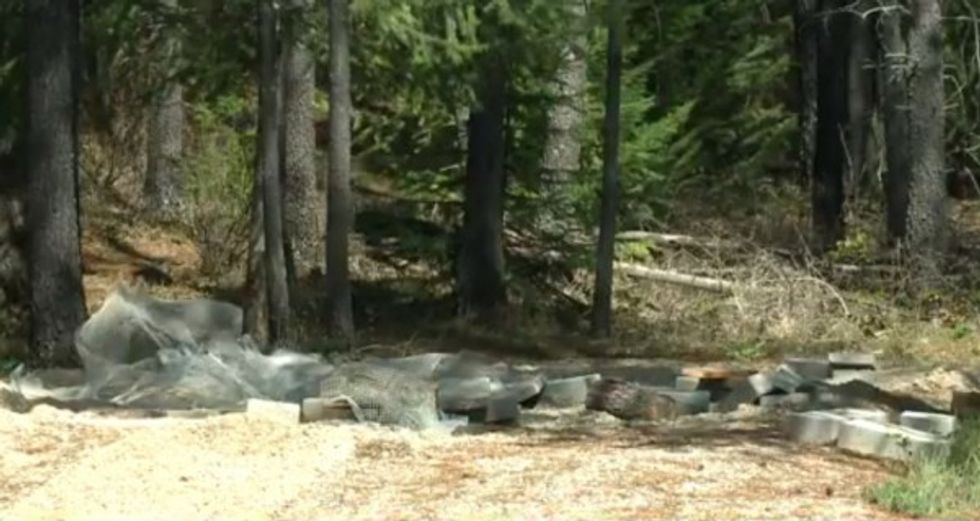 Image source: KREM-TV
"They even took the steps and the paving blocks," Moose Hempel told the station. The deck was gone as well.
"It was really kind of heartbreaking," he said. "I mean, you're shocked."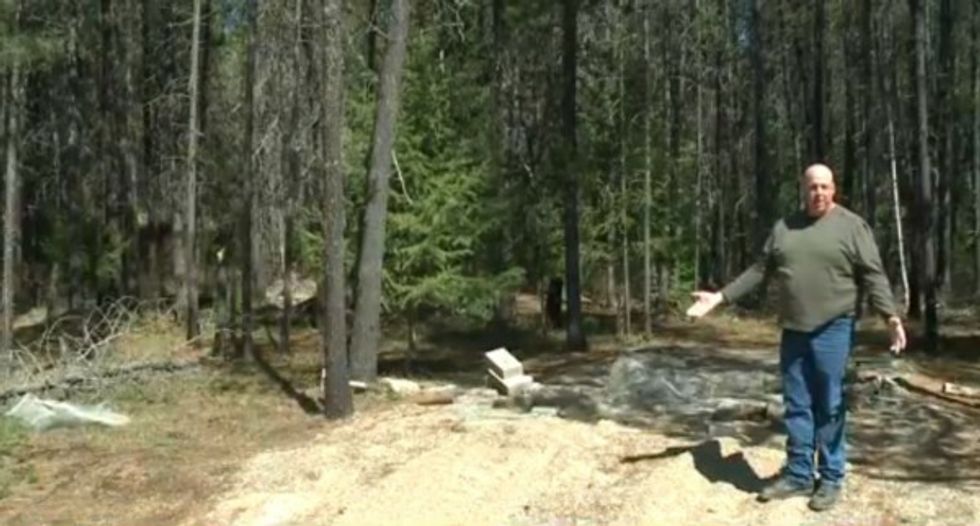 Moose Hempel stands where his cabin used to be. (Image source: KREM-TV)
"It was just an empty hole where it used to sit," Chris Hempel told the Spokesman-Review. She said her family's "just kind of at a loss right now. Like, seriously?"
Since it would be difficult to take the cabin apart, she said it must have been loaded onto a trailer in one piece during the night after their previous visit March 21. They found tire tracks on the property.
While insurance will cover what was inside the cabin — the camping gear, a futon and bunk beds — the cabin itself isn't covered since it didn't use an electrical hookup, she said. There also was no septic system.
"We've never had a bit of trouble," she said. "There's been nobody up there."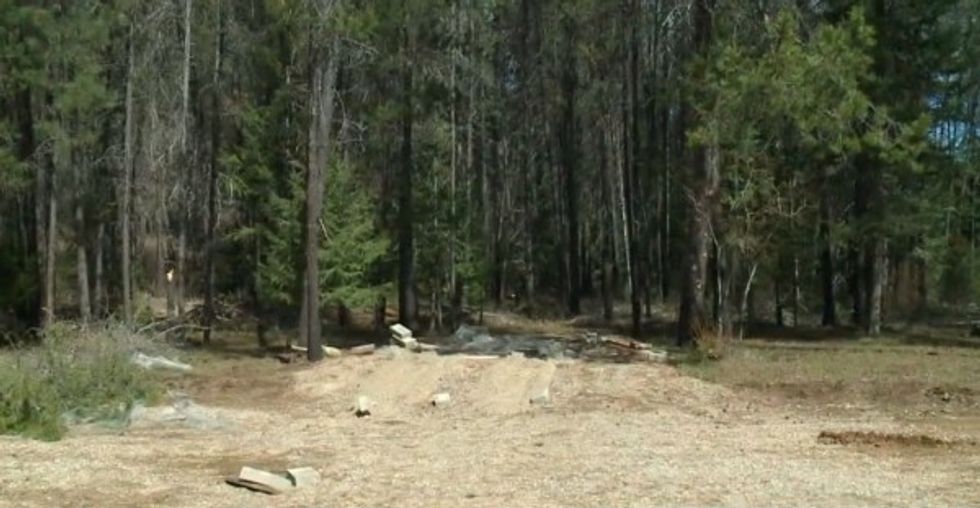 Image source: KREM-TV
The Hempels reported the theft to the Stevens County Sheriff's Office, and a "To Catch a Thief – Spokane" Facebook post asks others to keep their eyes peeled for their cabin and gear.
But even though their cabin is gone, it won't deter the Hempels from venturing to their Hideaway.
"We love this," Moose Hempel told KREM, surveying their campground. "It's awesome."
—
Follow Dave Urbanski (@DaveVUrbanski) on Twitter