(TheBlaze/AP) — After it was named as the No. 1 airport for perimeter breaches in an investigation, San Francisco Airport is laying blame on one of its nearby neighbors: a homeless shelter.
An Associated Press investigation found 268 perimeter breaches since the start of 2004 at airports that together handle three-quarters of U.S. commercial passenger traffic. And that's an undercount, because two airports among the 31 that AP surveyed didn't have data for all years. None of the incidents involved a terrorist plot, according to airport officials.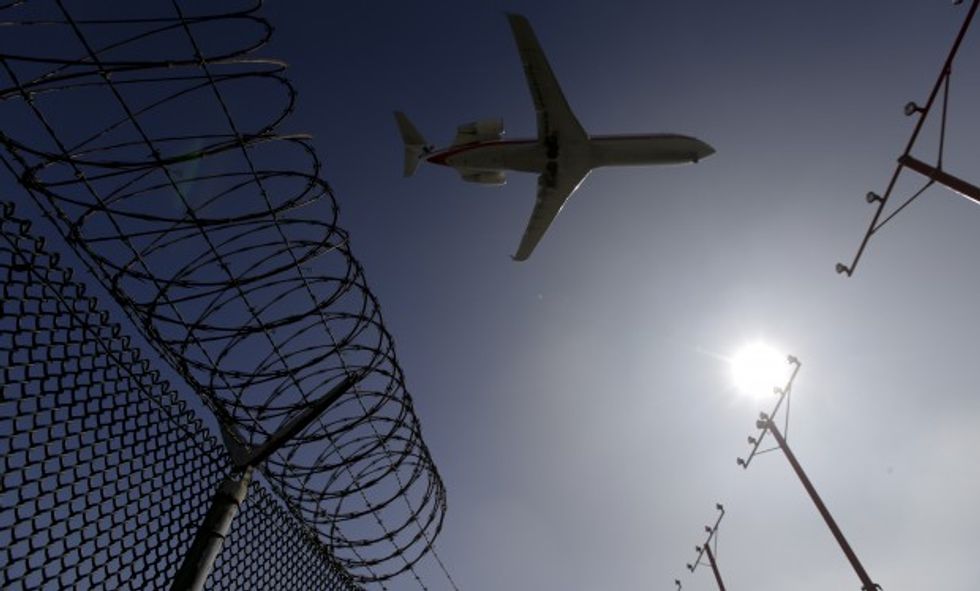 In this Friday, Feb. 6, 2015 photo, a passenger jet flies over the perimeter fence at the Los Angeles International Airport as it lands. (AP/Chris Carlson)
Of those, San Francisco Airport's border was crossed 37 times illegally, per AP's analysis. Doug Yakel, SFO spokesman, said Thursday 16 security breaches of its perimeter were from homeless people.
"We do have a homeless shelter that's adjacent to the airport perimeter," Yakel said. "We've been in extensive outreach with that homeless shelter, and our goal really is to ensure that the occupants of that homeless shelter keep a safe distance away from our airport perimeter."
Bart Charlowe, CEO of the Safe Harbor shelter, though countered Yakel's claims.
"In the 15 years we have operated Safe Harbor, we have had actually only one incident of our residents going into the airport property," he told KPIX-TV. "So it's not true. I actually think somebody misstated the facts, but they do know very well that's not due to us."
Watch his remarks in KPIX report:
"Enough is enough," U.S. Sen. Barbara Boxer, D-Calif., said in response to the overall findings of the AP report, adding that since a breach last April in San Jose she's been asking the Transportation Security Administration and airport officials to "work together and resolve this alarming situation."
"Let's get it done," she said.
The TSA referred questions to individual airports, which are responsible for securing their own perimeters, typically with a mix of private security guards and airport police.
"The goal is always zero" breaches, Doug Yakel, spokesman at San Francisco International Airport, said at a news conference called in response to the AP's findings. He outlined security upgrades the airport has made that include more patrols, better lighting and the installation of cameras that can detect body heat at night.
Philadelphia International and LAX followed San Francisco with 25 and 24 breaches, respectively.
In his regular his "Ask the Mayor" segment on KNX-AM radio, Los Angeles Mayor Eric Garcetti called the findings "disturbing."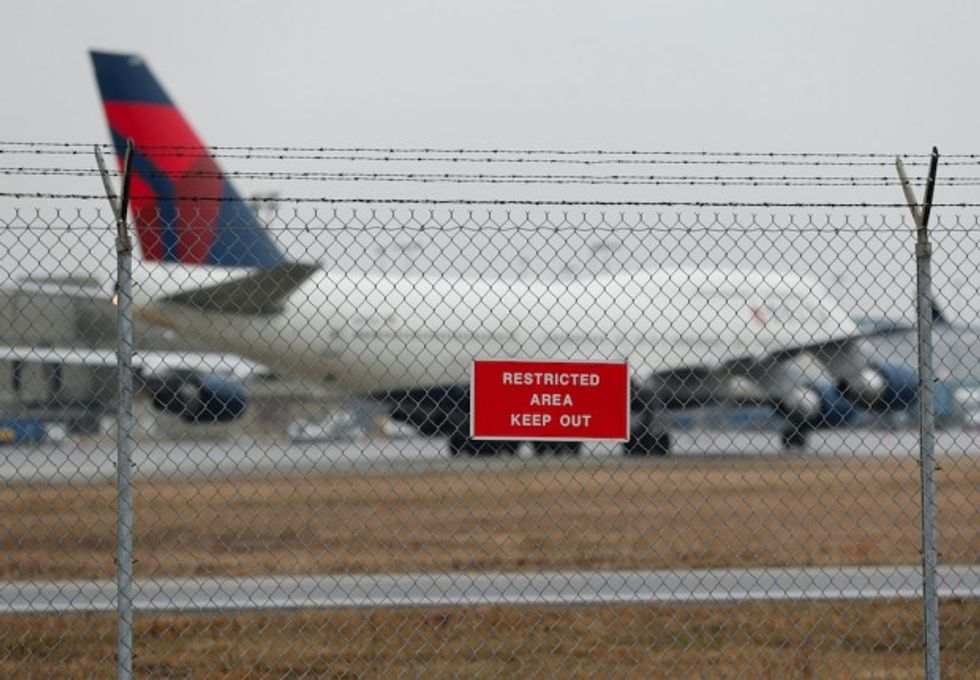 A sign hangs on a perimeter fence near a Delta 747 aircraft taxiing at the Detroit Metropolitan Airport in Romulus, Mich. on Thursday, April 9, 2015. The security fences and perimeter gates at the airport have been breached four times in the previous two years, an Associated Press investigation shows.  (AP /Paul Sancya)
"It doesn't surprise me that we're in the top three given that we're the second-busiest airport in the United States, but that's disturbing to see," he said. "All it takes is one person who can get through and do something."
His office said LAX within the next year will begin testing an electronic perimeter intrusion detection system at a cost of $1.5 million.
The AP's analysis was prompted by last April's breach at Mineta San Jose International Airport. Yahya Abdi, 15, climbed a fence, hoisted himself into a jet's wheel well and survived an almost six-hour flight to Hawaii. He had wanted to go to Africa to see his mother.
Afterward, an airport spokeswoman said breaches are more common than people realize.
Through public records requests, news archive searches and interviews, the AP created the most comprehensive public accounting of perimeter security breaches from January 2004 through January 2015 at the nation's 30 busiest airports, plus San Jose.
Among the findings:
— At least 44 times, intruders made it to runways, taxiways or to the gate area where planes park to refuel or load passengers. In seven cases, including Abdi's, they got onto jets.
— Seven international airports in four states accounted for more than half the breaches, although not all provided data for all years examined. In order they were: San Francisco, Philadelphia, Los Angeles, Las Vegas, San Jose, Miami and Tampa, Florida. The Port Authority of New York & New Jersey, which oversees Kennedy, LaGuardia and Newark airports, did not provide a full accounting of perimeter breaches. Boston's Logan refused to release any information, citing security concerns.
— Few airports revealed how long it took to apprehend suspects, saying this detail could show security vulnerabilities. Available information showed most arrests happened within 10 minutes. Several people went undetected for hours or never were caught.
Until now, few of the incidents had been publicly reported. Most involved intruders who wanted to take a shortcut, were lost, disoriented, drunk or mentally unstable but seemingly harmless. A few had knives, and another was caught with a loaded handgun.
The lapses highlight gaps in airport security in a post-9/11 world where passengers inside terminals face rigorous screening and even unsuccessful plots — such as the would-be shoe bomber — have prompted new procedures.
"This might be the next vulnerable area for terrorists as it becomes harder to get the bomb on the plane through the checkpoint," said airport security expert Jeff Price.
Since the Sept. 11 attacks, hundreds of millions of dollars have been spent to upgrade perimeter fencing, cameras and detection technology. Many airports have dozens of miles of fencing, but not all of that is frequently patrolled or always in view of security cameras.
Airport officials insist perimeters are secure, and that an intruder being caught is proof their systems work. Most declined to outline specific measures, other than to say they have layers that include fences, cameras and patrols. Employees are required to ask for proof of security clearance if a badge is not obvious. Others use high-tech measures such as alarms and fiber optics in fencing.
Authorities said it is neither financially nor physically feasible to keep all intruders out.
Airports are supposed to inform the TSA of lapses, but the federal Government Accountability Office in 2009 found not all incidents were reported. In 2011, a TSA report counted 1,388 perimeter security breaches since 2001 at the 450 airports that TSA regulates. The report isn't publicly available.
The TSA reviews airport security plans, conducts spot checks and can levy penalties. The agency said that from 2010 through 2014, it issued $277,155 in fines for 136 breaches.
While many incidents were benign — two trespassers were skateboarders — other intruders posed greater dangers.
At the nation's busiest airport, Hartsfield-Jackson in Atlanta, three different intruders reached runways — in 2007, 2012 and 2014. One was an aggravated assault suspect who came within 50 feet of a plane that had landed as he was pursued by police.
In Philadelphia, Kenneth Mazik sped onto the runway in March 2012 as a plane carrying 43 people was about to land. Air traffic controllers told 75 aircraft to circle and held 80 on the ground. He faced a rare federal prosecution, spent 16 months in prison and paid a $92,000 fine.
Among the intruders, Christopher McGrath stands out. Eight times between April 2012 and March 2013, police caught McGrath after he got over the fence at LAX on a mission to board a flight. He is now at a medical lockup in Missouri.
Security firms sold $650 million worth of fences, gates, sensors and cameras to airports in the decade following the 9/11 attacks, according to industry analyst John Hernandez, though he projects spending will drop.
Officials insist that no technology solution is foolproof. Outfit cameras with software designed to help identify intruders, and there may not be enough staff to monitor images. Airports have to weigh the potential threat of harm against the hefty cost of building elaborate defenses, experts said.
"It's one of those issues that I think until something really bad happens, not much is going to change," Price said.