MSNBC anchor Andrea Mitchell's interview with Rep. Joaquin Castro (D-Texas) took an awkward turn Friday after she asked him about his "Cuban-American background."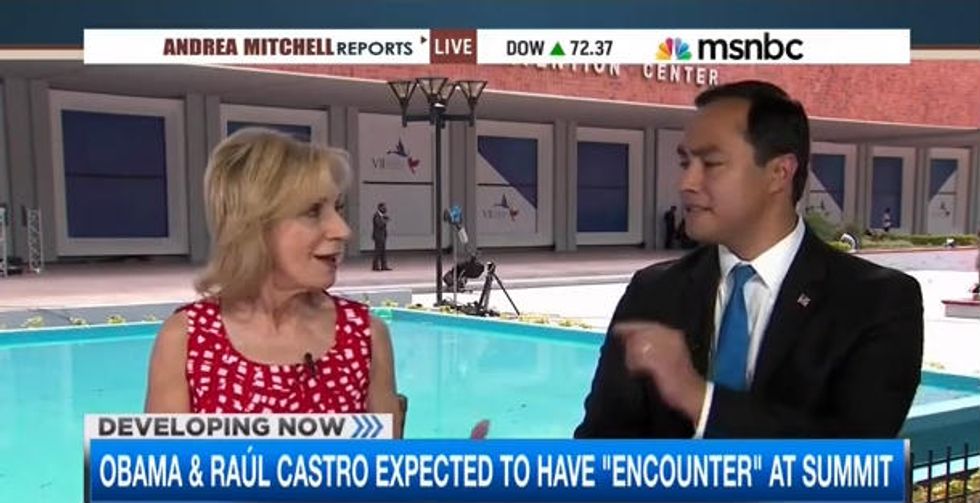 Image source: MSNBC via YouTube
Mitchell was reporting Friday from Panama City, Panama, where 32 heads of state including President Barack Obama are attending the Summit of the Americas.
She began the interview, "I want to talk about the reason we are here, which is the Latin American summit, the first one attended by Cuba because of the change in U.S. policy. You have a Cuban-American background."
That's when Castro quickly corrected her.
"I'm Mexican-American," he said, acknowledging that he does have the "same last name" as the Cuban leader.
"Mexican-American," Mitchell continued, "but you understand the real divisions in the Hispanic and Latino communities about this."
"Oh absolutely," Castro agreed.
Watch the awkward exchange below:
The Democratic congressman told Mitchell that the U.S. is now "well-positioned" to have a "strong relationship" with Cuba and help "democratize" it once former Cuban dictator Fidel Castro, now 88, and his brother Raul, who is 83, are gone, according to Mediaite.
This is the first year that Cuba has attended the Latin American summit, following the Obama administration's announcement last year that it was seeking to restore diplomatic ties.
(H/T: Mediaite)
–
Follow Jon Street (@JonStreet) on Twitter