The State Department said Friday that it's not sure if the Obama administration will impose any consequences on Pakistan after that country released a suspect who is thought to be behind a 2008 bombing in India that killed six Americans and 160 others.
Pakistan on Friday released Zakiur Rehman Lakhvi, who's been described as the "mastermind" behind 2008's attack in Mumbai, India. Lakhvi had been held in Pakistan, but in December he was approved for release on bail, and his actual release took place Friday.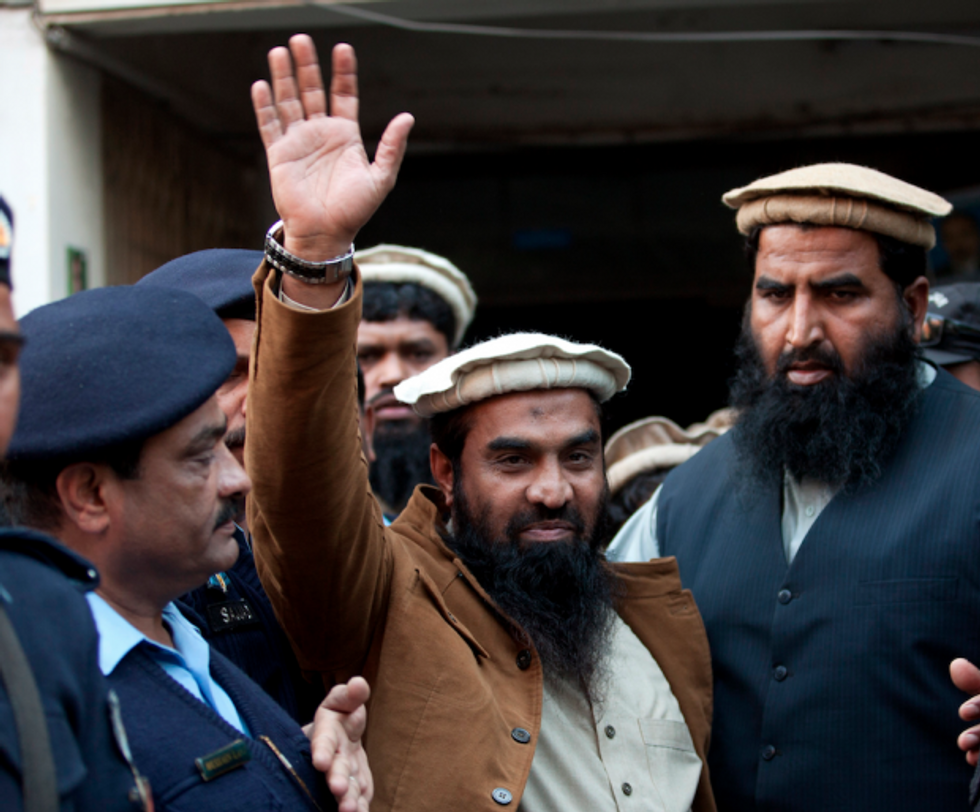 Alleged terrorist mastermind Zakiur Rehman Lakhvi, center, was released by Pakistan on Friday, but the State Department said it is still trying to decide if Pakistan should suffer any consequences for this decision. Image: AP
President Barack Obama has said the U.S. would chase down all those suspected of terrorist attacks, no matter how long it takes. But State Department spokesman Jeff Rathke said the administration still isn't sure how to react to Lakhvi's release, even though it was known for months that he would be let go.
When asked by a reporter if any step would be taken at all, such as limitations on foreign aid to Pakistan or some other action, Rathke said, "That's what we've got to consider."
Rathke was only prepared to deliver a general message that the U.S. does not support Lakhvi's release, and that State is "gravely concerned."
"We are gravely concerned about the release on bail of alleged Mumbai attack mastermind Zakiur Rehman Lakhvi," he said. "We have communicated that concern to senior Pakistani officials over the course of many months, and as recently as yesterday."
"Terrorist attacks are an assault on the collective safety and security of all countries," he added. "Pakistan has pledged its cooperation in brining the perpetrators, financiers and sponsors of the Mumbai terrorist attack to justice, and we urge Pakistan to follow through on that commitment to ensure justice for the 166 innocent people, including six Americans, who lost their lives."
State frequently responds to major events this way. Earlier in the week, after some U.S. citizens and Cuban dissidents were beaten in Panama City, the department tweeted out that it is "deeply concerned" about the incident.