© 2023 Blaze Media LLC. All rights reserved.
Glenn Beck Says 'History Is Repeating Itself' and Unspeakable Evil Is 'Sweeping the Globe Again
"Not to speak is to speak."
Glenn Beck on Tuesday said "history is repeating itself" and unspeakable evil is "sweeping the globe again." He said radical Islamists adopted many of their attitudes from Adolf Hitler and the Nazis, and it is more important than ever for Americans to do what they can to support those being persecuted in the Middle East to prevent another holocaust.
"With freedom comes responsibility," Beck said on his television program. "Not to speak is to speak. Silence in the face of evil is evil. ... God will not hold us guiltless for our actions."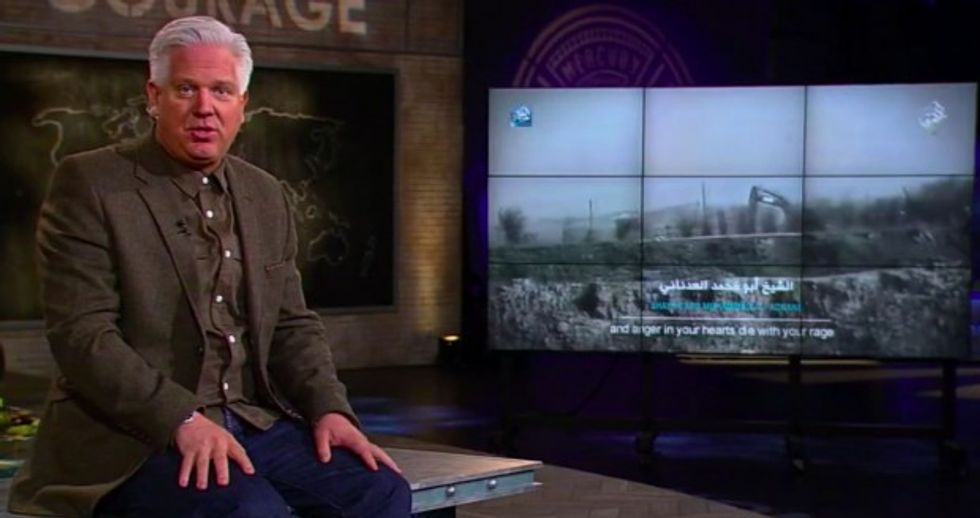 Glenn Beck speaks on his television program April 14, 2015. (Photo: TheBlaze TV)
Beck said it is crucial that Americans first inform themselves on what is happening overseas, and then they can connect with others. He has suggested people reach out to Coptic Christian churches in their area to see if they can be of assistance.
"There is unspeakable evil on the march in the Middle East," Beck said. "Christians and other religious minorities -- heck with that, some people who aren't Muslim enough are being slaughtered! And we've seen the videos! So where are the leaders? Where are the Churchills? Where are the Bonhoeffers?"
Beck said there needs to be a "great awakening" for "our brothers and sisters of all faiths who are being put to death because they see God a different way than monsters do."
[mlbvideo content_id=73448583]
The full episode of The Glenn Beck Program, along with many other live-streaming shows and thousands of hours of on-demand content, is available on just about any digital device. Click here to watch every Glenn Beck episode from the past 30 days for just $1!
Want to leave a tip?
We answer to you. Help keep our content free of advertisers and big tech censorship by leaving a tip today.
more stories
Sign up for the Blaze newsletter
By signing up, you agree to our
Privacy Policy
and
Terms of Use
, and agree to receive content that may sometimes include advertisements. You may opt out at any time.