A prominent Israeli television and print reporter said that "jaws dropped" in the studio Friday following President Barack Obama's apparent defense of a Russian decision last week to lift a ban on selling sophisticated anti-aircraft missiles to Iran, which Israel worries could complicate possible future efforts to strike Iranian nuclear facilities.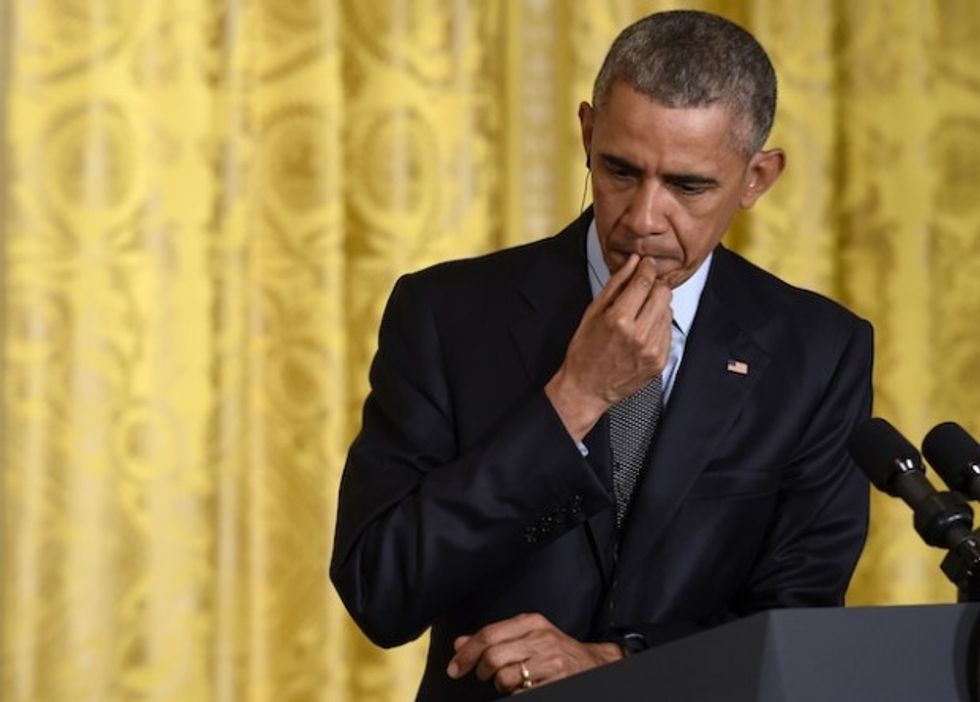 President Barack Obama listened as Italian Prime Minister Matteo Renzi speaks during their news conference in the East Room of the White House in Washington, Friday, April 17, 2015. (AP Photo/Susan Walsh)
The Times of Israel described the discussion of Obama's comments on Israel Channel 10's Friday news broadcast:
"Jaws dropped" around the studio, said the Channel 10 News diplomatic commentator Ben Caspit, as news broke of Obama's declared empathy for Russian President Vladimir Putin's decision to supply Tehran with the S-300 missile defense system.

"Obama is something else," Caspit added. "He's decided to take America out of the wars…"

The station's news anchor, Alon Ben David, chipped in, "He's amazed that the Russians honored an agreement with him [for this long]? That's what is astonishing."

Responded Caspit, "This is the new America. We had better get used to it."
"I will tell you this is actually a sale that was slated to happen in 2009," Obama said at a White House news conference Friday with Italian Prime Minister Matteo Renzi. "When I first met with then-Prime Minister Putin, they actually stopped the sale, paused or suspended the sale at our request. And I'm, frankly, surprised that it held this long, given that they were not prohibited by sanctions from selling these defensive weapons."
Obama added, "When I say I'm not surprised -- given some of the deterioration in the relationship between Russia and the United States, and the fact that their economy is under strain and this was a substantial sale."
News that the Russian missile system would go to Iran sparked alarm in Israel, where Prime Minister Benjamin Netanyahu said Sunday, "Israel views with utmost gravity the supply of S-300 missiles from Russia to Iran, especially at a time when Iran is stepping up its aggression in the region and around the borders of the State of Israel."
While the prime minister did not comment directly on Obama's lack of surprise to the arms deal, he criticized the fact that the framework agreement between Iran, the U.S. and five world powers includes "no reference" to Iran's regional "aggression."
"There is no stipulation that this aggression be halted, whether at the start of the agreement or as a condition for the lifting of sanctions," Netanyahu said.
While he did not explicitly mention the threat of military action, Netanyahu said Israel would "do whatever is necessary to defend the security of the state and its citizens."
The U.S. has insisted that the deal with Iran would address only Iran's nuclear ambitions, not wider issues including its support for Shiite militants in Yemen or its support of terrorist groups including Hezbollah.