Joan Cheever, a food truck owner in San Antonio, Texas, who uses her mobile restaurant to feed the poor, has no plans of backing down in the midst of her very public clash with authorities over a $2,000 fine that she was given for failing to transport food in a permitted vehicle.
Cheever, whose Chow Train doles out nourishment to scores of homeless men and women, told The Church Boys podcast that she has no plans to pay the fine and will show up to court on June 23 to defend herself, her ministry and her belief that the government is violating her religious liberty.
She said that she plans to tell the court that a city ordinance that critics believes puts undo pressure on good samaritans who try to feed the poor by banning the distribution of food not prepared in a commercial kitchen is "unconstitutional and ... needs to be repealed."
And Cheever, who has been feeding the poor for nearly a decade, has a tough message for government officials about her rights to help the less fortunate.
Listen to her describe what happened below (interview starts at the 40:00 mark):
Subscribe to The Church Boys on iTunes
"I would tell them there is nothing in the law or in their hearts that can stop a good samaritan from helping someone who needs help — that we take care of each other as a community, and sometimes people fall down and we have to help them up," she said. "And that's what I'd tell them. They cannot make a good samaritan into a criminal."
If her arguments fail to persuade the city, Cheever said that she's prepared to ask for a jury trial, arguing that her rights were violated.
"I think they just picked on the wrong person," she said after describing what unfolded when she was fined on April 7 for distributing food in Maverick Park, a public park not far from the Alamo.
Unlike other nights when the police show up to thank her for her service, Cheever said that they had a starkly different message to deliver that evening, reportedly telling her that they had their orders and would be giving her a citation.
After they reportedly said that she wasn't licensed, Cheever corrected them and showed the permit for her food trailer, but there was a major problem: she didn't have the registered Chow Train vehicle with her that night.
"That permit … is attached to the food trailer. The food trailer wasn't with us," she said. "We had been moving the food from the food trailer, into catering equipment, into the pick up truck that pulls the trailer."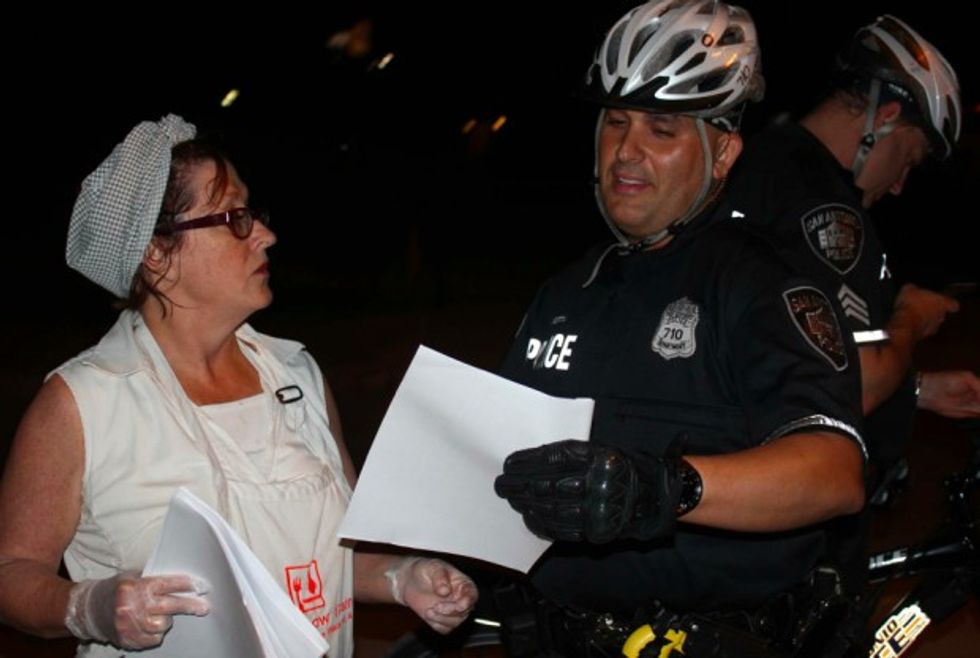 Joan Cheever receives a citation while feeding the poor on April 7 (Image via Facebook/The Chow Train)
Considering that the trailer is 14-feet long and "unwieldy," Cheever said that she reserves its use for crowds of 200 or more, as it is difficult to maneuver the massive vehicle down certain city streets.
This was hardly the first time that she had used the pickup truck that pulls the trailer to bring food to the homeless, but it was the first time that she was fined for doing so.
"I was surprised, because I had been doing it so long," she said. "I said in a very respectful tone … 'Well, you know officer, by you giving me this ticket you have violated two federal laws, a federal judge's order in Dallas [based on a similar case] and the Texas Religious Freedom Restoration Act, so my four laws, I think, trump your one little city ordinance."
As she was talking with police, she said that she was grateful to see volunteers moving quickly to feed the homeless.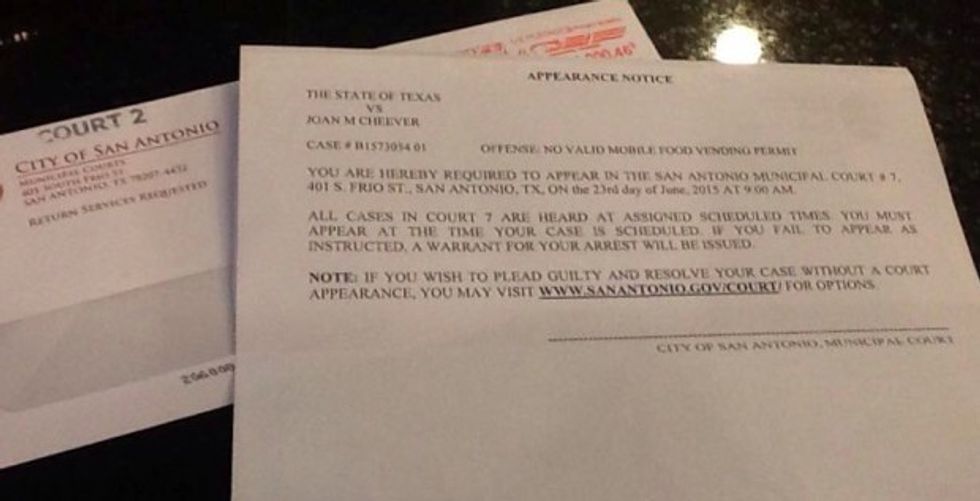 A letter notifying Joan Cheever that she must appear in court (Image via Facebook/The Chow Train)
"One of [the cops] was calling into downtown to figure out exactly what the ticket was supposed to be for," she said. "[I looked over my shoulder] and I saw my volunteers were plating food fast and furiously, and everyone in that line, probably 30 to 40, were getting fed."
The citation aside, Cheever boldly told the cops who cited her that she had no plans to stop.
"I'll be here next week,"  she recalled telling the police.
And when she arrived back at the park again on April 14, she said that she encountered an encouraging sight.
"[There was a] park filled with at least 100 people holding candles and signs, and the news channels were all there, and they were singing 'Amazing Grace' or something," Cheever said. "And I was just looking over my shoulder, and I thought, 'These guys aren't coming back.'"
So, Cheever, who has launched a fundraising campaign to support the Chow Train, plans to fight on, telling The Church Boys podcast that she was brought up to help others.
"I was raised in the Catholic Church," she said. "I take the Bible seriously."