The Randolph County Sheriff's Office in North Carolina is testing two body cameras on its deputies. One of them has already proved what the office says is support of the old adage that "a picture is worth a thousand words."
According to WFMY-TV, two deputies responded to a house call from a concerned family member. One of the deputy's cameras captured a shirtless, tattooed man answering the door. The suspect had something in his hand and the deputy, reaching for his own weapon at the same time, found out quickly that it was knife.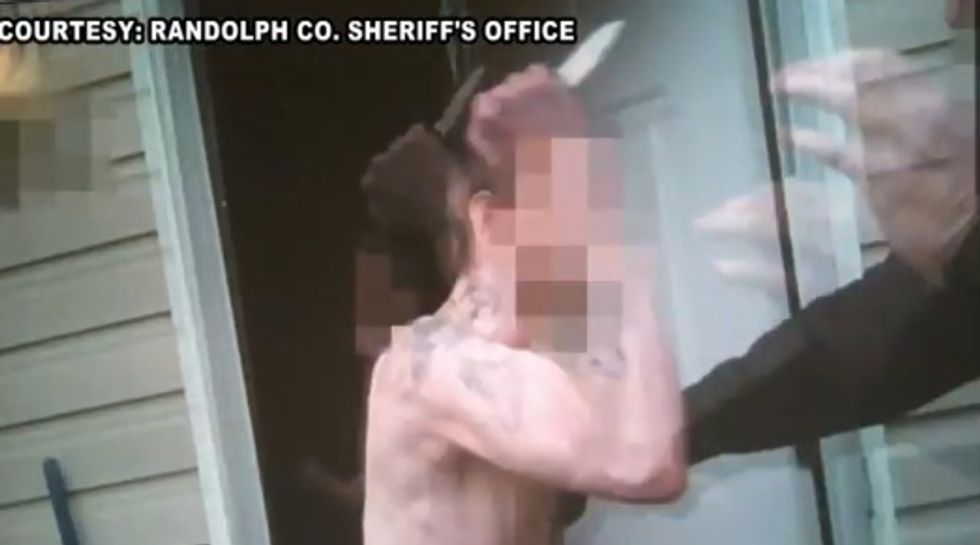 A recent video captured by a deputy's body camera provides support for the sheriff's office testing the technology. (Image source: WFMY-TV)
The knife-wielding suspect lunged at the officer but was brought down by the deputy who used a Taser, twisted his arm and held him around the back of the neck.
"It's beautiful evidence. When you can show a jury or a judge exactly what happened at the scene and what the officer was faced with and why he chose whatever course of action he chose, a picture's worth a thousand words," Sgt. Bernie Maness told WFMY.
Watch the video:
Dash cam, body cam and cellphone videos have been a hot topic lately as they pertain to analyzing an officer's use of force and context around a situation, but they can also be used to identify suspects in criminal investigations as well.
Sr. Patrol Deputy Jamie Brown told the news station that he doesn't "feel safe going to work without them to be honest with you because it makes me do my job better and I really love them."
The news station reported that the officer in the knife attack video was not wounded by the blade thanks to his vest. The suspect, however, was arrested and charged with assault with a deadly weapon.