President Barack Obama jabbed at global warming skeptics while visiting the Everglades National Park on Earth Day, characterizing climate change as a dire threat.
"Climate change can no longer be denied," Obama said. "It can't be edited out. It can't be omitted from the conversation. And action can no longer be delayed. That's why I've committed the United States the world in combatting this threat."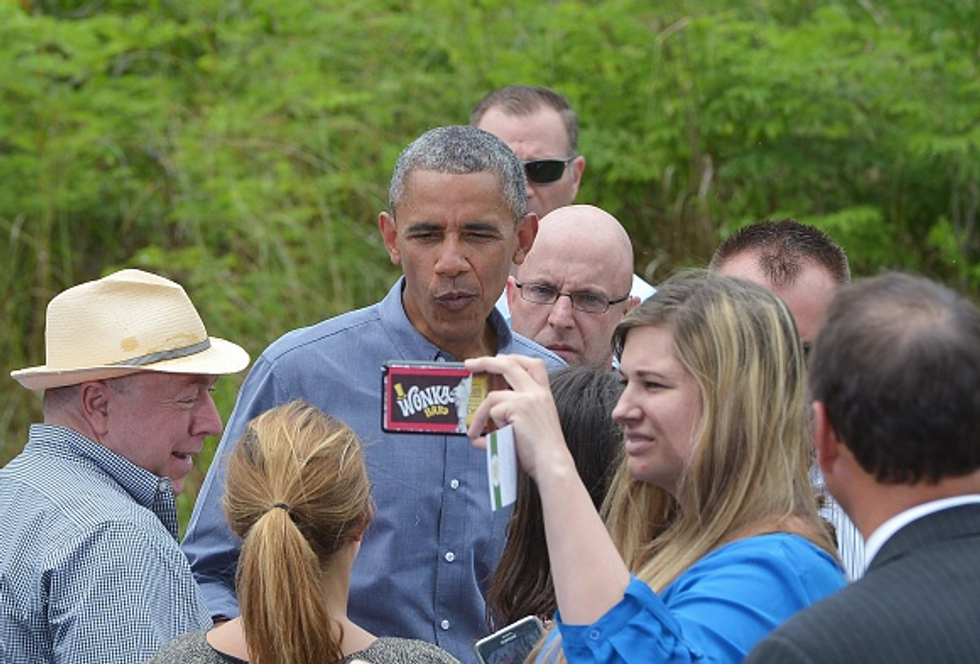 President Barack Obama greets attendees after speaking from the Ernest Coe Visitor Center at the Everglades National Park, Florida, April 22, 2015. (Mandel Ngan/AFP/Getty Images)
Obama's reference to climate change being "omitted from the conversation" appeared to be a knock on Florida Gov. Rick Scott, who was accused of banning the term from official documents. Jonathan Steverson, Florida's Department of Environmental Protection secretary, said reports of a ban were false.
With the natural setting behind him, Obama warned those in South Florida that their drinking water could be at risk without the Everglades.
"Climate change is threatening this treasure," he said. "If we don't act, there may not be an Everglades as we know it."
Perhaps anticipating the jabs, Scott, a Republican, declined an invitation to meet Obama at the Miami airport.
The president further criticized those who are skeptical of climate change for having their "heads in the sand," and said action is required.
"We do not have time to deny the effects of climate change," Obama said. "If we do something now, we can do something about it."
On Monday, the White House denied the suggestion that Obama was undermining his environmental message by jetting hundreds of miles down to Florida to speak about the issue.