Fox News host Shepard Smith was seemingly stunned by State Department spokeswoman Marie Harf's claim that the department meant "discrete" not "discreet" in describing the nature of the aircraft carrier dispatched by the U.S. in response to a suspected arms shipment from Iran to Houthi rebels in Yemen.
"I think we were using 'discrete' in different ways yesterday," Harf said on Wednesday. "Our transcribers had some questions about the transcript."
Smith quickly pounced on the "discrete" vs. "discreet" issue, saying, "Questions about the transcript? We have video from the program yesterday…what?!"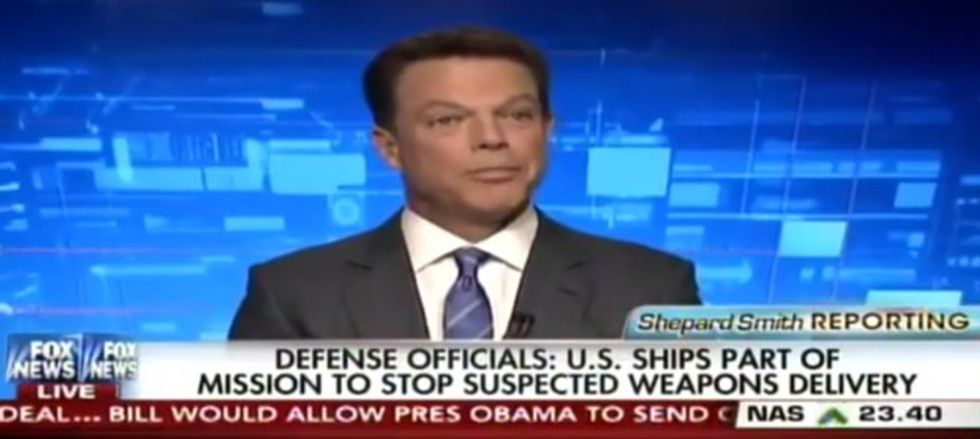 (Screengrab via Fox News)
Fox News correspondent Jennifer Griffin clarified that the State Department is now claiming that they meant "discrete," which means "individually separate and distinct." Further, "discreet" means "intentionally unobtrusive."
"It doesn't make sense when you read that back into the transcript," Griffin said.
Mocking the State Department spokeswoman, Smith joked, "Maybe she was talking about the children playing in di-screet."
The news anchor also expressed confusion over the White House's assertion that they "hope" the tense conflict in Yemen "can de-escalate." White House spokeswoman Jen Psaki also said they always have "contingency plans."
"We have two things confirmed thanks to the spokespeople: It was 'discrete' movement and the strategy is 'hope.' So, I feel much better," Smith said.
But Griffin said one thing is clear: U.S. officials don't want anything to derail the ongoing nuclear negotiations with Iran in Geneva.
---