Senior White House adviser Valerie Jarrett hit Philadelphia Tuesday to defend the city's paid sick leave law, calling efforts by the state legislature to undermine it "dreadful" and a "knee-jerk reaction," the Philadelphia Inquirer reported.
President Barack Obama is pushing a national law to mandate employer offer paid sick leave, and took executive action in January to force federal contractors to offer paid leave.
The Philadelphia law requires employers with a staff of 10 or more employees to provide at least one hour of paid sick time for every 40 hours worked. It takes effect in May.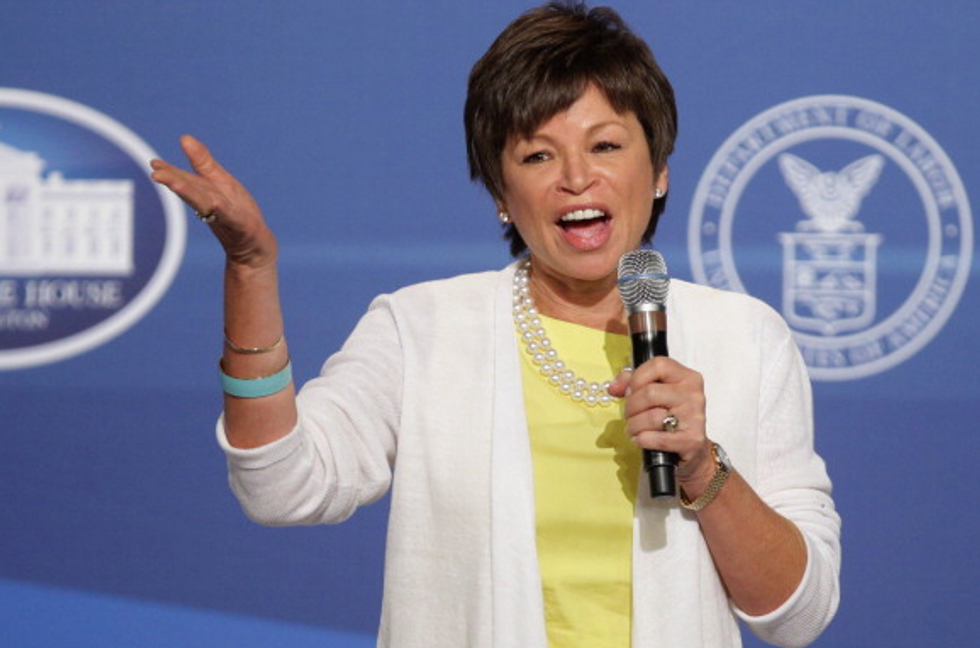 White House Senior Adviser Valerie Jarrett speaks during the White House Summit On Working Families at the Omni Shoreham hotel in Washington, June 23, 2014. (Chip Somodevilla/Getty Images)
Last week, the Republican-controlled Pennsylvania state Senate passed a bill to preempt local governments from having mandatory paid sick leave laws. The Republican-controlled House has not acted on the bill. Gov. Tom Wolf, a Democrat, has expressed opposition to the legislation, but hasn't said he would veto it, the Inquirer reported.
"Really look at the evidence," Jarrett said. "I think, frankly, Pennsylvania should follow Philadelphia's lead."
Jarrett and other administration officials are touring the country to promote the Obama plan in areas that have some type of paid leave law.
"We want the rest of the country to learn what you've learned and discovered, which is how important this issue is to your residents," Jarrett said.
Jarrett was joined by Philadelphia Mayor Michael Nutter, who supports the law now, but previously vetoed it citing concerns about the recession.
The sponsor of the bill in the state legislature said it's bad for business to have a path work of paid leave laws across the state.
"It's more important to think globally on an issue like this, and that's what we're trying to do," said state Sen. John Eichelberger, a Republican.