The Senate voted Thursday to confirm Loretta Lynch as the next attorney general, with the help of 10 Republicans who ignored complaints that Lynch would use her new position to support what many say is President Barack Obama's unconstitutional immigration plan.
The Senate voted 56–43 in favor of Lynch, approving her with help of Sens. Kelly Ayotte (N.H.), Thad Cochran (Miss.), Susan Collins (Maine), Jeff Flake (Ariz.), Lindsey Graham (S.C.), Orrin Hatch (Utah), Ron Johnson (Wis.), Mark Kirk (Ill.), Rob Portman (R-Ohio) and Senate Majority Leader Mitch McConnell (R-Ky.).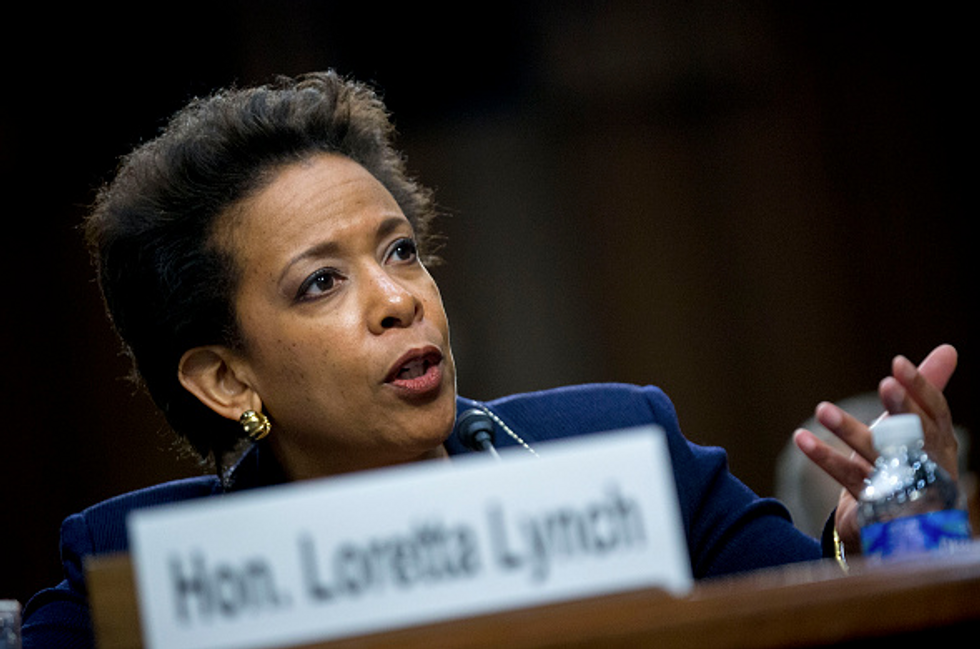 Getty Images
While Sen. Ted Cruz (R-Texas) was in the Senate earlier in the day, he was the only member of the chamber not to vote. Cruz had opposed Lynch.
A spokeswoman for Cruz downplayed the missed vote by saying "if the Senate could get 60 votes for cloture, they could get 51 for final confirmation." Cloture was the vote to end debate earlier in the day, when the Senate voted to end debate on the Lynch nomination by a 66-34 vote.
"Cloture is the only vote that mattered," Cruz spokeswoman Amanda Carpenter tweeted.
Much of the GOP's opposition to Lynch was due to her support for Obama's executive action on immigration. During her confirmation hearing, Lynch said she believes Obama's plan was consistent with the Constitution, drawing outrage from Republicans who have said it's an end-run around Congress.
Sen. Jeff Sessions (R-Ala.), the most vocal Republican against Obama's plan, said the Senate shouldn't confirm Lynch to be the nation's top law enforcement officer given her support for what he has called an illegal move by Obama.
"The Senate must never confirm an individual to such an office as this who will support and advance a scheme that violates our Constitution and eviscerates established law and congressional authority," he said Thursday. "No person who would do that should be confirmed. And we don't need to be apologetic about it, colleagues."
However, it became clear a few weeks ago that Lynch had just enough GOP support to pass the Senate by a simple majority.
The vote followed several months of delay in the Senate, prompting Democrats to argue that Lynch was the most-delayed attorney general nominee ever. Republicans argued that it was Democrats who agreed to start the confirmation process this year, instead of late 2014.
Senate Republicans did sidetrack Lynch for a few weeks, by insisting that she would not move ahead until the Senate cleared a human trafficking bill. That bill finally passed this week
But many Democrats used the delay to argue that Republicans were blocking Lynch because she's a woman. Sen. Pat Leahy (D-Vt.) noted several times that Lynch was being treated differently, and strongly implied that it had to do with her gender.
In March, things got nastier, as Sen. Dick Durbin (D-Ill.) said Republicans were making Lynch "sit in the back of the bus," a clear reference to race. That comment seemed to have support from Senate Minority Leader Harry Reid (D-Nev.), who could be seen nudging a staffer after Durbin made the remark, in what looked like a sign of support.
Durbin's remarks prompted Sen. John McCain (R-Ariz.) to demand an apology, but Durbin refused.
With the fight over, Lynch will replace embattled Attorney General Eric Holder, who is the only AG in history to be found in contempt of Congress. Lynch is the first black woman to ever hold the post in the history of the United States.
In a statement after the vote, Obama said America "will be better off" for the Senate finally confirming Lynch, which will ensure that "we are better positioned to keep our communities safe, keep our nation secure, and ensure that every American experiences justice under the law."