Tim Linton was cruising down the New York State Thruway last week, his dashcam rolling, when he got a call.
"Mr. Jacobs!" he answered excitedly.
But he wasn't able to complete his conversation.
In front of him a Camaro, which had been tailgating a truck in the left lane, unable to pass on the right due to a big rig, decided to pull into the left-hand shoulder and attempt to pass the truck that way.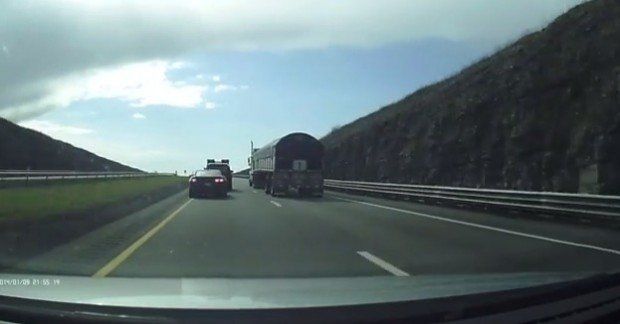 Image source: YouTube
Instead, the Camaro cut back in front of the truck too close, clipping it and sending it right into the path of the semitruck.
"Oh my gosh, look out!" Linton yelled. "Oh boy!"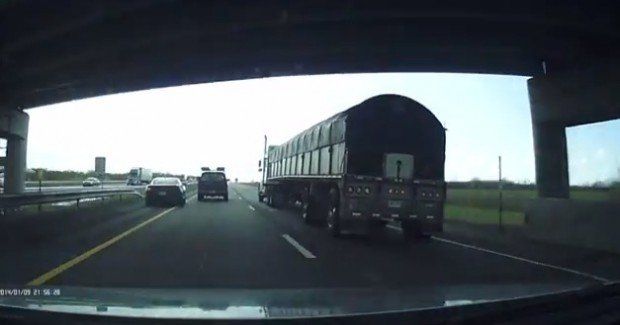 Image source: YouTube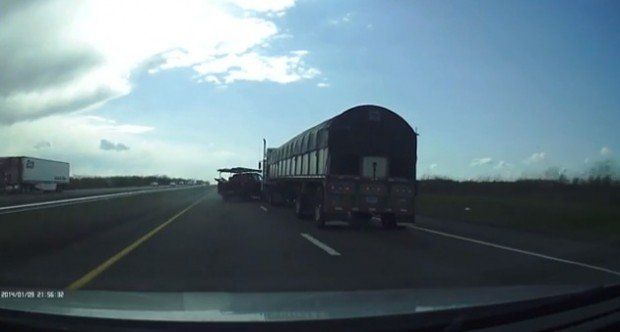 Image source: YouTube
"Big wreck. Oh my gosh, right in front of me," he said as all three cars collided into the right shoulder of the highway.
"And you know what?" Linton told Mr. Jacobs. "I bought a dashcam the other day and I got it all on camera."
Watch the footage (start at 2:12):
Car Scoops reported that Linton said no one was hurt in the incident, but the Camaro driver tried to get away. Linton turned the video over to police.
The Camaro driver isn't the only one to blame though. Earlier in the video, you can see that the truck driver had not let the Camaro driver over in the first place, speeding up when he tried to get in front of him. The truck driver then forced the Camaro driver to stick behind as he kept a relatively level speed with the semitruck. Eventually fed up, that's when the Camaro decided to try the unsuccessful shoulder pass.
(H/T: Reddit)