Storm chasers Lawrence McEwen and Spencer Basoco were driving down the road in Dubin, Texas, filming a menacing sky through an already hail-cracked windshield when they caught on camera how much more damaging those ice balls could be.
"Can we find a place to pull under? Because the next one is not going to last," the passenger said, barely able to see through the broken glass.
"Oh my gosh, this is the biggest hail I've ever seen," he added just as another stone hit the car.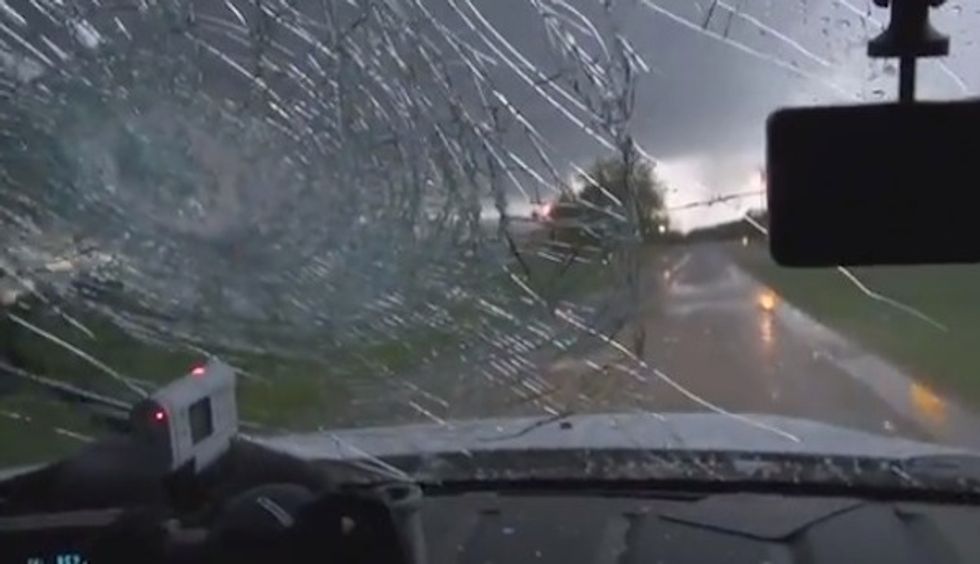 Image source: YouTube
"Oh, I am covered in glass," the storm chaser said, later noting that it was 5 to 6-inch-size hail. "It's bigger than softballs and grapefruits. I've never seen this big of hail in my life."
Just try not to flinch when the hailstones smash the windshield:
Here's a look at some of the aftermath in Dubin:
According to WFAA-TV, the storms that rolled through North Texas Sunday night brought down 19 reported tornadoes, though not all of them have been confirmed.
NBC News reported that one confirmed tornado that moved through Rio Vista, Texas, was a mile wide.
Though the storm threat was lower Monday, WFAA reported that more storms were expected.
KXAS-TV reported that while the damage was heavy, knocking out power and destroying roads in some areas, there have not been reports of any injuries yet.
Rio Vista, TX is in bad shape. I've already seen a diesel truck on its side and gas station roof torn off. pic.twitter.com/Noft6uyBf1

— Stephen Agnew (@Stephen_Agnew) April 27, 2015
Well into Monday morning, the Johnson County Emergency Service has been advising people in many areas to not go out on the roads.
(H/T: KPRC-TV)