It's only the size of a grain of sugar, but even in that small space, Israeli scientists have engraved the entire Hebrew Bible.
Check out how small it is when balanced on someone's finger.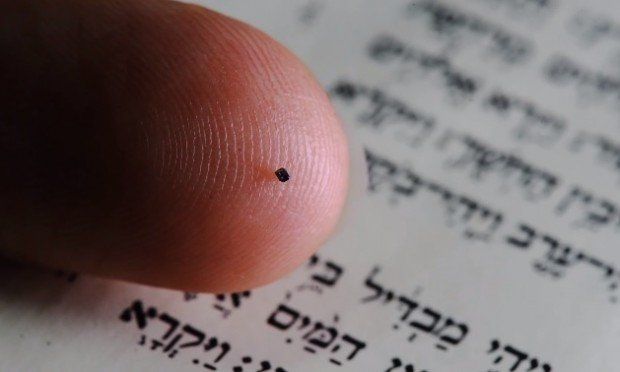 Image source: Technion
"We wanted to demonstrate how the entire book could be reduced to an almost inconceivable size," said Dr. Ohad Zohar of the Technion-Israel Institute of Technology's Russell Berrie Nanotechnology Institute which created the "Nano Bible."
Here's how they accomplished the feat: The scientists took an ultra-flat silicon wafer and coated it with a thin layer of gold. That layer alone is thinner than 100 atoms.
They then engraved the 1.2 million letters of the Hebrew Bible by sketching off the gold atoms from the top layer.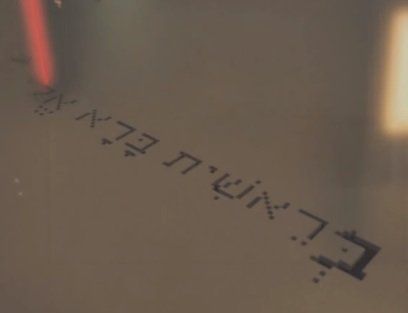 Israel's Technion used an ion beam to create the letters of the Nano Bible. The Hebrew letters in this photo are from the beginning of Genesis: "In the beginning, God created." (Image source: Technion)
The Technion scientists compared their ion beam to ancient engravers' chisels used to carve out texts onto stones.
To grasp the small scale of their workspace, one scientist explained, "The ratio of a nanometer to a meter is the same as the ratio of [a] … marble to our entire planet."
Dr. Adolfo Roitman of the Israel Museum in Jerusalem compared the Nano Bible to historical efforts from ancient times to the Middle Ages to create miniaturized versions of scriptures.
"During the Middle Ages across Europe, miniaturized versions of the Christian scriptures were published. There is also a Jewish tradition of micrographic handwriting," Roitman said. "Ancient communities wrote on eggshells and grains of rice to symbolize good fortune."
The Nano Bible is currently on display at the Shrine of the Book, part of the Israel Museum in Jerusalem, which also exhibits the Dead Sea Scrolls.