Glenn Beck on Wednesday said Democratic presidential candidate Hillary Clinton believes religious liberty "doesn't exist in America anymore if it goes against the collective knowledge."
"[She] has gone further than any politician I've ever heard in my lifetime," Beck said on his radio program. "And as usual, there is so little coverage of it except here. I'm actually not sure how many people know of it. And if the American people know about it, I don't even know if they care anymore."
Beck said Hillary Clinton's statement at the 2015 Women in the World Summit that "deep-seated cultural codes, religious beliefs and structural biases have to be changed" so that women can have access to reproductive health care is a "phenomenal statement that needs to be paid attention to by all Americans."
"The principle that was blatantly attacked is, in fact, the bedrock principle on which this country was founded," Beck said heatedly. "You cannot violate my conscience. If I happen to believe something deeply, religiously, that's my business. I'm not in your business; don't be in my business."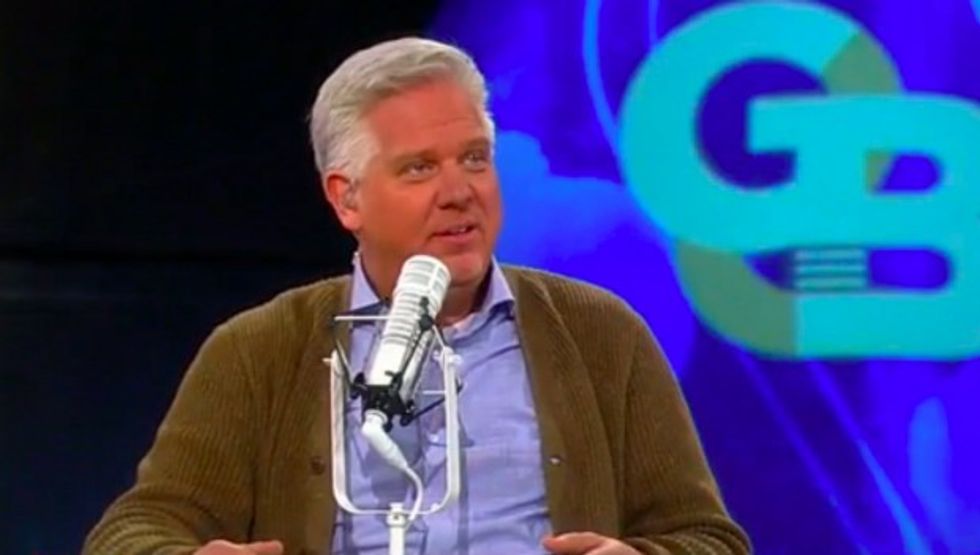 Glenn Beck speaks on his radio program April 29, 2015. (Photo: TheBlaze TV)
"What Hillary is saying here is, it's no longer acceptable to believe something that the government doesn't believe," Beck continued. "If the government says abortion is fine, you can no longer believe that it's akin to murder. ... So your religious belief has to change."
Beck said Clinton's statement was "un-American" and "anti-Christian," but "nobody is paying attention to it."
"I think it's the most outrageous line ever spoken by an American politician," he continued. "That includes, 'We're five days away from fundamentally transforming the United States of America.' That was one amazing statement that came from Barack Obama in 2008."
Beck said he takes people at their word, and when Hillary Clinton says religious beliefs have to change, he believes her.
"Five years ago, that statement would have been enough to topple any presidential hopes for any candidate," he asserted. "The campaign would be in ruins. They would be dropping out of the race by now, especially if that candidate had said just a few short years earlier, 'I believe that marriage is not just a bond, but a sacred bond between a man and a woman.'
Clinton has since reversed her position on gay marriage, and Beck said that "now that she has reversed [her beliefs], well, you've got to give up yours too."
The one thing Clinton didn't outline in her speech, Beck said, is the consequences for those whose "deep-seated" beliefs do not change.
"Will we be vilified? Well, that's already being done," Beck said. "Will we be fired from our jobs? That's already happening. How about fined? No, they just made the baker pay for the fine of, what, $135,000? So what's left? Re-education? They're kind of doing that with Common Core! How about we ban certain religions? We ban the Bible? How about we imprison people? We're pretty much running out of options here, gang!"
"I, for one, do not want to find out [the consequences]," Beck remarked. "When a progressive says, 'You're going to have to change your fundamental core religious beliefs,' take them at their word. The left has shown you exactly who they are."
[mlbvideo content_id=94065283]
The full episode of The Glenn Beck Program, along with many other live-streaming shows and thousands of hours of on-demand content, is available on just about any digital device. Click here to watch every Glenn Beck episode from the past 30 days for just $1!