An Islamic State militant posted messages claiming that the shooters at the Muhammad cartoon event in Texas were "soldiers" of the terror group, according to a research organization that tracks jihadi activities.
The SITE Intelligence Group reported Monday that a fighter who goes by the name Abu Hussain Al-Britani posted tweets Sunday night saying, "2 of our brothers just opened fire at the Prophet Muhammad (s.a.w.) art exhibition in texas."
"They Thought They Was Safe In Texas From The Soldiers of The Islamic State," he wrote, according to SITE.
The Twitter account was noted as suspended on Monday.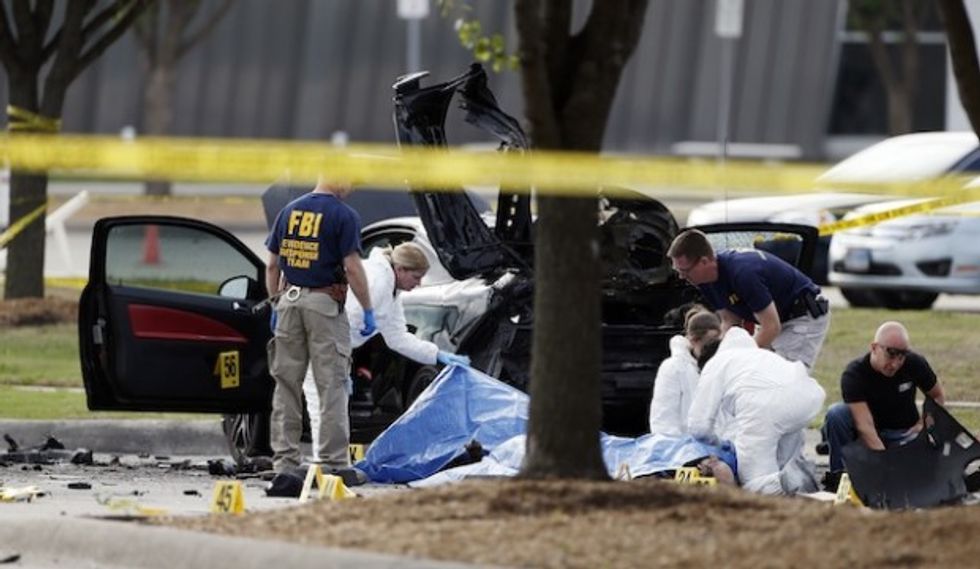 FBI crime scene investigators document the area around two deceased gunmen and their vehicle outside the Curtis Culwell Center in Garland, Texas, Monday, May 4, 2015. Police shot and killed the men after they opened fire on a security officer outside the suburban Dallas venue, which was hosting provocative contest for Prophet Muhammad cartoons Sunday night. (AP Photo/Brandon Wade)
SITE identified the militant's real name as British Islamic State fighter Junaid Hussain.
Al-Britani retweeted an apparent claim of responsibility for the Garland, Tx. attack issued by the Twitter account "Shariah is Light" asking Allah to accept the shooters as holy warriors.
After retweeting the claim of responsibility, Al-Britani wished the attackers the reward of "paradise" and attaining the status of "martyrs in Texas," SITE reported.
He also reportedly wrote to the attackers: "May Allah swt reward you and give you Jannah [Paradise] !"
"O Kuffar know that death is better than living humiliated! Allahu Akbar !!!" he wrote in a message addressed to "infidels," adding the shooters were "quick to defend the honor of the Prophet Muhammad."
According to Britain's Telegraph, the jihadist behind the tweets is believed to have traveled to Islamic State territory in June of last year. The paper reported that he grew up in Birmingham in the UK.
The Telegraph noted that Islamic State supporters were calling for an attack on the Texas event as early as last month.
"The brothers from the Charlie hebdo attack did their part. It's time for brothers in the #US to do their part," an American jihadist known as "Mujahid Miski" tweeted on April 23, SITE reported.
(H/T: The Telegraph)