Let your inner Star Wars Geek out today! pic.twitter.com/5spVURUzb2

— Because Geek (@BecauseGeek) May 4, 2015
The unofficial holiday known as "Star Wars Day" reportedly started in 1979 when newly elected British Prime Minister Margaret Thatcher appeared in a newspaper ad with costumed characters from the 1977. The photo was accompanied by the declaration, "May the Fourth Be with You, Maggie. Congratulations."
May the 4th be with you! Let's match the 1979 Conservative landslide election this week! #StarWarsDay #Conservative pic.twitter.com/344Y11QtBL

— Alwyn Ladell (@Ridinghunter) May 4, 2015
Over the past 35 years, the day has grown from a simple joke among Star Wars fans to a full-fledged pop culture phenomenon. Before 7 a.m. ET, the hash tag #MayThe4thBeWithYou was firmly atop Twitter's American chart: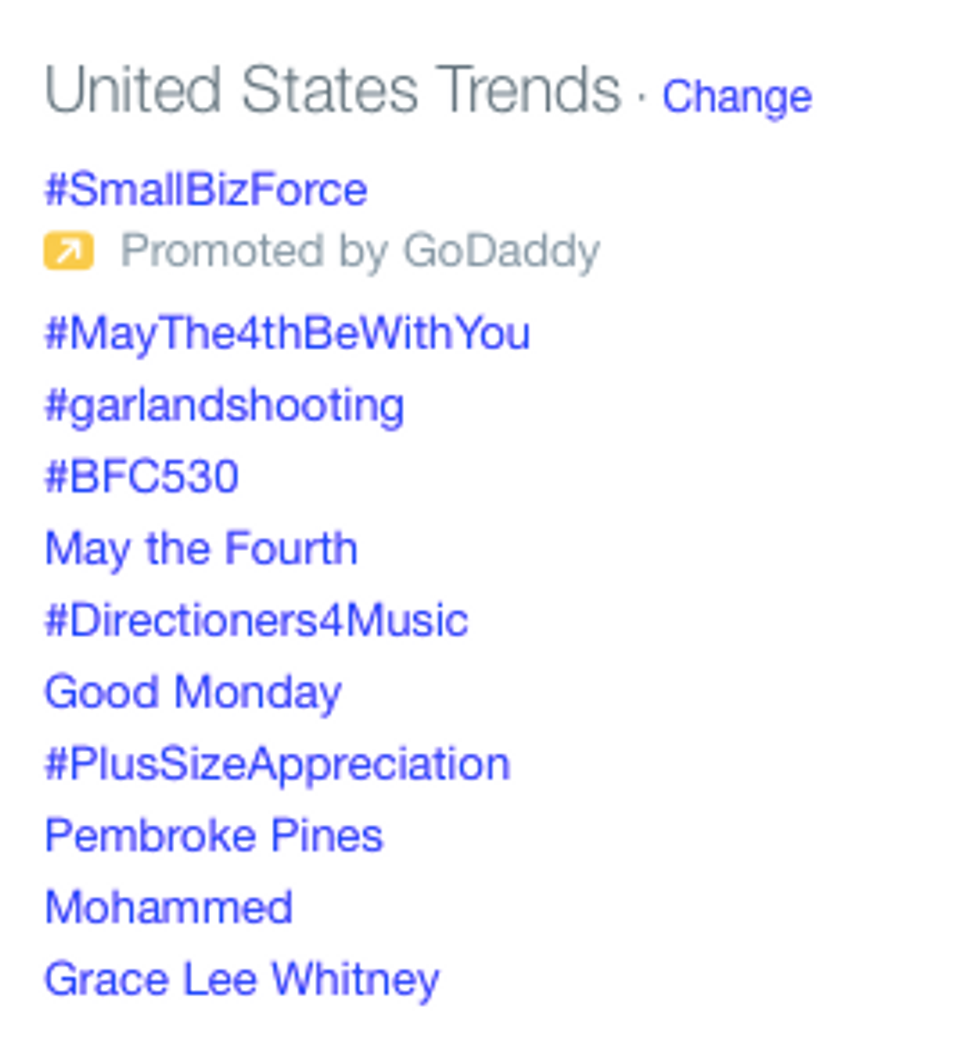 Image source: Twitter
When you use the hash tag #StarWarsDay, a storm trooper emoji is automatically inserted in your post (click on the tweet and you'll see what we mean):
DID YOU KNOW THAT WHEN YOU TWEET #StarWarsDay A STORMTROOPER EMOJI MAGICALLY APPEARS THIS IS AWESOME

— Katie Zak (@KatieZakY108) May 4, 2015
May 4 will be filled with memes celebrating the George Lucas film series, parties and even sales specifically focused on the Star Wars audience.
Verizon cable TV subscribers woke up to find this offer in their email inboxes: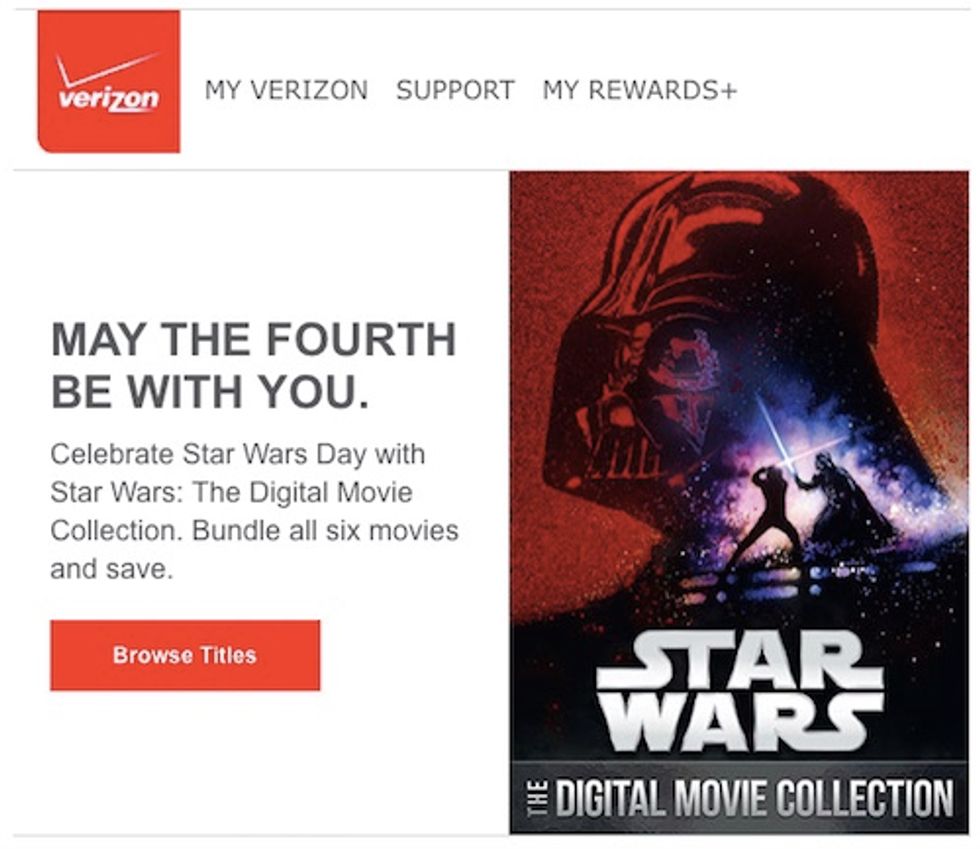 Image source: Verizon
Vanity Fair magazine was ready for the day. The June issue's cover features cast members from the new and old versions of the series:
#MayThe4thBeWithYou and with our new cover stars http://t.co/lL13sWRe1t pic.twitter.com/T0hAiWBVIw

— VANITY FAIR (@VanityFair) May 4, 2015
At least one beer company found a way to capitalize on the festivities, posting this clever Vine video on its Twitter feed:
Drink responsibly, use the force responsibly. #MayThe4thBeWithYou https://t.co/CRm6GcFn9h

— Carlsberg UK (@CarlsbergUK) May 4, 2015
Want to feed your favorite Star Wars fan? There is even a cook book with a recipe for "Wookie Cookies":
The Star Wars Cook Book: Wookiee Cookies and Other Galactic Recipes http://t.co/r6X8qcC5CJ pic.twitter.com/nJZNJHbp1S

— fine product (@irabienponcio) May 1, 2015
A wide variety of retailers have jumped on the bandwagon, too. Tech Times scoured the web for the best sales related to Star Wars Day and posted them all in one place.
Hallmark Cards has a line of Star Wars-themed e-card, but the light saber shaped pizza cutter caught our eye: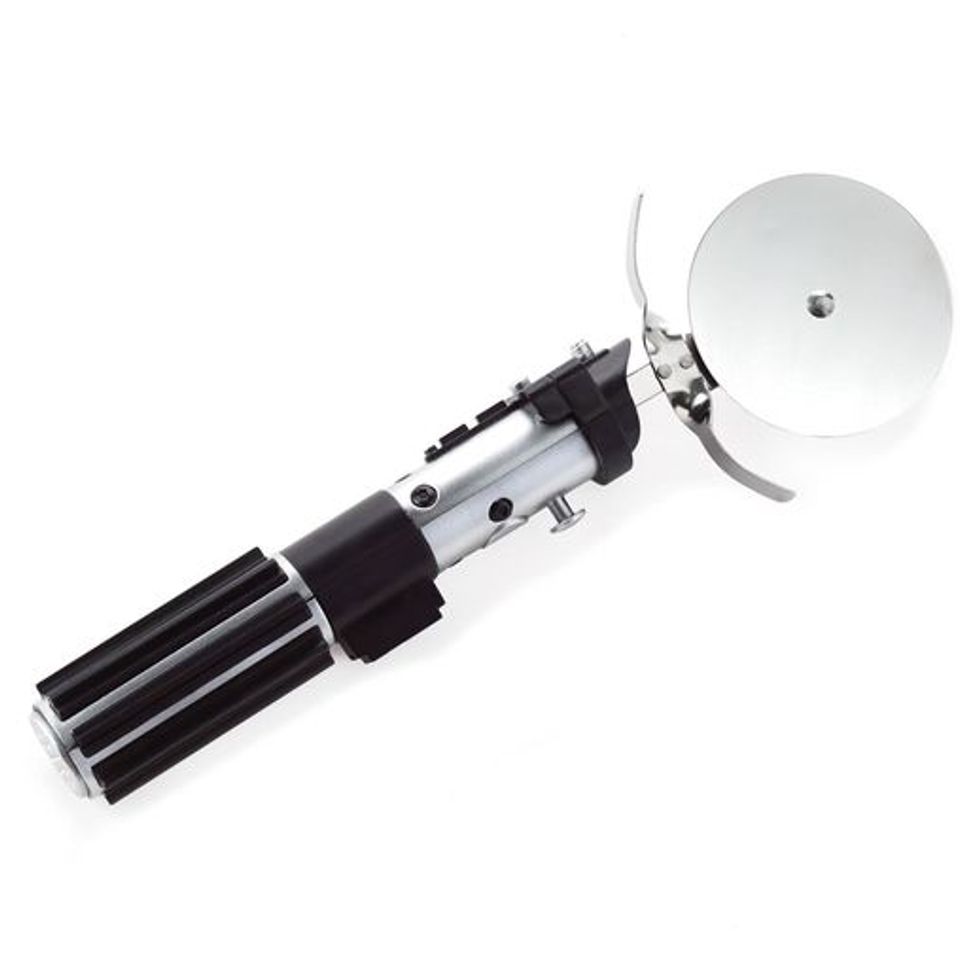 Image source: Hallmark.com
Spencer's Gifts has a whole host of Star Wars products on sale, including this storm trooper costume: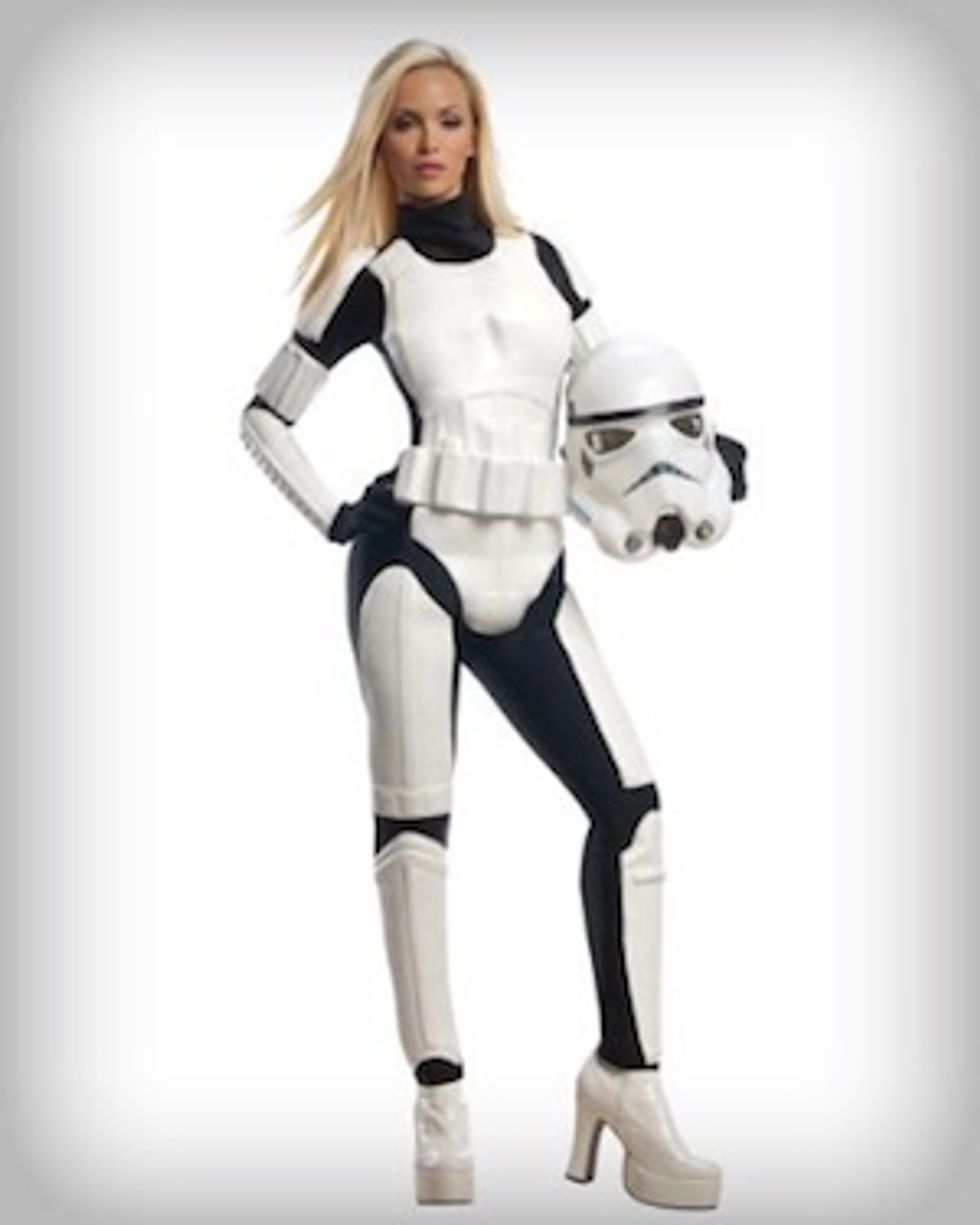 Image source: Spencer's Gifts
If you are throwing a Star Wars-themed event, Party City has plates, cups, tablecloths, and napkins adorned with your favorite characters - and they're all 50% off today"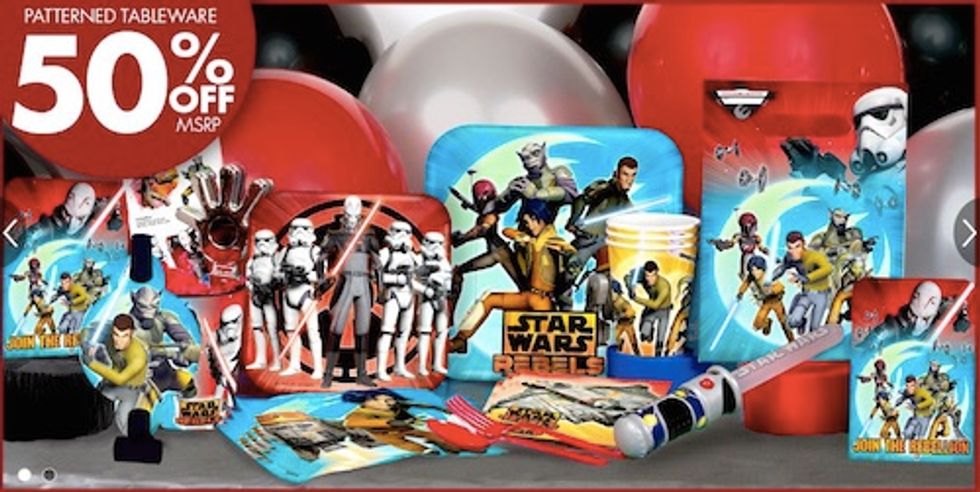 Image source: Party City
Fans of M&Ms candy can also find a plethora of candy and dispensers for this special day. And you can choose between candy from the "dark side" or the "light side" of the Force:

Image source: mymms.com
Major League Baseball's Washington Nationals will celebrate Star Wars on June 19, but their t-shirts are on sale today: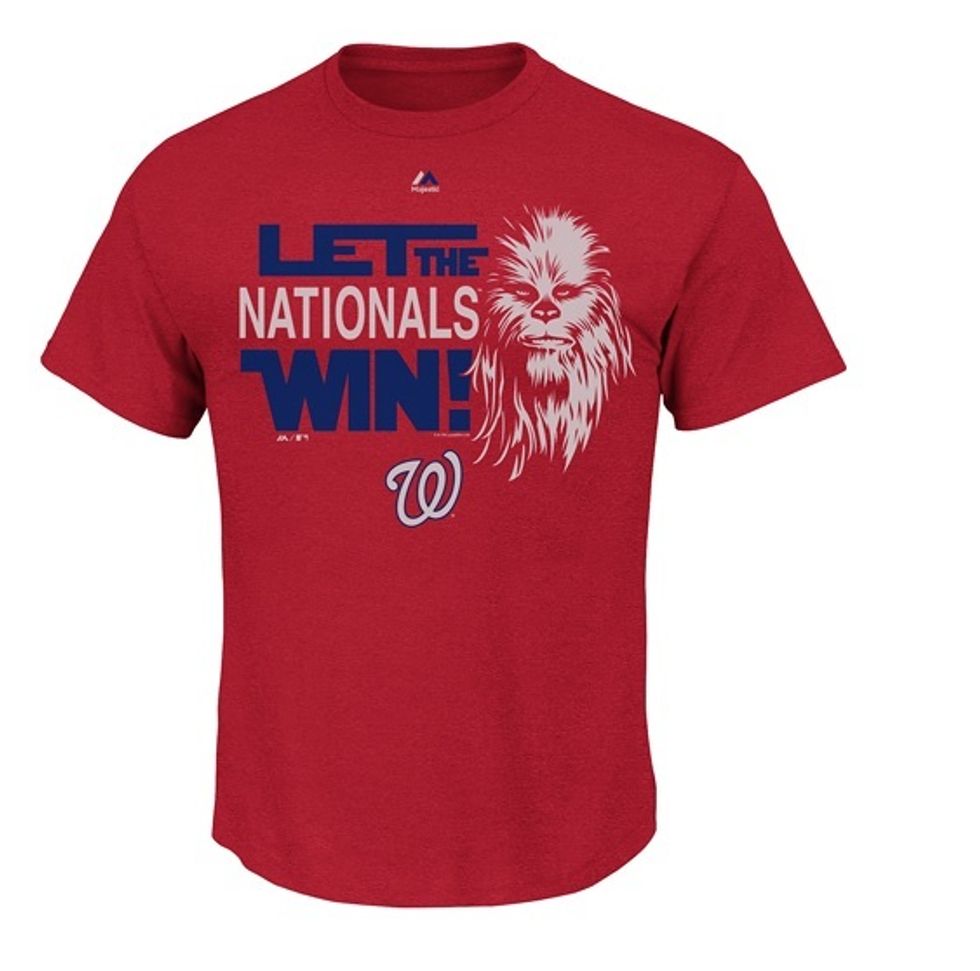 Image source: mlb.com
Finally, some Star Wars Day Twitter posts need no explanation, just appreciation:
This little guy gets it #MayThe4thBeWithYou

Image source: Twitter

--

Follow Mike Opelka (@Stuntbrain) on Twitter.