One of the suspected shooters in the attack on a draw Muhammad contest in Garland, Texas, Sunday was in contact with an Islamic State recruiter who seemingly urged him to take action against organizers of the controversial event, an ABC News investigation found.
A recruiter for the terror group known as "Miski" online — federal law-enforcement officials said his real name is Muhammad Hassan, an American who fled Minneapolis in 2009 to work with terror groups in Africa — made contact with Elton Simpson months before Sunday's attack, according to ABC News.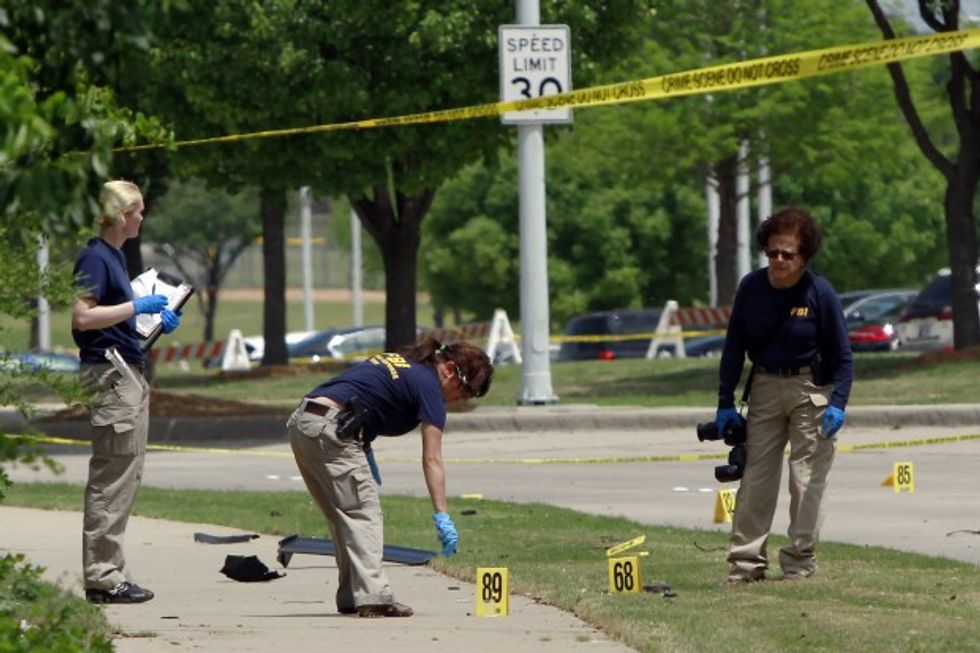 FBI investigators work a crime scene outside of the Curtis Culwell Center after a shooting occurred the day before May 04, 2015 in Garland, Texas. (Photo by Ben Torres/Getty Images)
Simpson tweeted in late-April about the Muhammad drawing event, asking, "When will they ever learn?"
Miski quickly responded.
"Where are the warriors of this Ummah [community]?" he asked, adding, "The brothers from the Charlie Hebdo attack did their part. It's time for brothers in the #US to do their part."
Just two days later, Miski responded to another Simpson tweet, writing him, "One individual is able to put a whole nation onto it's [sic] knees."
Eight days later Simpson and his roommate Nadir Soofi were shot and killed by a police officer after firing gunshots outside the draw Muhammad contest.
On Tuesday, the Islamic State official claimed responsibility for the attack, saying in an audio statement that "two soldiers of the Caliphate" carried it out.
—
Follow Oliver Darcy (@oliverdarcy) on Twitter