Glenn Beck on Wednesday tore into the Council on American-Islamic Relations and Comedy Central host Larry Wilmore over their interpretation of free speech in the wake of a foiled terrorist attack in Garland, Texas.
Alia Salem of CAIR said America needs to have a discussion about when free speech becomes hate speech, and when hate speech becomes "an incitement to violence." And Wilmore attacked Pamela Geller, who organized the event to select the best cartoon of the Prophet Muhammad, saying she put people in danger for a "bull**** free speech argument."
"Pamela is the one putting people in danger?" Beck said on his television program. "Not the guys with the assault rifles and a death wish? If she just didn't draw all these cartoons, none of this would've happened?"
Beck said that by the same logic, if gay people "would just stop being gay, we wouldn't have any more Westboro Baptist church protests."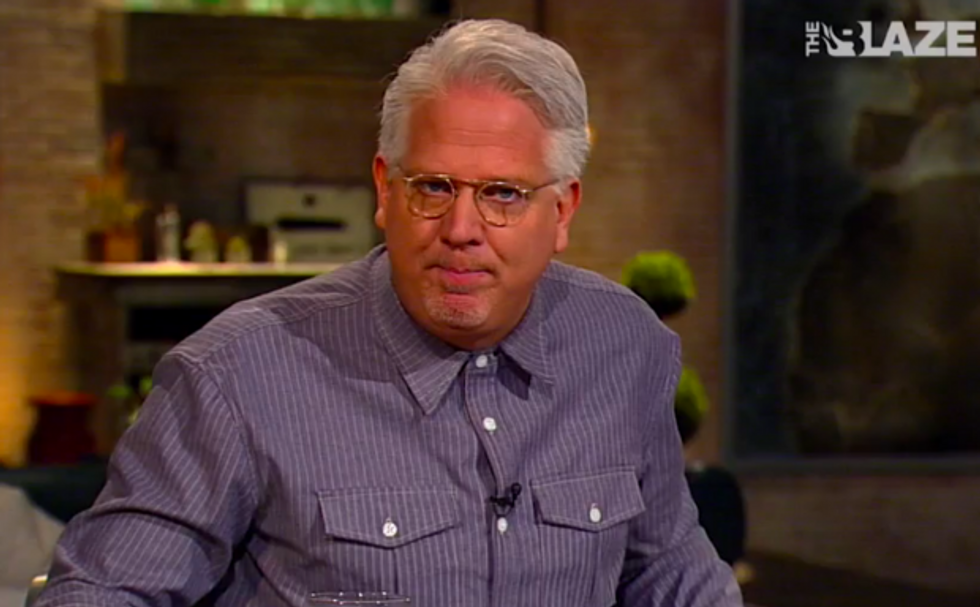 Glenn Beck speaks on his television program May 6, 2015. (Photo: TheBlaze TV)
"What the hell is wrong with you?" Beck demanded. "It's kind of amazing that Pam Geller was nearly murdered, and now has a hit out on her, and everybody is directing their outrage at her! What kind of upside down America do we live in?"
Beck said CAIR's analysis of the situation -- that we need to have a discussion about free speech -- couldn't be more wrong. The discussion we need to have, Beck said, is how to stop the "monsters" in the Islamic State from "chopping people's heads off, slaughtering innocents, raping women, raising children to be terrorists and enslaving people all in the name of Allah."
"If Christian activists were blowing 'piss Christ' art shows up and chopping off the heads of anyone who mocked Jesus ... how would you feel if the Christian community responded saying, 'Wait a minute -- how about all those mean things they're saying about Jesus?' It's insulting!" Beck said heatedly. "You should be the first in line to condemn the crazy animals running around slaughtering people in your name! You should be the loudest voice saying, 'That's not who we are!'"
"Instead, they've decided to blame the cartoonists for inciting violence. Hey CAIR, what cartoons did the Christians they beheaded on the beach draw?" Beck demanded. "What hateful words did the gays that were tossed off buildings and stoned to death say? Are they responsible for their own demise because they were responsible for their speech too?"
"It is insane that we're having this conversation," Beck concluded. "Terrorist attacks on cartoon contests means we have a terrorist problem, not a cartoonist problem."
[mlbvideo content_id=103843483]
The full episode of The Glenn Beck Program, along with many other live-streaming shows and thousands of hours of on-demand content, is available on just about any digital device. Click here to watch every Glenn Beck episode from the past 30 days for just $1!