The lawyers for the Baltimore police officers charged in the death of Freddie Gray filed a motion Friday afternoon requesting State's Attorney Marilyn Mosby recuse herself from prosecuting the case.
The motion, which also requested charges against the officers be dismissed, listed five reasons Mosby should be taken off the case, WBAL-TV reported.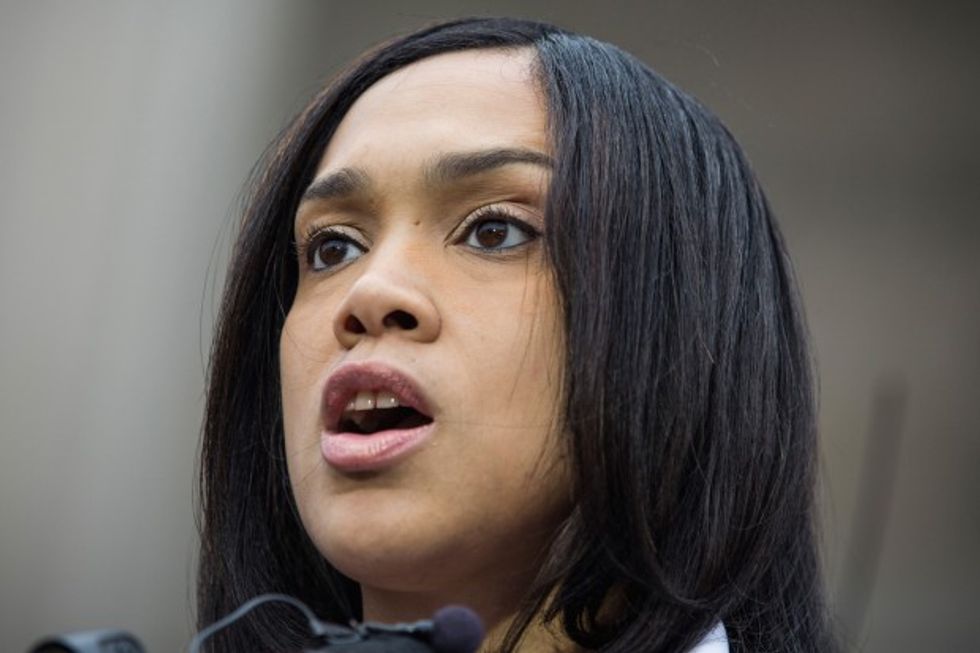 Baltimore City State's Attorney Marilyn J. Mosby announces that criminal charges will be filed against Baltimore police officers in the death of Freddie Gray on May 1, 2015 in Baltimore, Maryland. (Photo by Andrew Burton/Getty Images)
Among the listed reasons, the attorney's for the officers contended that Mosby's personal relationships with individuals who will serve as witnesses during the trial and the seizing of personal gain by she and her husband make her unfit to fairly prosecute the case.
"The pleadings speak for themselves, and we look forward to litigating them in the courtroom," attorney Marc L. Zayon, who is representing one of the accused offices, told WBAL.
The motion for Mosby's recusal runs 107 pages, accuses her of "egregiously" violating prosecutorial ethics.

— Steven Portnoy (@Steven Portnoy) 1431119524.0
"Rarely... has a prosecutor so directly maintained so many conflicts of interest," lawyers for the #Baltimore officers write.

— Steven Portnoy (@Steven Portnoy) 1431119568.0
Lawyers for the #Baltimore officers say Mosby's "inciting rhetoric in this case reveal clear extra-prosecutorial motivations and ambitions."

— Steven Portnoy (@Steven Portnoy) 1431119737.0
Earlier this week, it was reported that Baltimore Police Department's investigation into the death of Gray may not support some of the prosecution's charges, including the most serious charge of second-degree murder. 
Many in the Baltimore police force have been openly critical of Mosby for filing the charges.
The Fraternal Order of Police's Baltimore City Lodge said it had "deep concerns" about Mosby's "many conflicts of interest" prosecuting the case. Organization president Gene Ryan also contended the officers were not responsible for Gray's death.
"As tragic as this situation is, none of the officers involved are responsible for the death of Mr. Gray," he wrote. "To the contrary, at all times, each of the officers diligently balanced their obligations to protect Mr. Gray and discharge their duties to protect the public."
Gray's mysterious death in police custody ignited riots in Baltimore and protests around the nation. Six officers have been charged in his death.
—
Follow Oliver Darcy (@oliverdarcy) on Twitter