Story by the Associated Press; curated by Oliver Darcy.
—
LONDON (AP) — The Conservative Party surged to a surprisingly commanding lead in Britain's parliamentary election, with returns Friday backing an exit poll's prediction that Prime Minister David Cameron would remain in 10 Downing Street. The opposition Labour Party took a beating, mostly from energized Scottish nationalists who pulled off a landslide in Scotland.
With Cameron's Conservatives on the cusp of winning a majority in the 650-seat House of Commons, the election result looked to be far better for him than opinion pollsters, or even his own party, had foreseen. The prime minister was beaming early Friday as he was announced the winner of his Witney constituency in southern England.
"This is clearly a very strong night for the Conservative Party," he said, stopping just short of declaring overall victory.
One nation, one United Kingdom - that is how I hope to govern if I am fortunate enough to continue as Prime Minister.

— David Cameron (@David Cameron) 1431061365.0
"I want my party, and I hope a government that I would like to lead, to reclaim a mantle that we should never have lost — the mantle of one nation, one United Kingdom," Cameron said, vowing to counter the rise of Scottish nationalism with more powers for Scotland and Wales.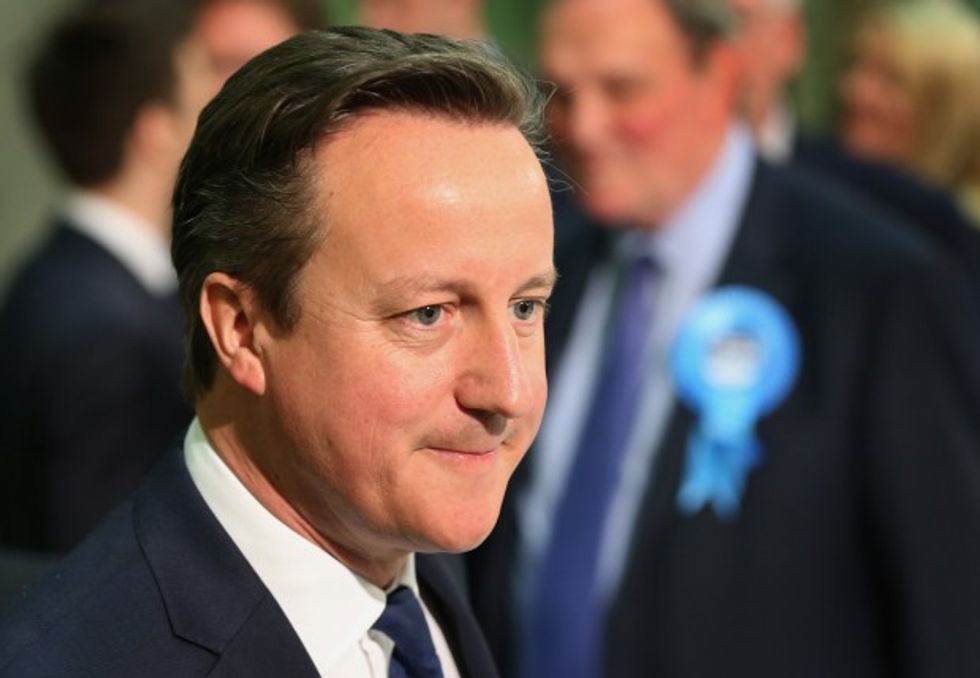 Prime Minister David Cameron smiles arrives at his constituency election count on May 8, 2015 in Witney, England. The United Kingdom has gone to the polls to vote for a new government in one of the most closely fought General Elections in recent history. (Photo by Peter Macdiarmid/Getty Images)
The opposition Labour Party, led by Ed Miliband, was routed in Scotland by the Scottish National Party, which took almost all of the 59 seats in Scotland.
"What we're seeing tonight is Scotland voting to put its trust in the SNP to make Scotland's voice heard, a clear voice for an end to austerity, better public services and more progressive politics at Westminster," party leader Nicola Sturgeon told the BBC.
"The Scottish lion has roared this morning across the country," said former SNP leader Alex Salmond, who was elected in the seat of Gordon.
Scottish Labour leader Jim Murphy insisted he would not resign despite losing his seat but Miliband's grip on the overall leadership seemed more tenuous, as the party failed to make predicted gains against the Conservatives across the rest of Britain.
"This has clearly been a very disappointing and difficult night for the Labour Party," said Miliband.
"We haven't made the gains that we'd wanted in England and Wales and in Scotland we have seen a surge of nationalism overwhelm our party."
Miliband, who faced calls from within Labour to step down, said that whoever is prime minister would face the challenge of uniting the country after a divisive campaign.
Cameron's coalition partner, the Liberal Democrat party, faced electoral disaster, losing most of its seats as punishment for supporting a Conservative-led agenda since 2010.
"It is now painfully clear that this has been a cruel and punishing night for the Liberal Democrats," said leader Nick Clegg, who did hold on to his own seat. He said he would discuss his future with colleagues later Friday.
[sharequote align="center"]"It is now painfully clear that this has been a cruel and punishing night for the Liberal Democrats"[/sharequote]
Almost 50 million people were registered to vote in Thursday's election, one of the most unpredictable in decades. Opinion polls during the monthlong campaign had suggested the result was too close to call.
But an exit poll released as polls closed projected that the Conservatives would be well ahead, with around 316 seats — they would need 326 for a majority — and Labour on 239, while the Liberal Democrats would lose most of their seats.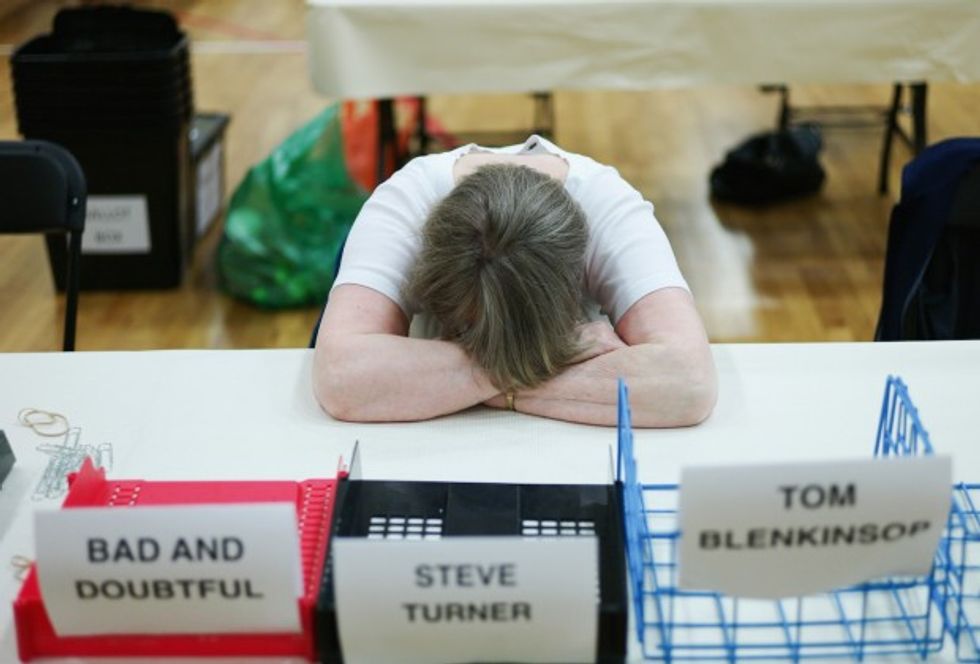 A woman sleeps as she waits for ballot papers to arrive during the Middlesbrough and East Cleveland Count on May 8, 2015 in Redcar, England. (Photo by Ian Forsyth/Getty Images)
The chief exit pollster, John Curtice of Strathclyde University, said it looked as if Conservative and Labour gains had canceled each other out across England and Wales, and that Labour had lost much of its support in Scotland to the SNP.
The survey was conducted by pollsters GfK and Ipsos MORI for Britain's broadcasters.
As results rolled in overnight, the Conservative Party appeared to be in a commanding position to form the next government, either alone or by seeking partners from smaller parties. One result could be re-run of the Conservative-led coalition with the Liberal Democrats that has governed since 2010.
With 508 of 650 seats reporting, the Conservatives had 222 seats, Labour 203, the SNP 55 and the Liberal Democrats six.
Votes in each constituency were counted by hand and the results followed a familiar ritual. Candidates — each wearing a bright rosette in the color of their party — line up onstage like boxers as a returning officer reads out the results.
UPDATED: 6 am edition of the @guardian: "Labour and Lib Dems crushed as Cameron sweeps back into No10" #GE2015 http://t.co/nhcRroF3J2

— Andrew Peng (@Andrew Peng) 1431063384.0
Updated @thetimes front page: "Pointing to victory" #GE2015 http://t.co/Y6ldBur9xT

— Andrew Peng (@Andrew Peng) 1431063207.0
UPDATED: @MetroUK front page (4 am edition): "CAM'S THE MAN" #GE2015 http://t.co/HIhyRjiKuL

— Andrew Peng (@Andrew Peng) 1431062938.0
But if the form was familiar, the results were often shocking.
Among the early Scottish National Party winners was 20-year-old student Mhairi Black, who defeated Douglas Alexander, Labour's 47-year-old foreign policy spokesman and one of its most senior figures. Black is the youngest U.K. lawmaker since 13-year-old Christopher Monck entered Parliament in 1667.
The UK Independence Party ran third in opinion polls, but by early Friday had won only one seat because its support isn't concentrated in specific areas. Leader Nigel Farage said he would resign if he does not win the seat of Thanet South — an outcome that looked a distinct possibility.
[sharequote align="right"]"The first priority is the economy, the second one is creating more jobs..."[/sharequote]
Britain's economy — recovering after years of turmoil that followed the 2008 financial crisis — was at the core of many voters' concerns. The results suggest that many heeded Cameron's entreaties to back the Conservatives as the party of financial stability. Public questions at television debates made plain that many voters distrusted politicians' promises to safeguard the economy, protect the National Health Service from severe cutbacks and control the number of immigrants from eastern Europe.
In Whitechapel, one of London's poorest communities, voters struggling in the wake of the worst recession since the 1930s wanted a change in leadership.
"The first priority is the economy, the second one is creating more jobs, and the third is living expenses — they're going higher and higher," said Shariq ul-Islam, a 24-year-old student.
But just a few minutes away in the City of London, the traditional financial district where many bankers earn enormous salaries, Christopher Gardner, a 34-year-old finance industry official, put his trust in the Conservatives.
"There are some issues that have been caused by austerity previously," he said. "They're the only people that I'm confident will resolve that."
—