Academy Award-winning actor Denzel Washington's very first piece of advice Saturday for graduates of Dillard University consisted of just three words.
"Number one," he said slowly and resolutely. "Put. God. First!"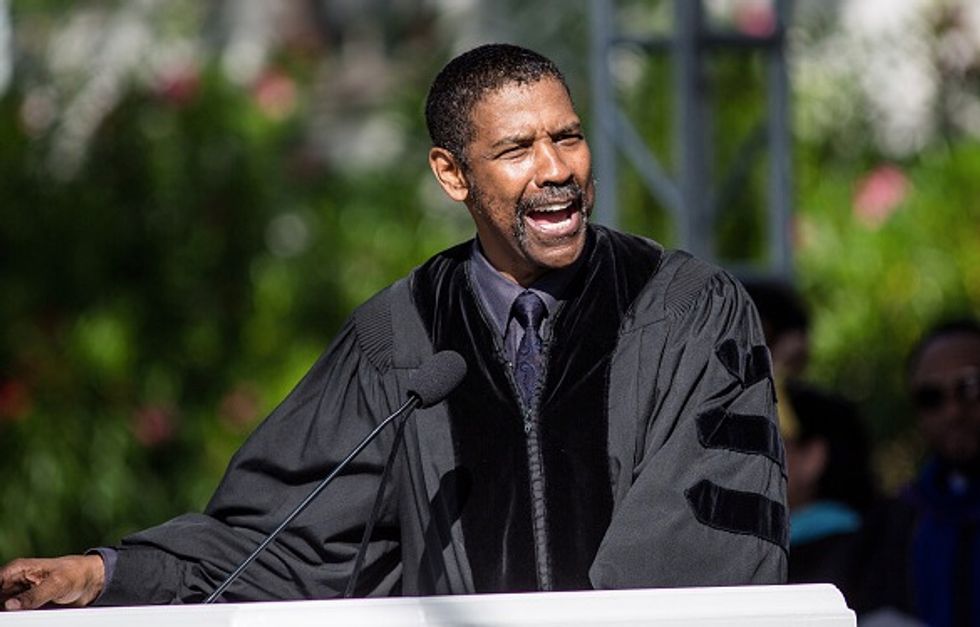 Actor Denzel Washington delivers the commencement address at Dillard University on May 9, 2015 in New Orleans, Louisiana. (Image source: Josh Brasted/Getty Images)
"Put God first in everything you do," Washington continued to loud cheers. "Everything I have is by the grace of God. Understand that. It's a gift."
The actor, who received an honorary doctorate from the New Orleans' school, told a story about his life 40 years earlier. He had a 1.7 grade point average and was sitting in his mother's beauty parlor when a woman gave him "a prophecy."
Washington said the woman told him he would "travel the world and speak to millions of people." But he added that while her words came true, "the most important thing that stayed with me since is that I've been protected, I've been directed, I've been corrected. I've kept God in my life and it's kept me humble."
"I didn't always stick with him, but he's always stuck with me," Washington said. "Stick with him in everything you do."
[sharequote align="center"]"I didn't always stick with him, but he's always stuck with me."[/sharequote]
During the rest of his brief commencement address — just over 10 minutes long — Washington urged graduates to "fail big" and take chances. But in regard to material things, he cautioned that "you will never see a U-Haul behind a hearse."
"I pray that you put your slippers way under your bed tonight," the actor noted toward the end of his time behind the podium, "so that when you wake up in the morning you have to get on your knees to reach them.
"And while you're down there, say thank you. Thank you for grace, thank you for mercy, thank you for understanding, thank you for wisdom, thank you for parents, thank you for love, thank you for kindness, thank you for humility, thank you for peace, thank you for prosperity. Say thank you in advance for what's already yours."
"True desire in the heart for anything good is God's proof to you, sent beforehand, to indicate that it's yours already," Washington said.
"Don't just aspire to make a living," he concluded, "aspire to make a difference."
Here's video of Washington's speech:
This story has been updated.
—
Follow Dave Urbanski (@DaveVUrbanski) on Twitter