LYNCHBURG, Va. (TheBlaze/AP) — Former Florida Gov. Jeb Bush is condemning the Obama administration's use of "coercive federal power" to limit religious freedom as he courts Christian conservatives ahead of a likely presidential run.
But he took a distinctly moderate tone even as he invoked Christianity.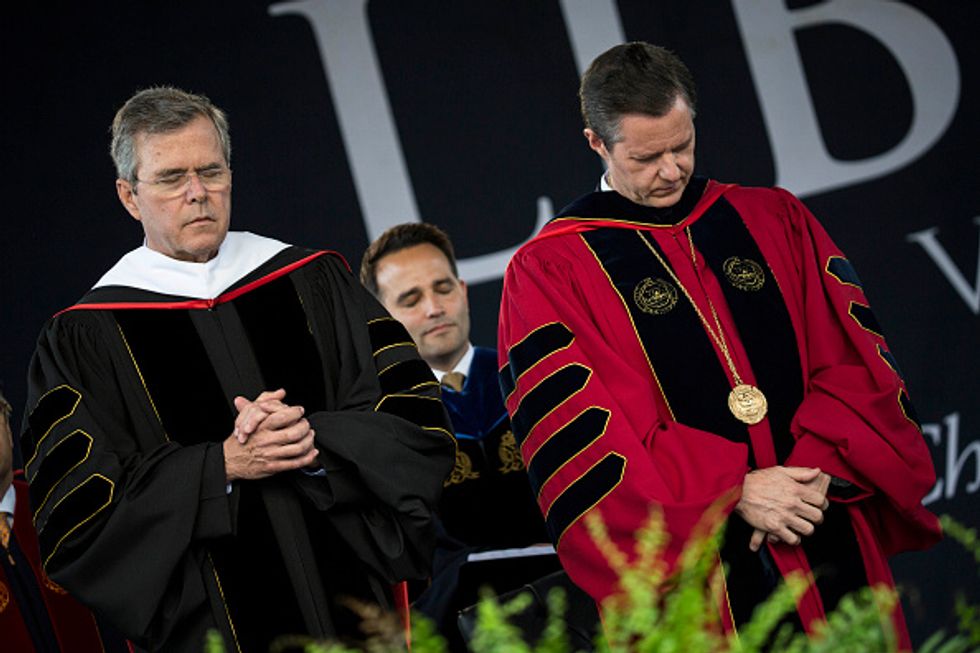 Republican U.S. presidential hopeful and former Florida governor Jeb Bush and Liberty University president Rev. Jerry Falwell Jr. bow their heads in prayer during the commencement ceremony at Liberty University, at Williams Stadium on the campus of Liberty University, May 9, 2015 in Lynchburg, Virginia. In his remarks, Bush criticized the Obama administration for being 'small minded and intolerant' of religious freedom. (Photo by Drew Angerer/Getty Images)
The Republican White House prospect lashed out at the Democratic president's administration for "demanding obedience in complete disregard of religious conscience" as he delivered a Saturday commencement address at Liberty University, a Christian institution founded by the late conservative culture warrior Rev. Jerry Falwell.
More broadly, Bush said "the Christian voice" isn't heard enough in the world.
Bush also tweeted scripture to Liberty students.
To the #LUGrad15, in the words of Isaiah, may you "Go out with joy and be led forth with peace." pic.twitter.com/0voGCcS25S

— Jeb Bush (@JebBush) May 9, 2015
On Twitter, some praised Bush for his moderate tone.
In @LibertyU speech, @JebBush works to show that he can talk about issues of religious freedom without alienating half the country

— Zeke Miller (@ZekeJMiller) May 9, 2015
People also noted Bush was approaching issues in different ways from many conservatives.
. @JebBush making a religious case for environmentalism at liberty University. I haven't heard him do that before

— Zeke Miller (@ZekeJMiller) May 9, 2015
In big, affirming speech about Christianity at Liberty, Jeb Bush makes no reference to traditional marriage. Very intriguing.

— Michael Barbaro (@mikiebarb) May 9, 2015
Others interpreted Bush's appeal to faith as a "dog whistle to anti-gays."
Jeb Bush dog whistles to anti-gays at Liberty U, slams "aggressive, intolerant" attacks on "religious freedom" #LGBT http://t.co/lX1BDxdqoZ

— ItsNotOver (@ItsNotOverBook) May 9, 2015
Some just rejected Bush's appeal outright.
Your Christian voice is NOT MINE RT @KCStar: Jeb Bush: Stronger 'Christian voice' needed in world: http://t.co/LVvNbkhoK9

— Tunes & Tours (@tunesntours) May 9, 2015
Bush is preparing to enter a presidential contest that includes Republican competitors considered far more popular with the GOP's religious right. They all criticize Obama's health care overhaul which requires some religion-affiliated organizations to provide health insurance for employees that includes birth control.
—
Follow Zach Noble (@thezachnoble) on Twitter