Hezbollah's commander of special ops was reportedly killed in Syria along with dozens of his fighters Friday, during a fierce battle between the Lebanese Shiite group and Sunni rebels aiming to remove Syrian President Bashar Assad from power.
It's the latest example of how the militant organization has strayed from its core mission as a Lebanese "resistance movement" dedicated to destroying Israel. Indeed, Hezbollah leader Hassan Nasrallah has even boasted that the group's motto is "death to Israel."
But since the Arab Spring and the eruption of civil war in Syria, Hezbollah — which translates to "Party of Allah" in English — has invested far more effort in defending its financial and military backers, putting its Israel fight — at least for now — on the back burner.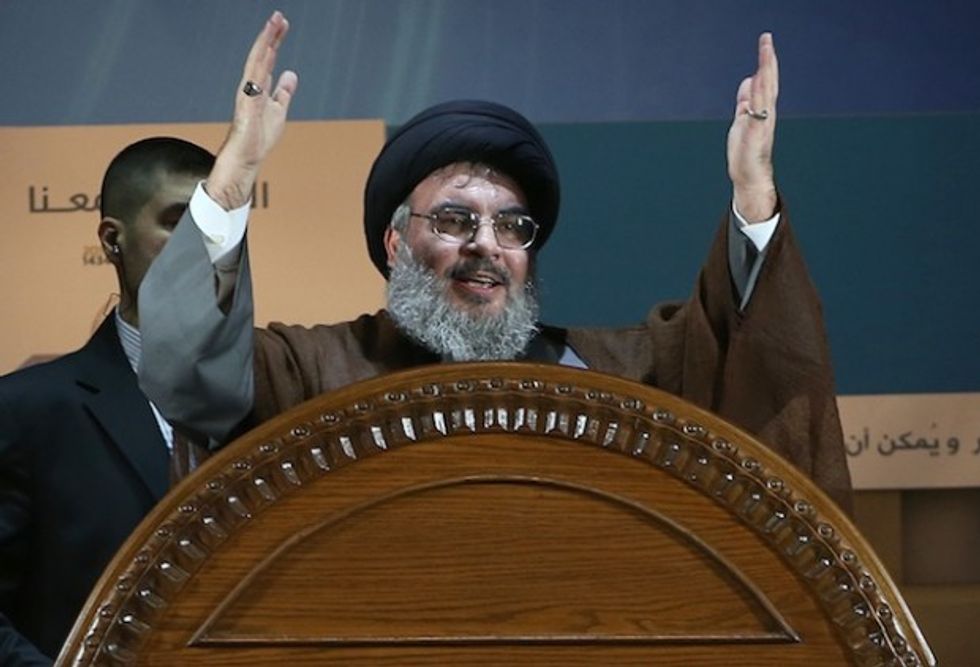 In this Aug. 2, 2013, file photo, Hezbollah leader Sheikh Hassan Nasrallah gestures during a rally to mark Jerusalem Day, or Al-Quds day, in the southern suburb of Beirut, Lebanon. (AP Photo/Hussein Malla, File)
The group has sent hundreds of combatants to fight with Assad's forces in Syria and has also deployed fighters to Iraq. There have even been unconfirmed reports that Hezbollah operatives are in Yemen fighting alongside the Iran-backed Houthi rebels.
"Hezbollah is increasingly losing control of its own organization. It's owned and controlled by Iran and is being deployed, therefore, by Iran to various theaters and is very rapidly straying from its own mission," Jonathan Schanzer, vice president for research at the Washington-based Foundation for Defense of Democracies, told TheBlaze.
For Hezbollah, making sure Assad survives is of existential concern. Nasrallah last week warned that if Assad were to fall, it would mark the fall of Hezbollah and the end of the "axis of resistance" — that is, the alliance of Hezbollah, Iran and Syria — according to a report in the pro-Hezbollah newspaper Al-Akhbar.
Nasrallah is most concerned about preserving his group's pipeline for Iranian weapons through Damascus.
"They're basically saying that it's in their strategic interest to defend Assad because of how crucial Assad is to the provision of weapons from Iran. That's not resonating among the average Lebanese. They look at the number of body bags coming home from foreign conflicts and are wondering what their organization is doing," Schanzer said. "There's rising discontent among the Shiite of Lebanon about the direction of their so-called 'resistance' and 'liberation' movement."
Asked how Hezbollah's investment in Syria and Iraq might impact its ongoing mission against Israel, Schanzer said, "To a certain extent, Israelis probably think it's a good thing they're coming back in body bags, but on the other hand, they're getting additional battle experience and learning new skills, so it's a double-edged sword."