It's official: Barack Obama's future presidential library will be built in Chicago.
The Obama Foundation announced Tuesday that the president's library and a museum will be on the South Side of Chicago, in conjunction with the University of Chicago, where Obama once taught law and where first lady Michelle Obama worked as a hospital administrator.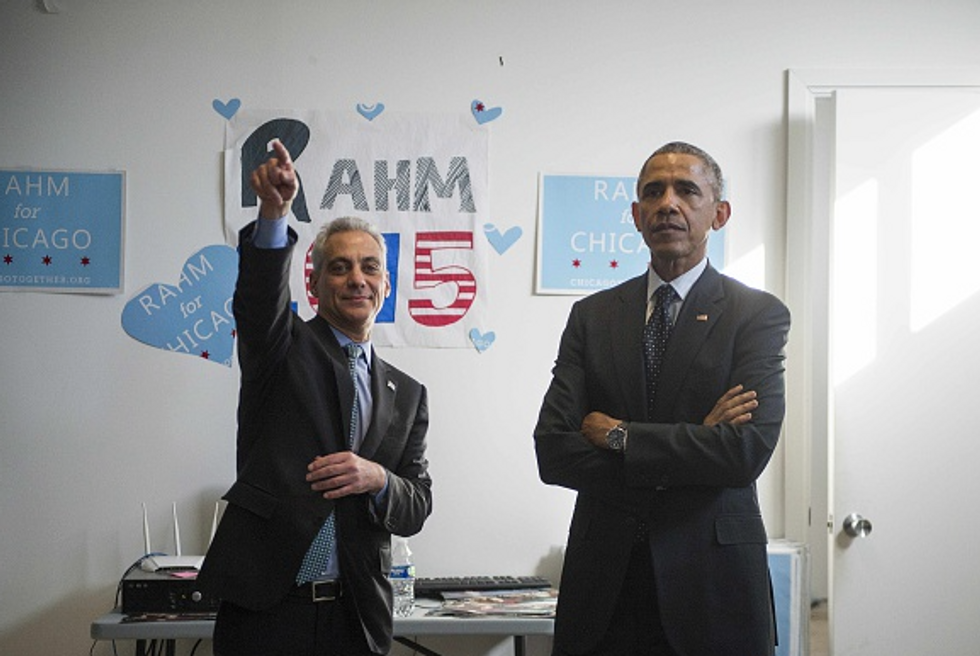 President Barack Obama and Chicago Mayor Rahm Emanuel stand at the campaign headquarters for 4th Ward Alderman Will Burns in Chicago, Feb. 19, 2015. (Jim Watson/AFP/Getty Images)
The University of Chicago was up against bids from the University of Illinois at Chicago, Columbia University and the University of Hawaii.
"With a library and a foundation on the South Side of Chicago, not only will we be able to encourage and affect change locally, but what we can also do is to attract the world to Chicago." Obama said in a video announcement. "All the strands of my life came together and I really became a man when I moved to Chicago. That's where I was able to apply that early idealism to try to work in communities in public service. That's where I met my wife. That's where my children were born."
It was widely reported last month that Chicago had been chosen as the location for the facility, though the White House was tight-lipped about where it would be and about how transparent the donors would be. Barack Obama Foundation spokeswoman Olivia Alair Dalton told TheBlaze that all donations over $200 are disclosed publicly.