Glenn Beck jokingly said he considered prodding "American Sniper" Chris Kyle's widow, Taya Kyle, into saying something about former Minnesota Gov. Jesse Ventura so he would be able to testify in any upcoming court case the two might have.
"You know, I asked her about the trial a little bit," Beck said on his radio program Wednesday, just after his interview with Taya Kyle concluded. "I just felt uncomfortable even asking her about that because it's so traumatic. I'm telling you, I want to rip Jesse Ventura's eyes out through his butt."
Before Chris Kyle was murdered, he wrote in his book that he punched a man, whom he later identified as Ventura, after the man allegedly said the Navy SEALs "deserve to lose a few." Ventura denied the claim and filed a lawsuit against Kyle. After Kyle's death, the wrestler-turned-politician doubled down on the lawsuit, going after Kyle's wife and children. A jury awarded Ventura $1.8 million in damages in July.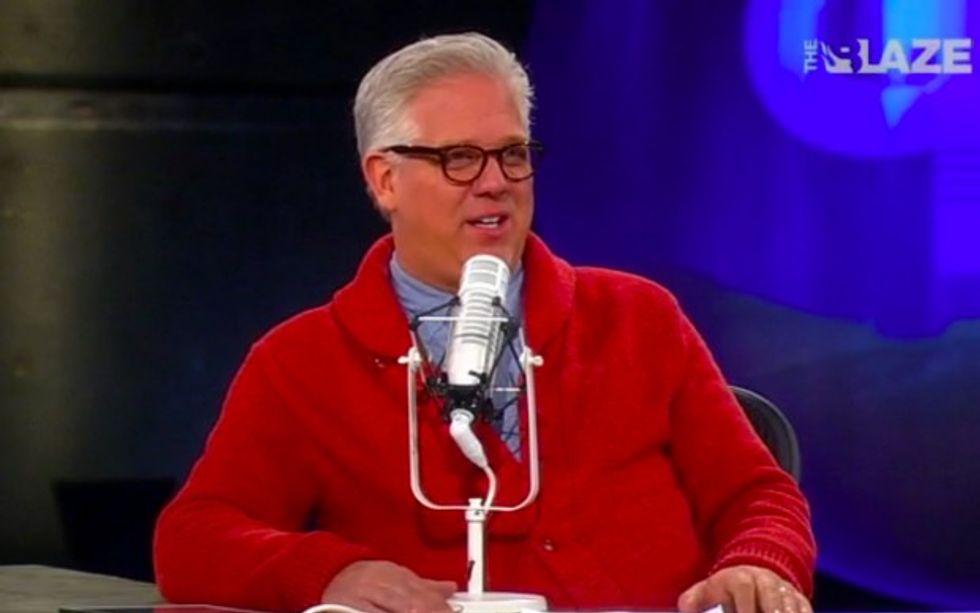 Glenn Beck speaks on his radio program May 13, 2015. (Photo: TheBlaze TV)
"I mean, this is a personal vendetta against a guy who is dead," Beck said. "That guy is insane. He's literally, I think, insane. ... Halfway through that interview, I thought about forcing her to say something so we could be included in that trial so I could testify."
Imagining what he would say, Beck joked: "We were there. It was me, Pat and Brian Williams. We were there. We saw the whole thing. ...  It was Girl Scout underpants that [Ventura] was wearing, and the Brownie troop came in and knocked him out."
"That was a funny satirical exercise," Beck's co-host Stu Burguiere said with nervous laughter, speculating that if Ventura is willing to sue the widow of an American hero, he will absolutely sue Glenn Beck.
When Beck asked Taya Kyle about the lawsuit, she said she couldn't comment on the matter but did want to make one thing clear: the roughly $800,000 raised by Glenn Beck's charity Mercury One made all the difference for her family, and it allowed her to work on new projects like her book "American Wife: A Memoir of Love, War, Faith, and Renewal."
"Everybody who gave a dollar through you and your organization is so important to me," she remarked. "Because truly, that gift gave me the strength to focus on everything that I'm doing today. ... I didn't expect anybody to take care of me. But the fact that they did, I feel, is the real true foundation for everything else I've been able to build from that."
[mlbvideo content_id=113577983]
The full episode of The Glenn Beck Program, along with many other live-streaming shows and thousands of hours of on-demand content, is available on just about any digital device. Click here to watch every Glenn Beck episode from the past 30 days for just $1!