Officials said the body of an eighth victim has been found in the wreckage of the Amtrak passenger train that derailed in Philadelphia Tuesday night.
Fire Commissioner Derrick Sawyer said a cadaver dog found the eighth body Thursday morning.
"The remains have been identified as a person who was on that train," Philadelphia Mayor Michael Nutter said at a news conference.
Nutter said officials now believe that all 243 individuals known to have been aboard the train have been accounted for. He said 43 people remain hospitalized.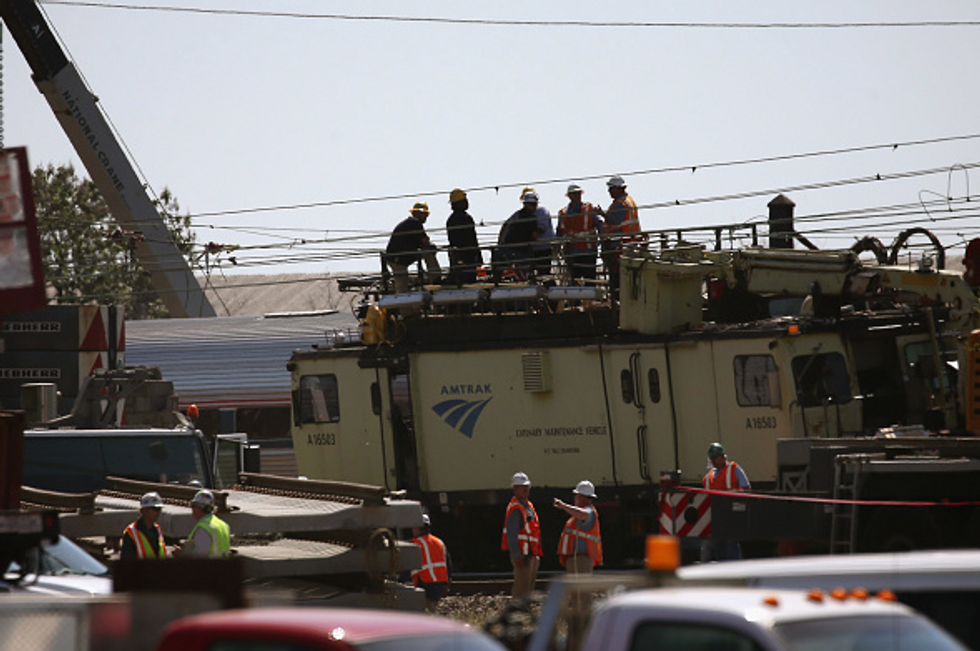 Amtrak crews work at the site of the Amtrak train derailment, May 14, 2015 in Philadelphia. (Mark Wilson/Getty Images)
The National Transportation Safety Board said Wednesday that the train is believed to have been traveling at 106 mph in a zone of the track limited to 50 mph.
There has been some confusion about whether train engineer Brandon Bostian has been cooperating with authorities. Nutter initially indicated that the engineer did speak with investigators, while reports said he declined to talk to police. Nutter said Thursday that the engineer "was interviewed by the police department, and I believe it was a pretty short interview in which he apparently indicated that he didn't want to be interviewed."
Bostian's attorney, Robert Goggin, told ABC News that his client spoke with police for at least five hours. He said Bostian, 32, has no memory of the moment of the crash, only of heading into the area where the derailment occured. The engineer suffered a concussion, injuries to his legs and required 14 staples in his head. Bostian's attorney told ABC the engineer had "no health issues to speak of" before the crash and was not taking any medications. He was "very distraught" to learn of the deaths in the crash.