Boston Marathon bomber Dzhokhar Tsarnaev has been sentenced to death.
A Boston jury took just over 14 hours to decide that Tsarnaev should die for the 2013 bombings that killed three people and injured hundreds more.
Reporters inside the courtroom said Tsarnaev, 21, showed no emotion when the verdict was announced.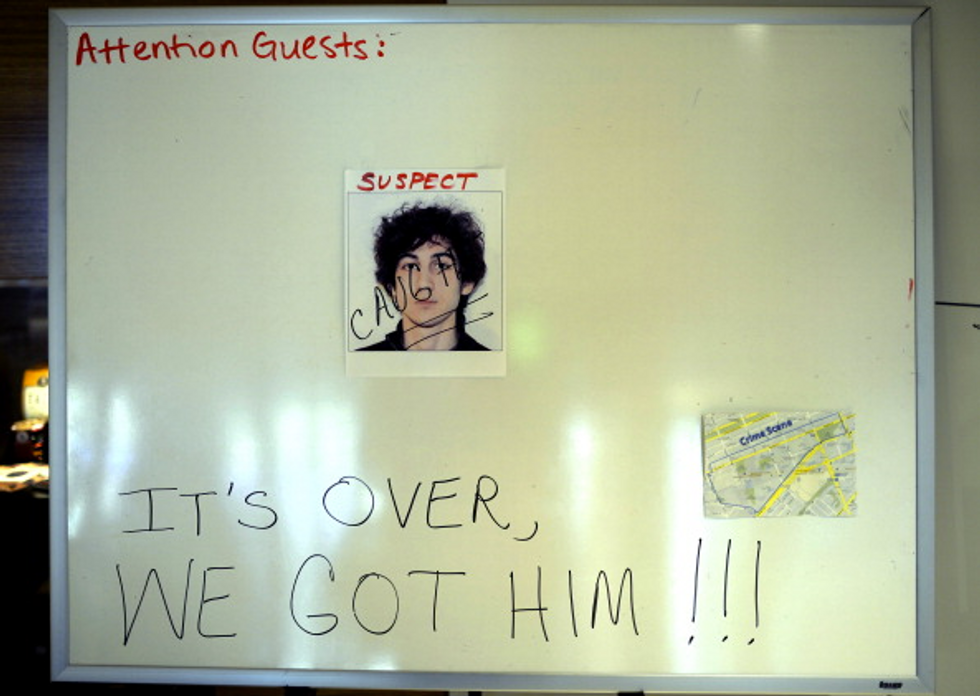 A sign in a Boston hotel lobby on April 20, 2013, shows a photo of Dzhokhar Tsarnaev on the morning after he was captured. (Timothy A. Clary/AFP/Getty Images)
The judge polled each juror after the verdict to confirm all had voted for death. All 12 said yes.
The same jury last month convicted Tsarnaev of all 30 federal charges related to the bombing and its aftermath. Seventeen of the charges made him eligible for the death penalty. Had the jury's decision not been death, Tsarnaev would have been sentenced to life in prison without parole.
Pressure-cooker bombs placed near the marathon finish line took the lives of 29-year-old Krystle Campbell, 23-year-old Lu Lingzi and 8-year-old Martin Richard. More than 260 others were injured, including many who lost limbs. MIT police officer Sean Collier was gunned down days later during the massive manhunt for Tsarnaev and his older brother Tamerlan, who was killed.
Defense attorneys acknowledged from the outset that Tsarnaev, then 19 years old, had carried out the bombings, but argued that he was under the spell of his older brother who wanted to punish the U.S. for its actions in Muslim countries. They brought in famed death penalty opponent Sister Helen Prejean in their bid to save his life; Prejean testified that Tsarnaev told her he was "genuinely sorry for what he did."
Prosecutors depicted Dzhokhar Tsarnaev as an equal partner in the attack, saying he was so coldhearted he planted a bomb on the pavement behind a group of children, killing an 8-year-old boy.
To drive home their point, prosecutors cited the message he scrawled in the dry-docked boat where he was captured: "Stop killing our innocent people and we will stop." And they opened their case in the penalty phase with a startling photo of him giving the finger to a security camera in his jail cell months after his arrest.
"This is Dzhokhar Tsarnaev — unconcerned, unrepentant and unchanged," prosecutor Nadine Pellegrin said.
The jurors also heard grisly and heartbreaking testimony from numerous bombing survivors who described seeing their legs blown off or watching someone next to them die.
The decision sets the stage for what could be the nation's first execution of a terrorist in the post-9/11 era, though the case is likely to go through years of appeals. The execution would be carried out by lethal injection.
Bombing victim Sydney Corcoran, who nearly bled to death and whose mother lost both legs, said: "My mother and I think that NOW he will go away and we will be able to move on. Justice. In his own words, `an eye for an eye.'"
Tsarnaev's father, Anzor Tsarnaev, reached by phone by the Associated Press in the Russian region of Dagestan, let out a deep moan upon hearing the news and hung up.
Attorney General Loretta Lynch called the death penalty "a fitting punishment".
"We know all too well that no verdict can heal the souls of those who lost loved ones, nor the minds and bodies of those who suffered life-changing injuries from this cowardly attack," Lynch said in a statement. "But the ultimate penalty is a fitting punishment for this horrific crime and we hope that the completion of this prosecution will bring some measure of closure to the victims and their families."
The Associated Press contributed to this report.