Former Texas Gov. Rick Perry is expected to declare his second presidential bid June 4 in Dallas.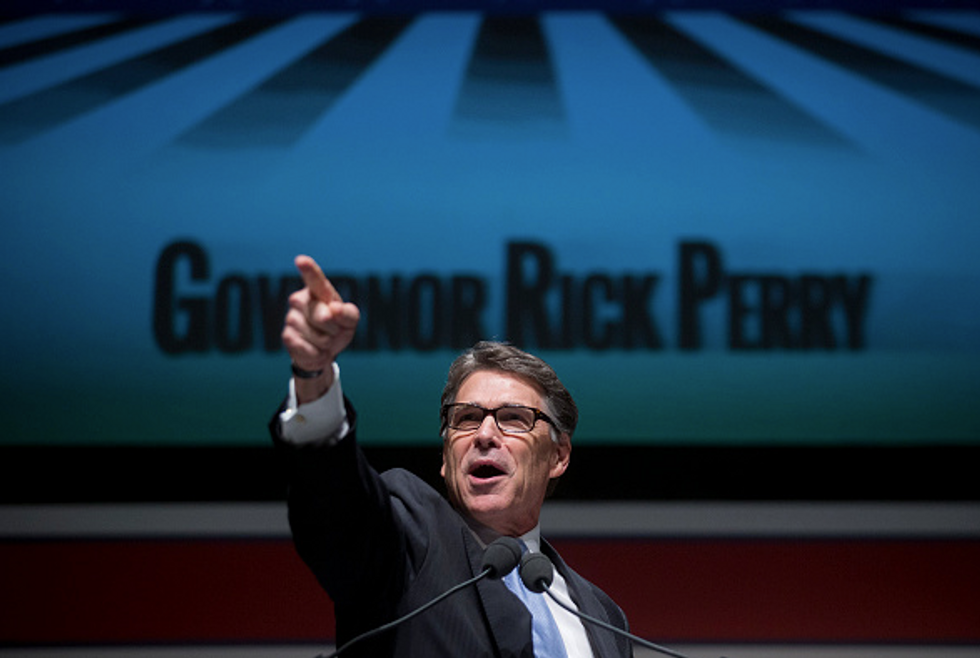 Rick Perry, former governor of Texas, gestures while speaking during the South Carolina Freedom Summit hosted by Citizens United and Congressman Jeff Duncan in Greenville, South Carolina, on Saturday, May 9, 2015. (Andrew Harrer/Bloomberg via Getty Images
Perry's wife Anita tweeted Friday that she and her husband "have been discussing the future of this great country and how our family can play a role."
.@GovernorPerry & I have been discussing the future of this great country and how our family can play a role. https://t.co/S2EOc5sliC

— Anita Perry (@AnitaPerryTX) May 15, 2015
Perry has been putting in frequent appearances in the early presidential contest states, including Iowa and New Hampshire. He joins a crowded GOP field that includes fellow Texan, Sen. Ted Cruz.
Perry was a late entry into the 2012 GOP presidential race, and for a time was the closest challenger to eventual nominee Mitt Romney. However, Perry's poll numbers plummeted after he faltered in several primary debates.
As he did in 2012, Perry is likely to tout Texas' strong economy as a model for the nation. Perry served as the state's governor for 14 years, ascending to the office after his predecessor George W. Bush became president.
In an email to RickPAC supporters on Thursday, Perry pointed out that CEO Magazine ranked Texas the best state to do business in for the 11th year in a row.
"Texas' success is no secret, and with a few good decisions we can see this type of opportunity spring up for hardworking American families across the country," the message from Perry to supporters said. "While I was governor, I focused on keeping the tax burden as low as possible on families and employers, creating a smart regulatory system and a legal system that doesn't allow for over-suing, and ensuring the education our students receive helps them succeed in the workforce."
Fred Lucas contributed to this report.