The city with the country's first soda tax announced how much it raked in within just one month and it's a number that has officials "thrilled."
Berkeley, California, brought in $116,000 in taxes from sodas sold in March, the first month it went into effect, KTVU-TV reported. With that, the city can now project getting up to $1.2 million in soda taxes within the year. According to the Contra Costa Times, that's not too far off from unofficial estimates that had projected the tax at bringing in between $1 million to $2 million annually.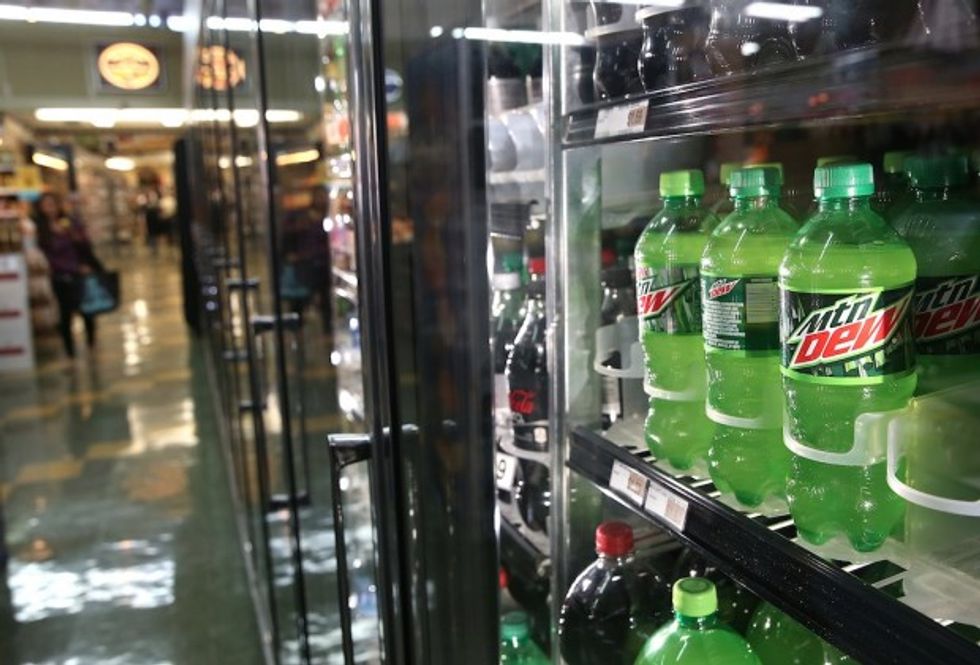 Bottles of Mountain Dew are displayed in a cooler at Marina Supermarket on July 22, 2014 in San Francisco, California. Voters in November passed a measure to allow a tax on sugary beverages. One month into the tax being instituted, the city has raised more than $100,000. (Justin Sullivan/Getty Images)
"We're thrilled with it. We really are," Berkeley Vice-Mayor Linda Maio told the news station.
The city's public school nutrition program will get the bulk of the new revenue, and KTVU reported that health experts will make additional recommendations for the rest.
The tax is intended to sting people purchasing sugary drinks, perhaps causing them to think twice about a beverage with more calories than others. Mike Ayadd, the owner of a local market, told KTVU he sold more diet drinks since the new tax.
He also said people are not buying as many sodas at a time. For example, a 12-pack would cost an additional $1.44.
"Too expensive," he said.
Watch KTVU's report:
Berkeley Councilman Laurie Capitelli told the Times in 10 years the hope is that the city won't be collecting any soda taxes because people at that point would have decided to stop buying such sugary drinks all together.
There was a statewide proposal for a soda tax that would hit distributors, but it was rejected by assemblymen last week. Watch this video on that:
(H/T: KPIX-TV)