Golden State Warriors point guard and NBA MVP Stephen Curry had just sat down for a press conference after the team beat the Houston Rockets in Game 1 of the Western Conference finals. But it wasn't his last-second free throws that helped secure the win that dominated the post-game interview: It was his 2-year-old daughter, Riley, who crawled up under the table and onto his lap.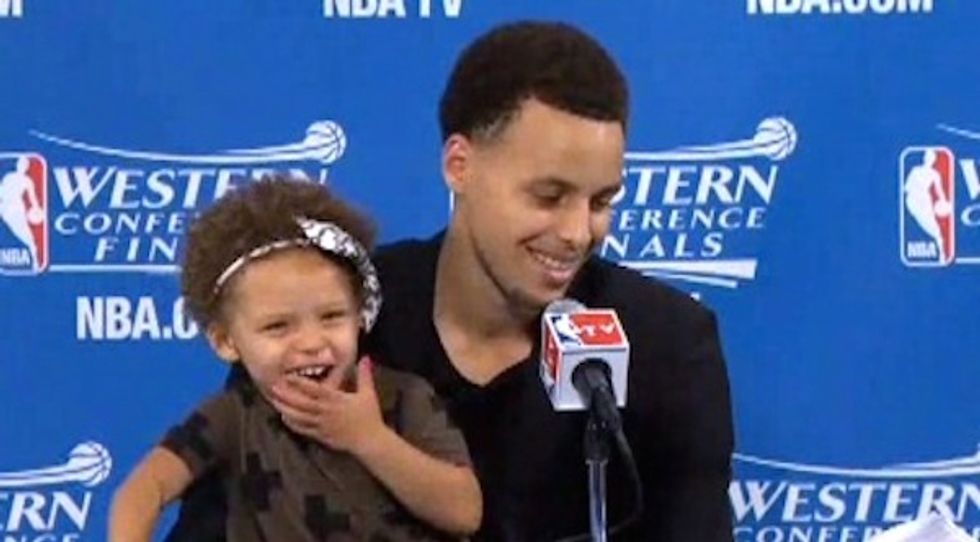 Image source: KPIX-TV
"I've never done this before," Curry said of conducting a press conference with his daughter, shifting her to the other knee. "You ready?"
As he started answering questions, Riley told him, "That's too loud, daddy."
"Be quiet," she said, drawing laughter from the reporters.
Riley later waved to her audience as her father spoke about the 110-106 victory over the Rockets Tuesday night.
"She's so funny," Curry said.
Watch the press conference featuring the adorable little girl:
This is the first time the Warriors have made it to the Western Conference finals since 1976.
—
The Associated Press contributed to this report.