When a teacher at East Junior High Middle School in West Memphis, Arkansas, collapsed on a classroom floor, most of the students rushed to his side.
One student decided to pulled out a smartphone, snap a photo and post it on Facebook, adding the caption, "What's wrong with our teacher.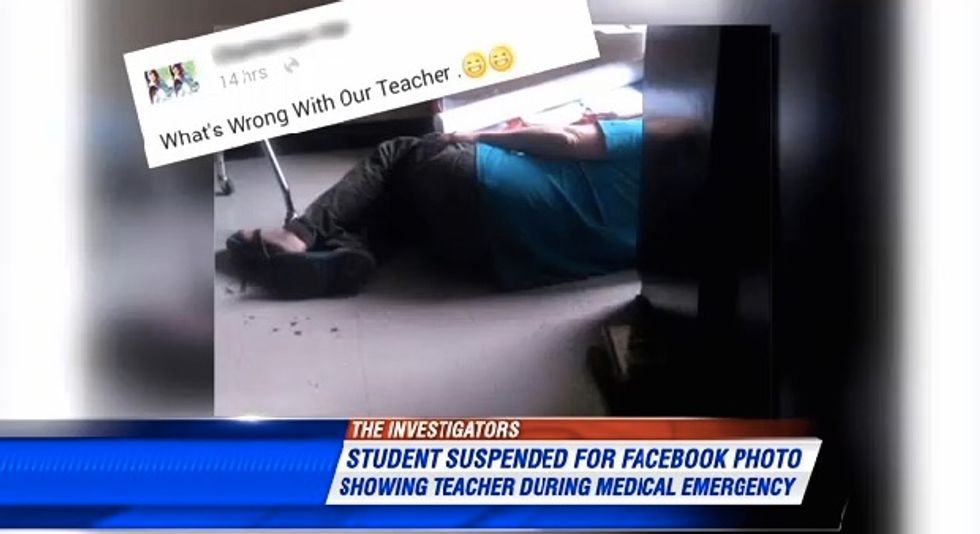 Image source: WMC Action News
The teacher had a minor medical emergency and fainted. He is expected to fully recover from the incident.
Parents of other students were shocked by the student's actions. Speaking to a local news crew, a classmate stated, "If one of her family members passed out, she wouldn't want to have them on the news...I mean, on Facebook."
Because the student broke a school rule prohibiting cellphone use in classrooms, posted the image online and made a false statement about the teacher "popping pills," the school has suspended her for three days.
Watch the local coverage.
WMC Action News 5 - Memphis, Tennessee
Editor's note: This story has been updated to correct a misidentification. Alasia Perkins was not the student who posted the image of the teacher. She was a witness. We apologize for this error.
__
Follow Mike Opelka (@Stuntbrain) on Twitter.