ATHENS, Greece (AP) — Greece is ready to accept a "viable and long-lasting" deal with lenders but not on "humiliating terms," Prime Minister Alexis Tsipras told his ruling Syriza party on Saturday.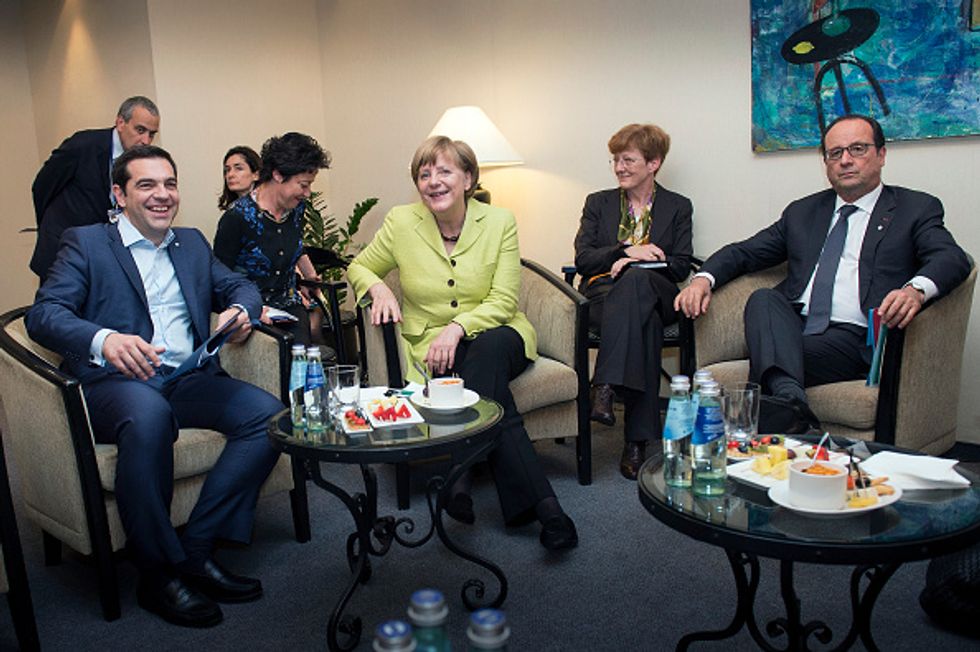 In this handout photo provided by the German Government Press Office (BPA), (L-R) German Chancellor Angela Merkel, Greek Prime Minister Alexis Tsipras and French President Francois Hollande at the beginning of their meeting at the sidelines of the EU summit The Eastern Partnership on May 21, 2015 in Riga, Latvia. (Photo by Guido Bergmann/Bundesregierung via Getty Images)
Syriza's first four months in power have been dominated by negotiations with the heavily indebted country's creditors, including the European Union and the International Monetary Fund.
Although he said negotiations had entered a final stretch, Tsipras hinted there was much ground still to be covered and said the Greek people cannot take more austerity. He also said Greece had done all it could to compromise.
"Throughout, we have proven we are ready to make concessions in order to get a mutually acceptable deal. We demand of our partners the same respect and corresponding concessions. We have done our duty, it is now time for Europe to do the same," Tsipras said.
There are rumblings that Tsipras may be ready to compromise but lawmakers from the party's left wing have warned they will not accept a deal that keeps the austerity policies which have devastated Greece's economy. Some have gone as far as saying that abandoning the euro — the common currency used by 19 European nations — would not be a catastrophe.
Tsipras did not address the dissenters directly but sought to reassure them he will not compromise more than necessary. He did warn, however, that Greece will have to reform its pension system.
A mutually acceptable deal, Tsipras said, should include lower-than-previously agreed primary budget surpluses; making the rich pay and not the poor, thus no new wage and pension cuts; debt restructuring or a write-off; and a "generous package of investments in infrastructure and new technologies."
Of those issues, Tsipras suggested there was agreement with lenders only on the surpluses and only for 2015 and 2016. This, he said, will save Greece from 10 billion euros ($11 billion) in extra austerity measures.
Tsipras accused the IMF of sticking to unreasonable demands on the Value Added Tax, pension reforms and labor market deregulation.
"The architects of the most failed program in the history of the IMF insist on extreme positions in order not to accept their failure," he said.
Tsipras also accused unnamed European officials of making statements that anticipate a failure of the Greek debt negotiations.
"I want to send a clear message. These final days before the deal, those who want to contribute, let them do it. Those who don't should keep silent," he said.