They couldn't believe what she said.
Debates raged online after Josh Duggar, a star of TLC's "19 Kids and Counting," apologized for "teenage mistakes" connected to decade-old child molestation charges that surfaced in tabloid reporting Thursday.
Duggar was slammed by some, including Montel Williams, and supported by others, including former Arkansas Gov. Mike Huckabee.
One of Duggar's (sort of) defenders: pastor's wife and mother of 11 Carrie Hurd.
Her words sparked a firestorm.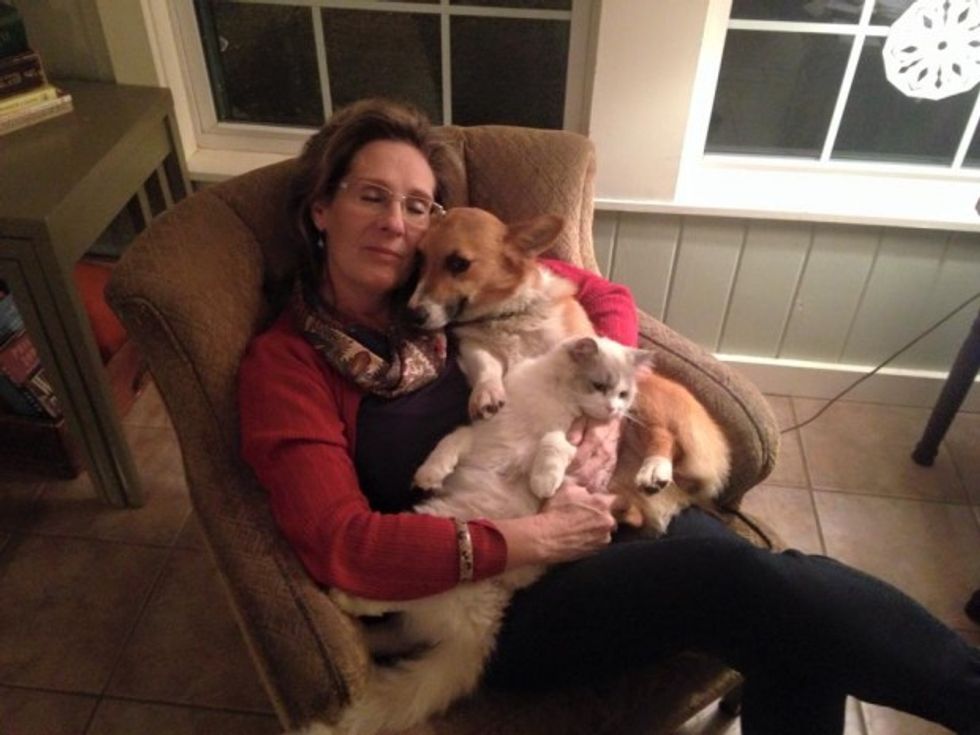 Carrie Hurd. (Image via Facebook)
On Facebook, Hurd used her husband's account to fire off a response to a friend who had posted an article labeling the Quiverfull movement a "Christian cult" that taught the Duggars to blame girls for being molested.
Hurd and the Duggars both subscribe to Quiverfull, a Christian movement that supports couples having as many children as possible.
Hurd wrote, in part:
You women want parity in the board room and you want equal wages all the way up the ladder, but when it comes to taking responsibility and being equal in other areas, it is always the man's fault or responsibility. How many women bait, hit first, but are seldom arrested for abuse.............? When I was a kid, it was often called "playing doctor",there were just as many girls initiating this kind of behavior as boys. Most of those never went on to perp horrible things. The Duggers, who I have never watched--am not a fan, did it properly and the 14 year old boy should probably be left alone to live a good life, just like girls who do the same thing. You troll the news for any little Christian misbehavior. Get a life!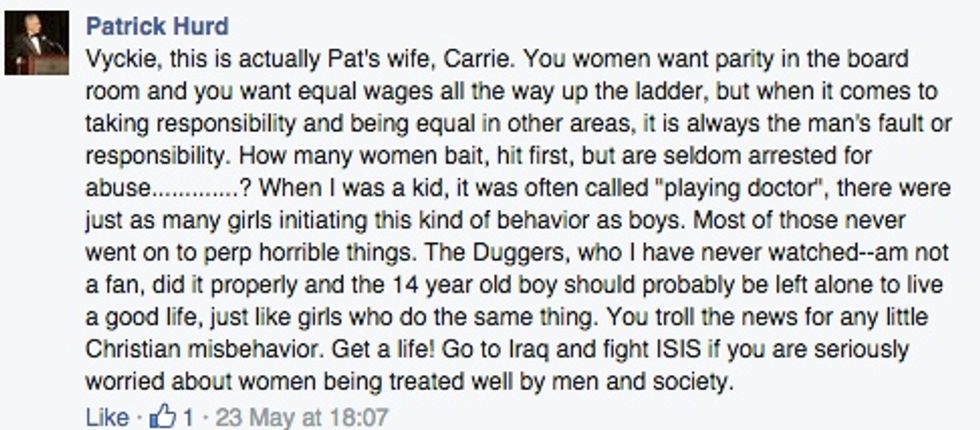 Image via Facebook
The whole response — and the "playing doctor" line in particular — sparked a torrent of negative responses, with some calling Hurd a "fundamentalist Christian a******."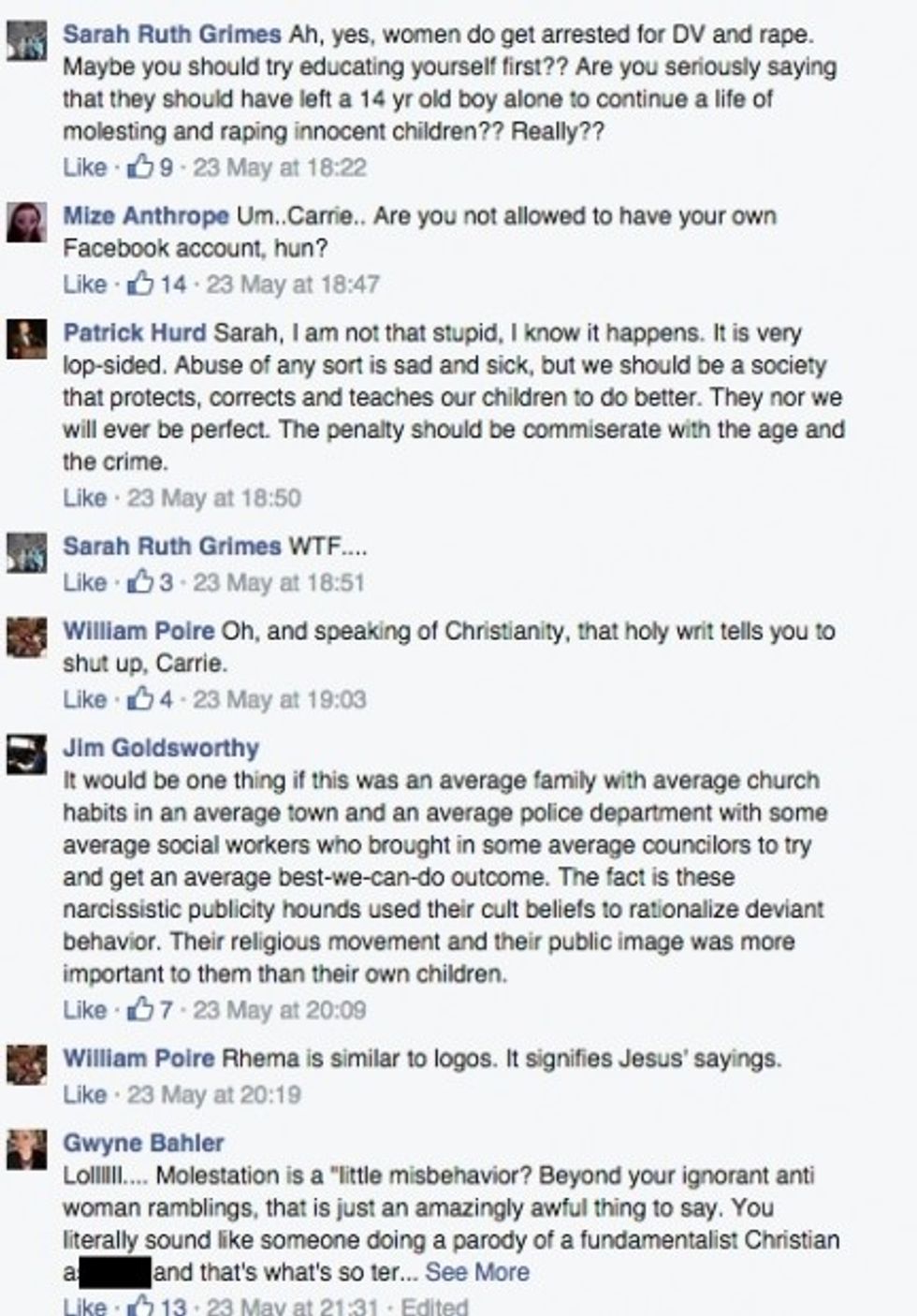 Image via Facebook
The woman on whose page Hurd posted is Vyckie Garrison, a former Quiverfull mom and longtime opponent of Quiverfull.
Garrison was was recently named "Atheist of the Year" by the American Atheist Association, the Raw Story noted, and she writes the anti-Quiverfull blog "No Longer Quivering."
She seemed to relish Hurd's comment and the negative responses it got.
"There's a lesson to be learned here, Carrie Hurd: Think twice before you decide to put a former Quiverfull mama in her place," Garrison wrote on Facebook. "I do know what I'm talking about when it comes to the pitfalls and family horrors of Christian patriarchy ... also, they didn't name me 'Atheist of the Year' for nothing."
For her part, Hurd said her words have been "twist[ed]."
She told the Daily Mail:
I did a really bad job in my frustration and Vickie did a great job of twisting it. Or maybe we just just have different views of the world. It was my understanding from the reports that the police were involved and all had received counseling.

I like to think the best of people, and if a 14-year-old has changed and is living a lawful life after a crime, he should be able to live his adult life in peace. I like to believe rehabilitation is possible.

If he hasn't, he should go to jail.
For the record, Hurd does have her own Facebook page, despite critics questioning whether she wasn't "allowed" to have one by her husband.
As stories about her comment started to sweep the Internet, Hurd posted, "I'm infamous!"
In a later comment, she told friends that the situation demonstrated, "Lessons on enemy warfare to be learned."
She added, "This is spiritual warfare."
—
Follow Zach Noble (@thezachnoble) on Twitter