Retired Navy SEAL Derrick Van Orden joined "Fox & Friends" on Tuesday morning for a segment aiming to teach men how to be "men." The SEAL had hosts Brian Kilmeade and Scott Brown take a so-called "manhood" test, which included simple tasks like tying a tie and changing a tire.
Kilmeade tied his necktie with relative ease, though he used his teeth to get the job done. However, when Kilmeade and Brown were asked to change a tire on a car, things went off the rails.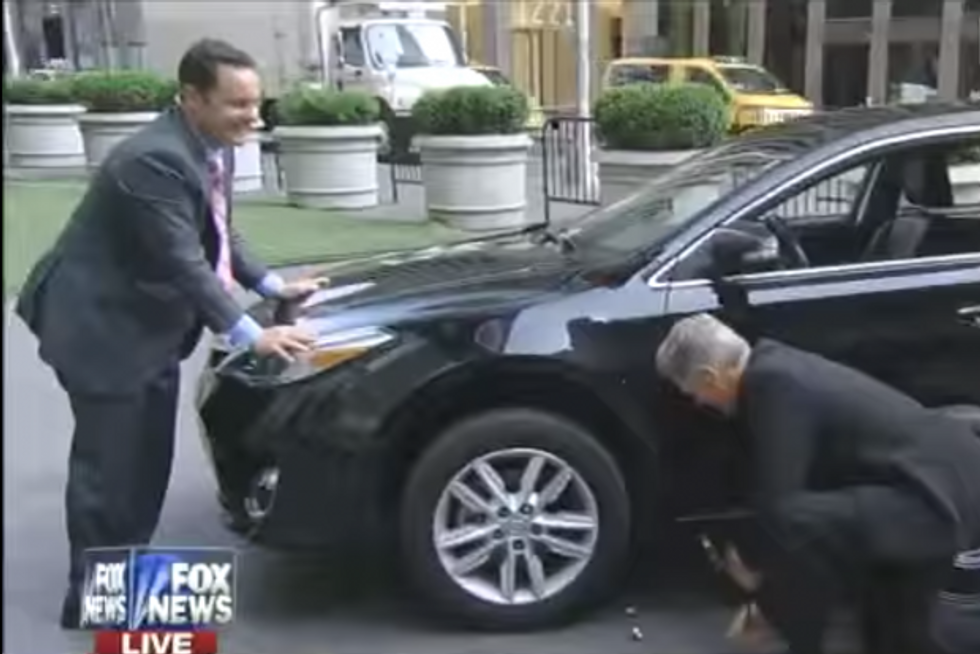 (Fox News)
Raw Story tracks the painfully and hilariously awkward confusion that unfolded:
"Whoa, watch it, Brian!" Brown exclaimed as the car began to roll forward, suggesting that the parking brake had not been engaged.

"Jack it up?" Kilmeade asked.

"No, it's jacked," Brown noted.

"Okay, so lug nuts are out," co-host Elisabeth Hasselbeck chimed in.

"Watch your feet, Elisabeth," Brown warned. "The jack is falling."

"The jack is falling?" Kilmeade said while attempt to push the car back onto the jack.

"The jack is falling," Brown repeated.

"We've got teamwork going on right now," Hasselbeck remarked.
At one point, the Navy SEAL joked to Brown that even his brother's daughter can change a tire.
After several painful minutes, Fox News finally gave up on the segment and sent the shot back to the news studio. The tire did not get changed. That's live TV for you.
Watch the video via "Fox & Friends" below:
Kilmeade later poked some fun at himself on Twitter:
Tried to change tire & failed but proud to have dirty hands to show 4 it @ehasselbeck@foxandfriends@SenScottBrownpic.twitter.com/KniTDGZEpu

— Brian Kilmeade (@kilmeade) May 26, 2015
---