A cyclist on a trail that followed along the Keegans Bayou in Texas came across an unsettling sight Tuesday morning. A casket had been lifted up from the ground and carried by the recent flood waters.
According to KHOU-TV, Houston police were called and guarded the casket that was about 100 yards from the cemetery, which has been in use since 1889. The news station reported that the medical examiner is required to identify the remains and notify family members before the casket can be buried again.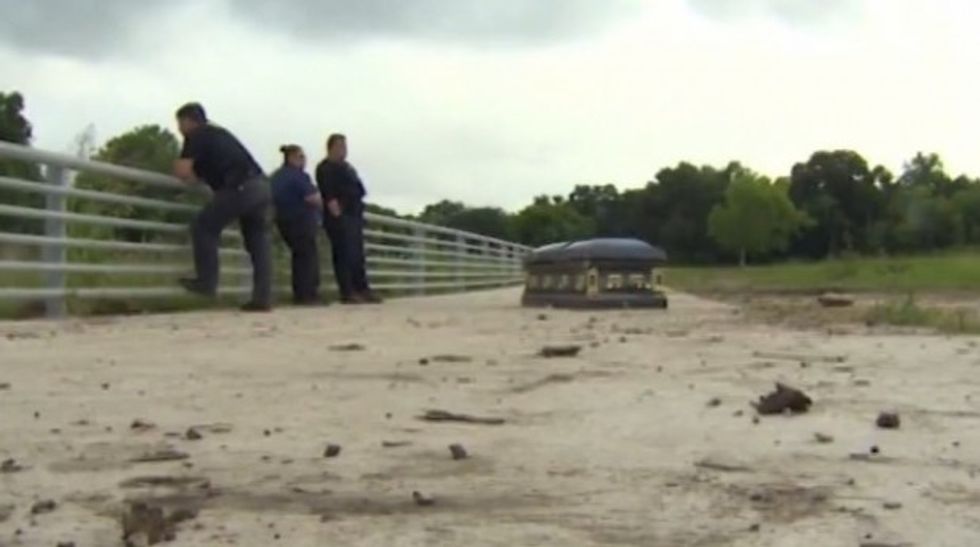 A coffin from a nearby cemetery was pushed up by flood waters and carried onto a bike path. (Image source: KHOU-TV)
"It's very important," Ernest Ferguson, who has family members buried in the African American cemetery on the site of the original Riceville Mt. Olive Baptist Church, told KHOU.
Ferguson and other people went to the cemetery to make sure other graves were not disturbed by the flooding that caused significant damage and death across the state over the holiday weekend. KHOU reported that the family of this person, who was buried in 2007, were notified of the incident.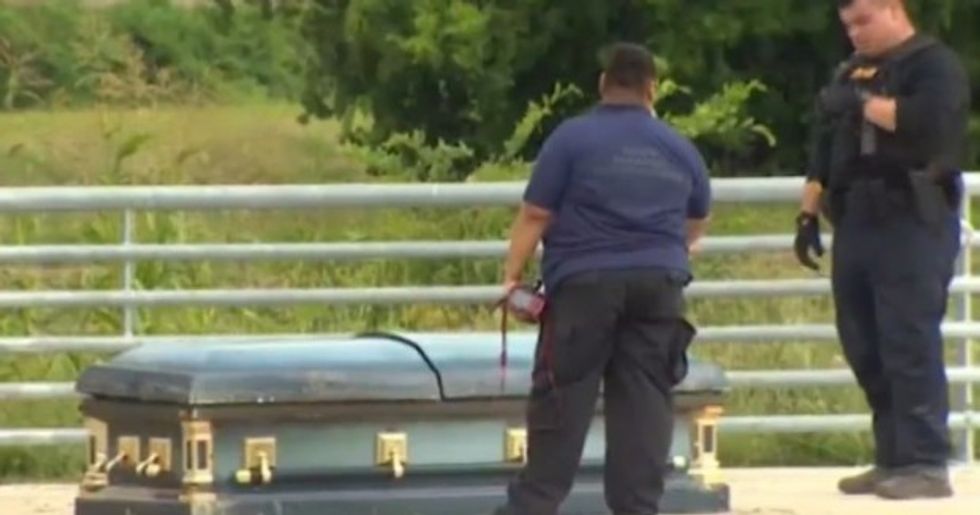 Police guarded the casket before it could be taken to the medical examiner for identification. (Image source: KHOU-TV)
Watch the report:
As for the recovery efforts elsewhere, a third body was pulled from the Blanco River, which crested three times above flood stage during relentless storms in Central Texas.
Hays County officials said 11 people remain missing in the area, which includes eight people who were in a vacation home that was swept away and slammed into a bridge downstream. Two 6-year-olds and a 4-year-old were among those inside, and they have been missing since early Sunday morning.
Authorities have identified those pulled from the Blanco River only as two men and one woman.
Authorities in the Austin area also said they've found the bodies of two more people after waters receded from flash flooding Saturday.
The finds bring the Texas death toll from the Memorial Day weekend storms to 13.
Authorities are also defended their warnings to residents ahead of the weather, which included alerts via phone and in person, but acknowledged challenges with reaching tourists and said a messaging system in Houston is still waiting for improvements.
"Nobody was saying, 'Get out; get out; get out,'" Brenda Morton of Wimberley said. "We're pretty trained, so we were calculating. We knew the flood plain. People who were visiting or had summer homes, you have company from out of town, you don't know. You don't know when that instant is."
Morton lives three houses down from the two-story vacation home that authorities say was swept off its 10-foot pylons by a wall of water early Sunday morning.
Authorities in surrounding Hays County said warnings included multiple cellphone alerts and calls to landlines. Some received in-person warnings to evacuate, but officials could not say whether those in the washed-away home talked to police.
"Law enforcement made notification along that street. Whether they made contact with somebody at their residence, I can't say," Hays County Emergency Management Coordinator Kharley Smith said.
—
The Associated Press contributed to this report.