A conservative website asked Ann Coulter about the recent incident in which an immigration activist asked her for a hug — and the outspoken New York Times bestselling did not pull any punches when responding.
"When I'm in charge of immigration (after our 10 year moratorium), I will not admit overweight girls," Coulter told Breitbart in an email, seemingly taking a shot at the activist's weight.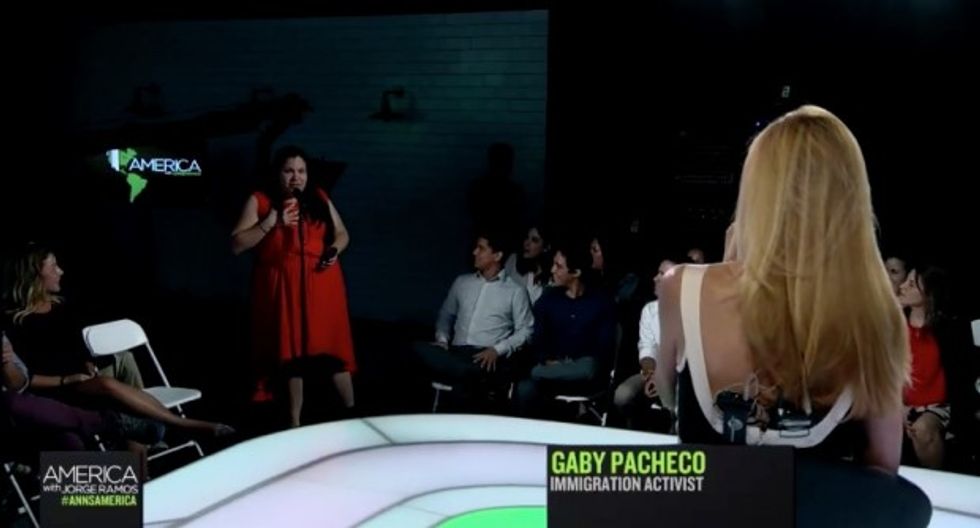 Image source: YouTube
Gaby Pacheco, who came to the U.S. illegally, was denied the hug by Coulter during a question and answer session Tuesday.
The video was widely circulated on the Internet, amassing more than 200,000 views.
"Can I give you a hug?" Pacheco has asked.
— Click here to watch video of the incident  —
"I wouldn't today. I'm recovering from the worst flu I've ever had," Coulter replied before letting out a few audible coughs.
"It's okay," Pacheco pressed. "This undocumented immigrant who has lived in this nation for almost 22 years, wants to as a sign of my humanity and yours, recognize you and say, 'Can I give you a hug?'"
Coulter passed.
"No, let's get on with the question," the conservative pundit said.
—
Follow Oliver Darcy (@oliverdarcy) on Twitter