A Florida police department is mourning the loss of two of its own — two canines that is — and an investigation into circumstances of how and why they died is still underway.
Two K-9 dogs with the Hialeah Police Department were found dead in the marked SUV of their handler in his Davie, Florida, driveway, according to WSVN-TV.
"We received a call of two dead K-9s. Upon responding to the scene, we made contact with a Hialeah Police officer," Davie Police Sgt. Pablo Castaneda told the news station.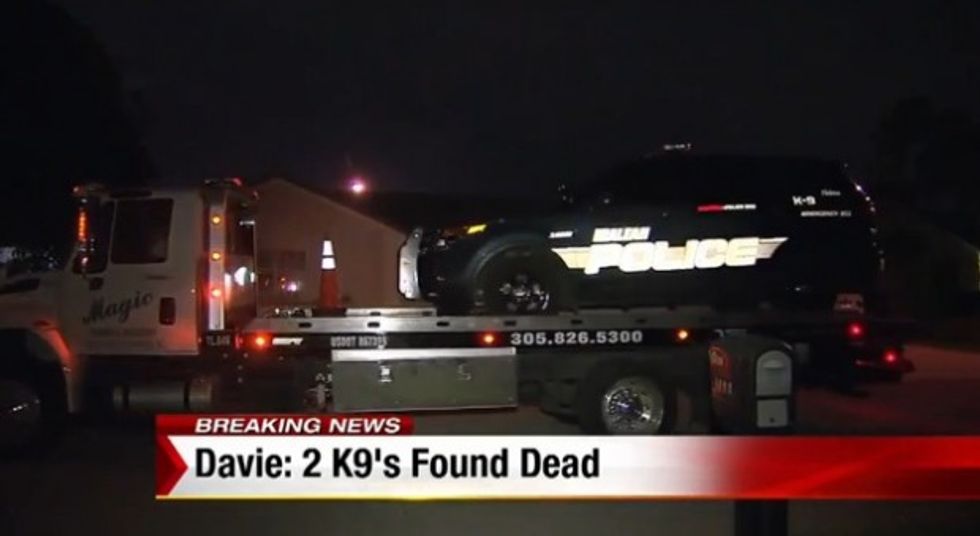 Two K-9s that were part of the Hialeah Police Department in Florida were found dead in their handler's SUV. Here investigators have the SUV towed away as evidence. (Image source: WPLG-TV)
K-9 Officer Nelson Enriquez has been with the Hialeah force for 13 years and has handled the K-9s for seven of them, WSVN reported. The dogs were "Jimmy," a 7-year-old bloodhound, and "Hector," a 4-year-old Belgian Malinois.
WSVN reported that the officer found the dogs dead in the SUV after he went outside in the evening, many hours after he had returned home after his shift around midnight.
Watch WSVN's report:
WSVN-TV - 7NEWS Miami Ft. Lauderdale News, Weather, Deco
Davie police are leading the investigation because Enriquez's home is located within their jurisdiction, but Hialeah police said it would also be conducting its own investigation. The Miami Herald reported that Enriquez is on leave during this time.
"The Hialeah Police Department is extremely saddened by this unfortunate occurrence and every effort will be made to determine the cause of this terrible tragedy, which claimed the lives of two very beloved members of our Hialeah police family," Carl Zogby with the Hialeah Police Department said, according to WPLG-TV. "This is still an open and active investigation and we must wait for the outcome from the Davie police and the Broward State Attorney's Office."
Watch the news station's report:
video platformvideo managementvideo solutionsvideo player
Neither police department released any speculation on the possible cause of death for the dogs, but WPLG's reporter alluded to the dogs spending all day in the hot car being the reason. Weather in Davie has been in the mid-80s this week.
A few years ago, a veterinarian showed what it was like to be in a hot car for hours: