"[T]omorrow, I will force the expiration of the NSA illegal spy program," Kentucky Sen. Rand Paul told Politico Saturday.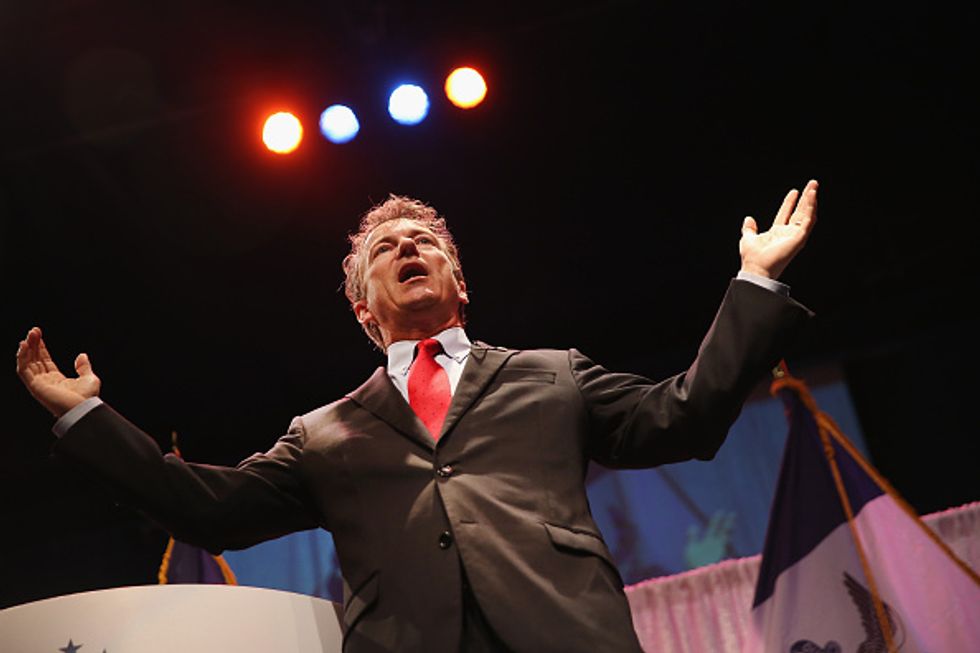 Senator Rand Paul (R-KY) speaks to guests gathered at the Point of Grace Church for the Iowa Faith and Freedom Coalition 2015 Spring Kickoff on April 25, 2015 in Waukee, Iowa. (Photo by Scott Olson/Getty Images)
It seems the long-running "Kentucky feud" between Paul and Senate Majority Leader Mitch McConnell over government surveillance will end with Paul the victor.
McConnell and others had been pushing the USA Freedom Act as a reform bill as the PATRIOT Act was set to expire, but Paul blocked that bill last week.
Politico noted that McConnell had planned to expedite debate on the USA Freedom Act in an unusual Sunday session, but with his statement Saturday Paul was using Senate rules to put the kibosh on the whole thing — and allow the PATRIOT Act to expire.
Paul affirmed his libertarian bona fides in the end of his statement on the issue, saying:
Sometimes when the problem is big enough, you just have to start over. The tax code and our regulatory burdens are two good examples.

Fighting against unconditional, illegal powers that take away our rights, taken by previous Congresses and administrations is just as important.

I do not do this to obstruct. I do it to build something better, more effective, more lasting, and more cognizant of who we are as Americans.
President Barack Obama has expressed concerns about terror attacks taking place because the PATRIOT Act was allowed to expire.
—
Follow Zach Noble (@thezachnoble) on Twitter