UPDATE: U.S. Secretary of State John Kerry has broken his leg in bike crash near Geneva and has called off the rest of a four-nation trip.
Kerry now plans to return to the United States on Sunday after X-rays at a Swiss hospital confirmed that he fractured his right femur.
He will receive further treatment in Boston.
State Department spokesman John Kirby says Kerry will be treated by the same doctor who performed a prior hip surgery.
Kirby says Kerry is stable, never lost consciousness and that his injury is not life-threatening.
He says Kerry should make a full recovery and is in good spirits.
Ending the trip means Kerry is skipping meetings with Spanish leaders and a conference in Paris on fighting the Islamic State group.
—
GENEVA (TheBlaze/AP) — Secretary of State John Kerry was helicoptered to a Swiss hospital Sunday after a bike crash outside of Geneva, where he had been holding nuclear talks with Iran's foreign minister.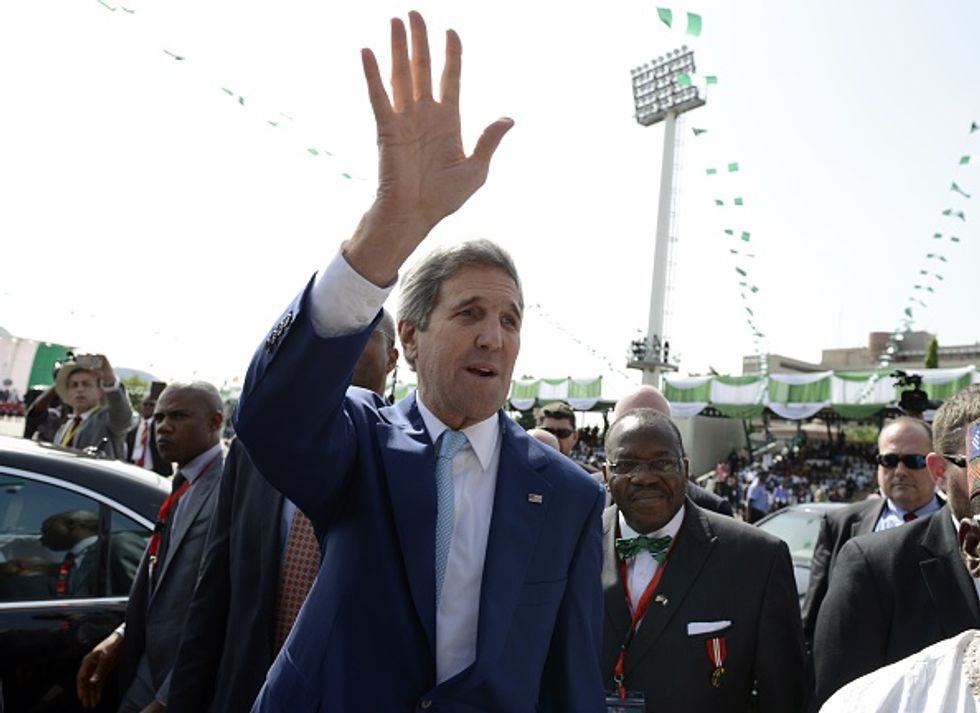 US Secretary of State John Kerry waves on his arrival to attend the inauguration of Nigeria's new President at the Eagles Square in Abuja, on May 29, 2015, two days before a bike crash in Switzerland left him in the hospital. (Pius Utomi Ekpei/AFP/Getty Images)
Kerry suffered a likely leg injury, but did not lose consciousness, State Department spokesman John Kirby said. The top American diplomat was in stable condition, Kirby said.
Kerry suffered the accident near Scionzier, France, about 40 kilometers southeast of the Swiss border. Paramedics and a physician were on the scene with his motorcade at the time.
Kerry was transported to Geneva's main hospital HUG, where he was being evaluated, Kirby said. A paramedic traveling with his motorcade immediately examined the secretary after his bike apparently hit a curb, causing the fall, Kirby said. X-rays were being taken of Kerry's right leg.
Kerry had been in Switzerland as part of the ongoing Iran talks.
Back in #Geneva as part of ongoing #IranTalks negotiations. Another chance to speak directly w FM @JZarif. pic.twitter.com/Ati4PkL1VS

— John Kerry (@JohnKerry) May 30, 2015
It was unclear how long Kerry was expected to stay in hospital or if he could call off the remainder of his four-nation trip.
Kerry had planned to travel later Sunday to Madrid for meetings with Spain's king and prime minister, before spending two days in Paris for an international conference on combating the Islamic State group.
Kerry's cycling rides have become a theme of his diplomatic journeys. He often takes his bike with him on the plane.
During discussions in late March and early April between world powers and Iran, he took several bike trips during breaks in the negotiations. Those talks were held in Lausanne, Switzerland, and led to a framework agreement.
Kerry met Iranian Foreign Minister Mohammad Javad Zarif for six hours in a Geneva hotel Saturday as the sides now work to seal a comprehensive accord by June 30.
—