Hillary Clinton's call for national automatic voter registration, if enacted, could create messy consequences for ballot integrity, according to some election law experts.
"Automatic registration, I'm afraid, would result in increasing the number of ineligible registrations as well as duplicate registrations," Hans Von Spakovsky, a former member of the Federal Elections Commission and now a senior legal fellow at the Heritage Foundation, told TheBlaze.
"Many people are on government databases in more than one state," he said. "We already have a problem in the current system with people being registered to vote in more than one state."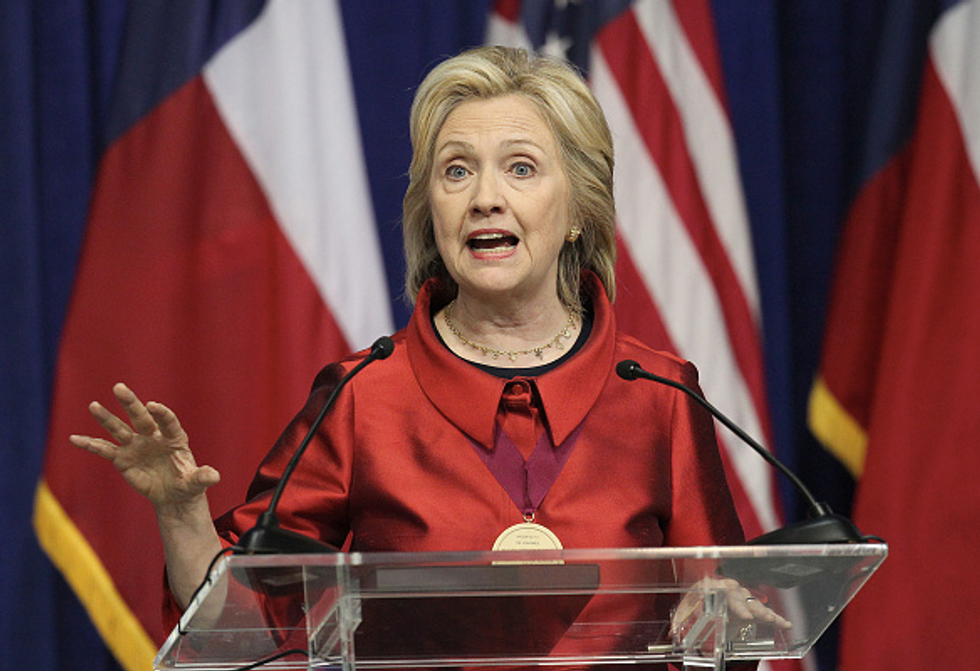 Democratic Presidential candidate Hillary Clinton Hillary Rodham Clinton speaks at the Inaugural Barbara Jordan Gold Medallion at Texas Southern University on June 4, 2015 in Houston, Texas. Clinton received the Barbara Jordan Public-Private Leadership Award at Texas Southern University and in her remarks, urged swift action to restore the Voting Rights Act and replace the provisions struck down by the Supreme Court. She also spoke about the destructive impact of restrictive laws in states like Texas, Wisconsin, North Carolina, and Ohio that make it harder for voters to access the voting booth and cast their ballots. (Photo by Thomas Shea/Getty Images)
During a speech Thursday in Houston, Clinton called for "universal automatic voter registration" and declared that "every citizen in every state in the union should be automatically registered to vote when they turn 18 – unless they choose to opt out."
In May, Oregon became the only state to enact automatic voter registration, placing every adult with a driver's license on a list to get a ballot in the mail several weeks before Election Day. The new law is expected to add another 300,000 registered voters, The Atlantic reported. Oregon was the first state to move to all mail-in balloting in 1998.
"In light of legislative efforts around the country to make voting more difficult, we are pleased that Oregon's leadership to ensure voting access for all eligible voters is receiving national attention as a model for other states and the nation," Oregon Secretary of State Jeanne P. Atkins told TheBlaze in a statement.
During her speech, Clinton criticized voter ID laws and claimed concerns about voter fraud was "fear mongering."
But such a law could pose challenges for frontline election workers.
"How would it be automatic? Just show up to vote with a driver's license or proof you are 18?" Susan Gill, a board of directors member of the National Association of Election Officials, asked.
The NAEO represents state and local election officials involved in voter registration and election supervision. "What's the mechanism to make it workable?" she also wondered.
Gill, also the supervisor of elections of Citrus County, Florida, asked how Oregon will handle eligible voters without driver's licenses. Contrary to making voting more difficult, Gill contended that basic voter integrity laws ensure that votes count.
[sharequote align="center"]"The right to vote is so sacred we need reasonable safeguards against fraud."[/sharequote]
"The right to vote is so sacred we need reasonable safeguards against fraud. Verification and ID are important parts of keeping the vote safe," Gill told TheBlaze. "But it is not like the 1960s or earlier. Because of computers we are now far less likely to have large-scale voter fraud. We are most likely to see it today in absentee voting."
Clinton's proposal is also similar to a measure enacted in Canada, which adopted an automatic voter registration law in 1997 — but without the desired effect.
A higher percentage of Canadians vote than Americans, but the nation to the north has still seen a steady decline in voter participation since the 1970s that continued after the 1997 law, Von Spakovsky said.
He along with journalist John Fund coauthored the 2012 book, "Who's Counting? How Fraudsters and Bureaucrats Put Your Vote at Risk."
"Low turnout has nothing to do with voter registration rules. It is easy to register to vote," Von Spakovsky noted. "Canada went to automatic voting in 1997 and it hasn't done a thing to increase turnout."