UPDATE 1:15 p.m. ET: The NAACP said in a statement it's standing behind Rachel Dolezal, president of its Spokane, Washington, chapter, after her parents outed her as white.
Original story below
The parents of a Washington state NAACP chapter president say their daughter is white.
Ruthanne and Larry Dolezal told KREM-TV that their daughter Rachel Dolezal, president of the NAACP chapter in Spokane, has always identified with black culture, but is not actually black.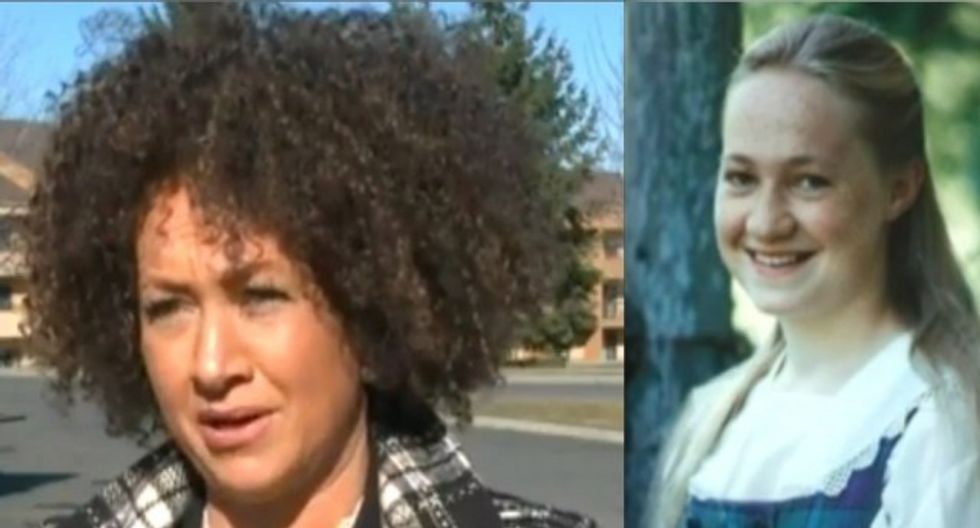 At left, Rachel Dolezal seen in a screenshot from a KREM-TV news video. At right, a photo of Dolezal provided to the station as part of its report. (Images via KREM-TV)
"Rachel has wanted to be somebody she's not," Ruthanne Dolezal told KREM. "She's chosen not to just be herself but to represent herself as an African-American woman or a biracial person. And that's simply not true."
Her parents said Rachel Dolezal has primarily German and Czech heritage.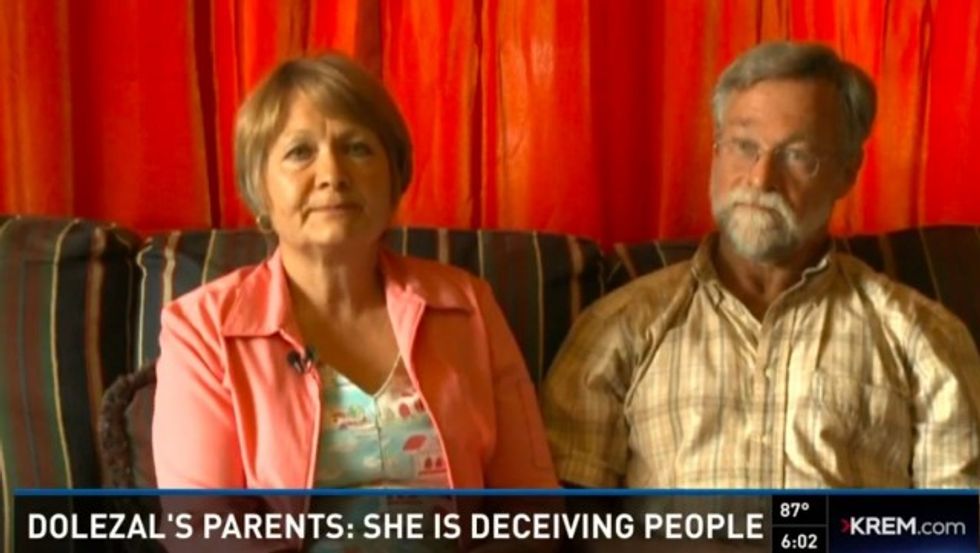 Ruthanne and Larry Dolezal (Image source: KREM-TV)
She has adopted black siblings, went to school in Mississippi and was part of a predominantly black community, her parents said. She married and in 2004 divorced a black man — and that's when her parents say her self-identification shifted.
The Dolezals told KREM that their daughter began saying she was partially black and the daughter of biracial parents. Her physical appearance began changing as well, her parents said, but they don't know what she did to make that happen.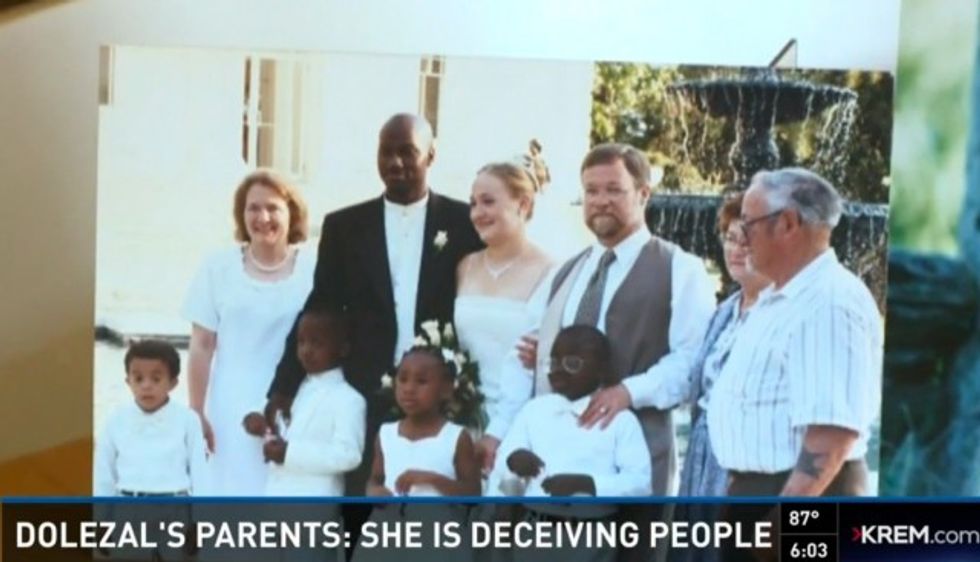 Image source: KREM-TV
And what would Rachel Dolezal say to her parents about their insistence that she's white?
"I don't give two [expletive deleted] what you guys think," she told KREM. "You're so far done and out of my life."
Dolezal and her parents said they don't speak to each other; Rachel Dolezal told the station it's over a legal issue and that she doesn't view them as her real parents. "I call them Larry and Ruthanne," she told KREM.
Dolezal — who taught Africana studies at Eastern Washington University last fall — said she's more interested in discussing her ethnicity with blacks than with whites.
"It's more important to me to clarify that to the black community, and with my executive board, than it really is for me to explain it to a community that I quite frankly don't think understands the definitions of race and ethnicity," she said.
Does she consider herself a black woman?
"If I was asked," Dolezal responded, "I would definitely say that, 'Yes, I do consider myself to be black.'"
In the meantime, an investigation has been underway over how hate mail was placed into the PO box for the NAACP's Spokane chapter in March, the station reported. Dolezal claimed she found an envelope containing photos of lynchings and references to local cases concerning race.
But a police investigation found that the envelope didn't have a date stamp or barcode — something that postal officials insisted would never happen, apart from the very slight chance that the envelope got stuck to another one and bypassed the scanner and stamp.
The only other possibility? The envelope was placed in the box by someone with a key or by a postal employee. Police have ruled out USPS workers as suspects, KREM reported.
Dolezal told the station she doesn't believe anyone in the NAACP could be responsible; rather, she told police, local right-wing groups are typically responsible for these incidents.
In May, she gave police what she said was another racially charged letter, KREM reported.
The station has covered previous hate-crime claims from Dolezal.
During her time as director of the Human Rights Education Institute in Kootenai County, Idaho, police twice investigated hate crimes targeting Dolezal, but no one was ever found or arrested.
She told KREM she resigned from her director's position in 2010 because of racial discrimination.
"A lot goes through my head in terms of being a mother and community member, just assessing and reassessing what kind of stand I'm taking and why, and reevaluating what that means in terms of counting the cost," Dolezal said at the time.
Here's Dolezal's emotional interview regarding the dispute over her race and other issues, including claims that the person she calls her son is actually her brother:
This story has been updated.
—
Follow Dave Urbanski (@DaveVUrbanski) on Twitter