Saudi Arabia on Monday achieved the dubious feat of executing its 100th prisoner of the year.
According to Agence France-Presse, which has been keeping a tally of the executions, the kingdom is far outpacing its rate for 2014, which saw 87 executions for the entire year.
If the current pace continues, Saudi Arabia could be on its way to breaking its current capital punishment record set in 1995, when 192 people were executed.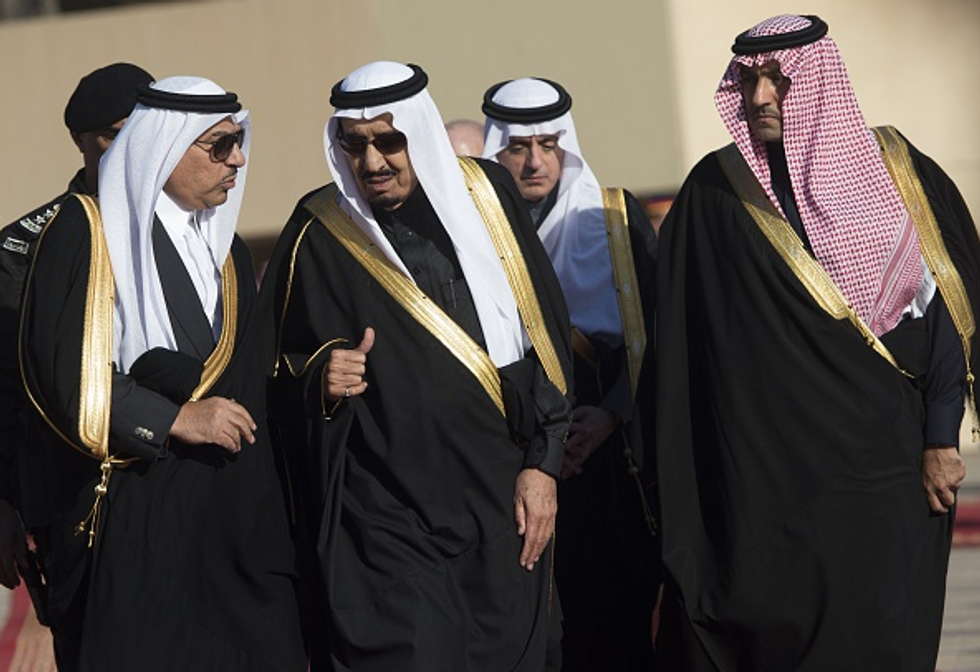 King Salman bin Abdul-Aziz Al Saud Salman, center, speaks with Crown Prince Mohammed bin Nayef, left, as they walk to greet President Barack Obama and first lady Michelle Obama at King Khalid International Airport in Riyadh, Jan. 27, 2015. (SAUL LOEB/AFP/Getty Images)
Two men were beheaded Monday: a Syrian drug trafficker and a Saudi convicted of murder, according to Saudi Press Agency reports cited by AFP.
Human Rights Watch noted that 47 of those executed this year were punished for nonviolent drug offenses.
Rights groups have long condemned Saudi Arabia for its policy of executing nonviolent criminals.
"Saudi authorities have been on a campaign of death this year, executing more people in six months than all of the previous year," Sarah Leah Whitson, Middle East and North Africa director for Human Rights Watch said in a statement. "It's bad enough that Saudi Arabia executes so many people, but to execute people convicted in nonviolent drug offenses shows just how wanton these executions are."
Under Shariah law, which guides the Saudi legal system, capital punishment can be applied to crimes ranging from murder, rape and armed robbery to nonviolent offenses including drug trafficking, sorcery and apostasy.
As one of the world leaders in punishment by death, Saudi Arabia trails only Iran in the Middle East for the number of people it executes each year, Human Rights Watch reported.
Iran has reportedly executed more than 340 prisoners so far in 2015, the rights group said.