It's only been four days since nine people were gunned down during a bible study in Charleston, S.C., but Sunday morning, despite the heartbreak and heat, Emanuel AME Church's doors opened and pews overflowed with churchgoers proclaiming a message of hope and thanks in the Holy City.
Sunday's service, the first since the shooting occurred, was as diverse as ever in the pews -- young and old, activists and politicians, black and white. The juxtaposition of women in hats waving fans and law enforcement officials standing sentry perfectly embodied the contrast of the message of praise from the congregation Sunday morning to the shooter's act of hate four days prior.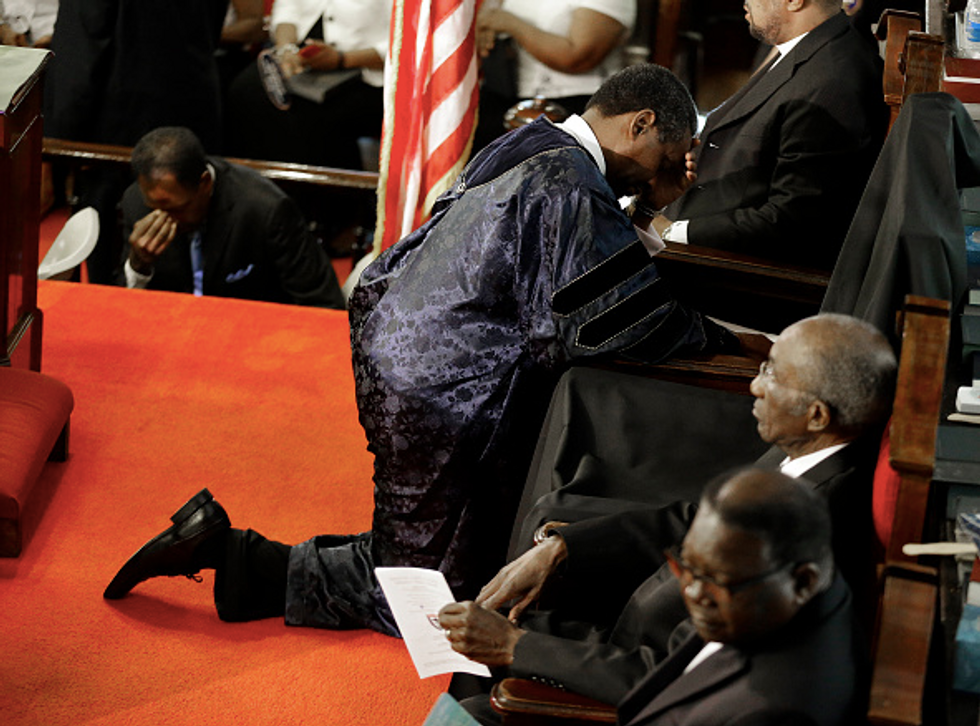 CHARLESTON, SC - JUNE 21: The Rev. Norvel Goff, right, prays at the empty seat of the Rev. Clementa Pinckney at the Emanuel A.M.E. Church four days after a mass shooting that claimed the lives of Pinckney and eight others at the historic Emanuel African Methodist Church June 21, 2015 in Charleston, South Carolina. Church elders decided to hold the regularly scheduled Sunday school and worship service as they continue to grieve the shooting death of nine of its members including its pastor earlier this week. (Getty Images/David Goldman-Pool)
"We have shown the world how we as a group of people can come together and pray," Rev. Norvel Goff said Sunday morning. Goff, a presiding elder of the 7th District AME Church in South Carolina, stepped up to fill in as pastor of Emanuel temporarily in the place of senior pastor Rev. Clementa Pinckney who was among those killed Wednesday.
"A lot of folk expected us to do something strange and break out in a riot. Well, they just don't know us," Goff said to the congregation. "They just don't know us because we are a people of faith, and we believe that when we put our forces and our  heads together, working for a common good, there is nothing we cannot accomplish together in the name of Jesus."
"So let's don't get it twisted. We're going to pursue justice, and we're going to be vigilant, and we are going to hold our elected officials and others accountable to do the right thing," he continued. "The blood of the Mother Emanuel nine requires us to work not only for justice in this case, but for those who are still living in the margin of life, those who are less fortunate than ourselves."
The pastor said the fact that doors of the church opened Sunday morning sends a "message to the demons in Hell."
Goff addressed those who were surprised by the families' compassion and forgiveness of the shooter and said that on "this Father's Day, you ought to  know the nine families' daddy."
Goff opened his sermon by thanking South Carolina's Gov. Nikki Haley (R), Charleston Mayor Joseph P. Riley, Jr. (D), and law enforcement officials. Those in the congregation cheered when he thanked Haley for her efforts to ensure that the young man accused of shooting the nine church members was captured and brought back to the Palmetto State.
"There's a time and place for everything, and now is the time for us to focus on the nine families," he said.
The reverend encouraged the congregation to run to God in times of trouble instead of hiding. Prior to the sermon, Goff read the names of the nine African-American church members who were murdered -- Pinckney, 41; Tywanza Sanders, 26; Susie Jackson, 87; Ethel Lance, 70; Myra Thompson, 57; Rev. Daniel Simmons, 74; Rev. DePayne Middleton Doctor, 49; Sharonda Singleton, 45; and Cynthia Hurd, 54.
"Many of our hearts are broken, many of us are still shedding tears," Goff said Sunday morning. "But I know a man who can answer all of our questions but you and I must bring our burdens to the Lord and leave them there."
The heat was oppressive in the historical church and members of the Red Cross handed out water bottles throughout the service. But outside, where temperatures hovered around 90 degrees, thousands of people gathered to join Emanuel AME in worship.   
Sunday's service concluded with the congregation holding hands and proclaiming "it's going to be alright."
Church singing "total praise" to begin the service. #StandWithCharleston @WBTV_News pic.twitter.com/g56RyyhrbI

— Sarah-Blake Morgan (@SarahBlakeWBTV) June 21, 2015
Attendees are many and diverse, so much so that in one pew you have conservative @RickSantorum and activist @deray. pic.twitter.com/u7P3fkgryt

— Trymaine Lee (@trymainelee) June 21, 2015
CPD bomb squad on standby as services, vigils held in wake of #CharelstonShooting pic.twitter.com/KvbhiF1zr9

— Glenn Smith (@glennsmith5) June 21, 2015
Overflow crowd outside Emanuel AME Church, listening to the music coming from inside. #CharlestonShooting pic.twitter.com/UIt2JcIyD1

— Colin Daileda (@ColinDaileda) June 21, 2015
Placing a rose for each of the 9 dead. @NBCDFW #AllenChapel #charlestonshooting pic.twitter.com/LpWkQY8od1

— Brian Scott (@BrianScottNBC5) June 21, 2015
Charleston Mayor Joe Riley and N Chas Mayor Keith Summey are sitting next to each other in front row of church #chsnews #CharlestonShooting

— Melissa Boughton (@mboughtonPC) June 21, 2015