Prominent South Carolina Democrats are speaking out against the Democratic Congressional Campaign Committee for fundraising off the Confederate flag issue that has engulfed the country less than a week after nine parishioners were shot dead in a church.
A DCCC email sent shortly after 3 p.m. Tuesday asked people to vote on whether or not the Confederate flag should be removed from the South Carolina Capitol grounds, a divisive issue that was reignited in the Palmetto State after authorities say Dylann Roof, 21, attempted to start a race war by gunning down nine members of Emanuel African Methodist Episcopal Church in Charleston.
Once recipients of the email submit their vote on the flag, they are taken to a donation page where they're asked to make a recurring monthly donation or a one-time $3 donation in order to receive a free "Yes, I Voted Obama" sticker in the mail.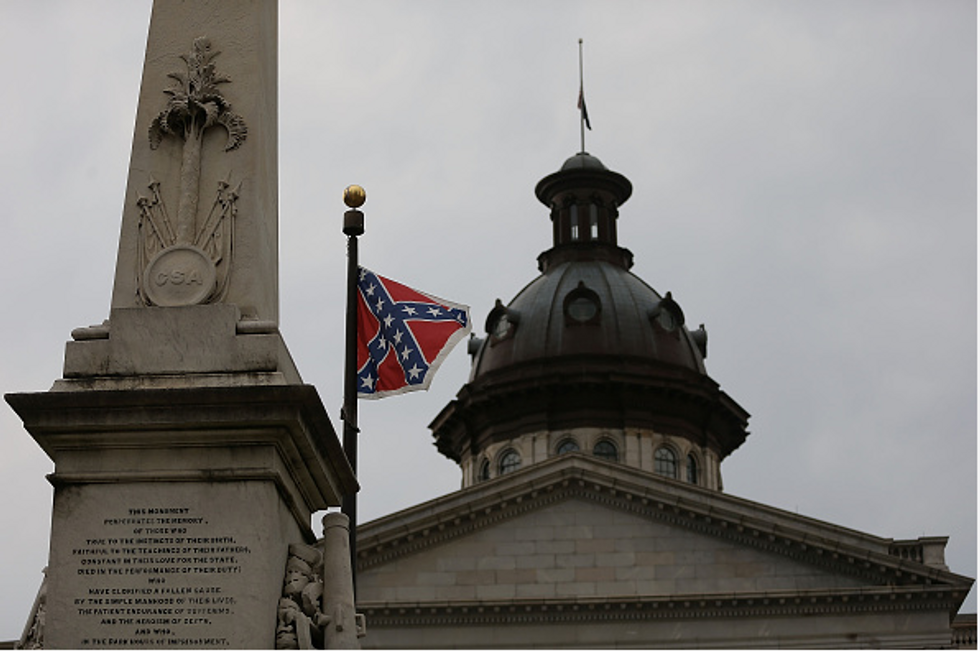 The Confederate flag flies on the South Carolina Capitol grounds after Gov. Nikki Haley announced her call for it to be removed, June 22, 2015 in Columbia, S.C. (Getty Images/Joe Raedle)
Another email, sent after 7 p.m. Tuesday, again asked recipients to vote on the flag issue and attempted to take credit for Gov. Nikki Haley's (R-S.C.) call for the flag's removal.
FIRST: President Obama, Hillary Clinton and leaders nationwide demanded South Carolina take down the Confederate flag.

THEN: 41,338 Democrats signed our grassroots petition to DEMAND South Carolina take down the Confederate flag.

NOW: The South Carolina Governor has responded to our demands. She just called on South Carolina legislators to act!
"I have a great deal of respect for the DCCC, but this is just an inappropriate time to be raising money off of this," Bakari Sellers, an influential South Carolina Democrat and former state House member, told TheBlaze. "We haven't even had our first funeral."
Sellers, who does support the removal of the Confederate flag, is an attorney who was first elected to the state House at age 22.
In an email to TheBlaze, Antjuan Seawright, political advisor to the South Carolina Senate Democrats, said he has also asked for the DCCC to cease the emails. Seawright said Senator Clementa Pinckney, who died in the shooting, was a friend.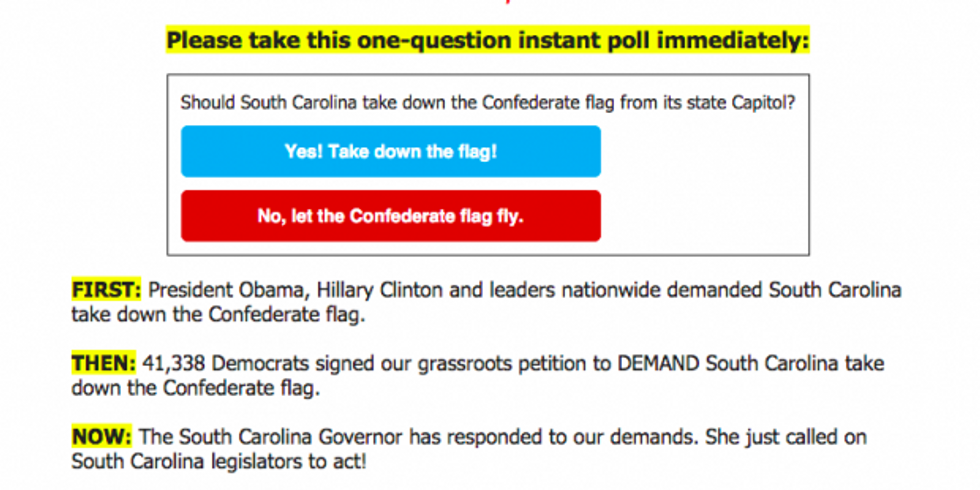 One of the emails sent by the Democratic Congressional Campaign Committee using the Confederate flag issue in South Carolina to solicit donations.
State Democrats responded to the email blasts on social media as well. Jamie Harrison, chair of the South Carolina Democrats, said in a tweet that he has asked for the DCCC to stop the fundraising campaign.
@wesleydonehue @TylerMJones @AlpertLoveday @Bakari_Sellers @antjuansea I have asked the DCCC to stop that email campaign

— Jaime Harrison (@Harrison4SC) June 23, 2015
Not quiet. Already had convos asking for it to stop, bro. https://t.co/DqInlrvGkQ

— Bakari Sellers (@Bakari_Sellers) June 23, 2015
Tyler Jones, political director and spokesman for the South Carolina House Democrats, also spoke out about the DCCC's email.
@wesleydonehue @AlpertLoveday @Bakari_Sellers @antjuansea I don't like it.

— Tyler Jones (@TylerMJones) June 23, 2015
Despite the DCCC's claim in the email blast, Hillary Clinton has remained relatively mum on the Confederate flag issue this go around — she spoke out against the flag in 2007 during her first bid for president — except for a single tweet after Haley's Monday afternoon press conference.
.@nikkihaley is right 2 call for removal of a symbol of hate in SC. As I've said for years, taking down Confederate flag is long overdue. –H

— Hillary Clinton (@HillaryClinton) June 22, 2015
In fact, while addressing the Charleston tragedy in San Francisco on Sunday, the 2016 presidential hopeful spoke of the country's purported problem with gun violence and racism — but made no mention of the flag.
Clinton's campaign also remained silent Monday after images of Clinton-Gore 1992 campaign paraphernalia featuring the Confederate flag cropped up on social media.
The DCCC did not immediately respond to a request for comment from TheBlaze.
RT and SIGN if you think South Carolina should take down the confederate flag http://t.co/KJ721V94ed pic.twitter.com/RIlqDgNVyw

— DCCC (@dccc) June 22, 2015
This story has been updated to include political advisor Antjuan Seawright's call for the DCCC to cease the fundraising campaign.