When a CNN crew showed up at a Confederate-themed store in Summerville, South Carolina, they were immediately confronted by a visibly frustrated worker who refused to let them film in the store.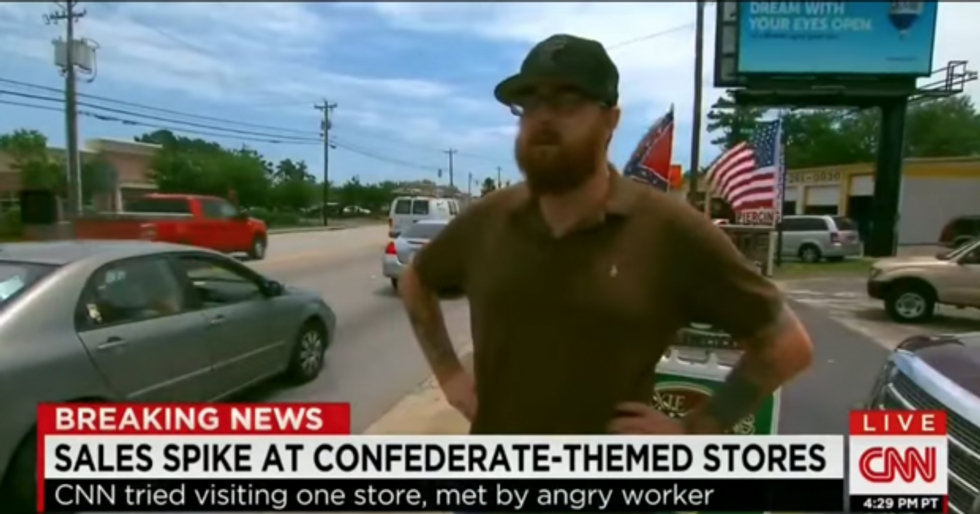 (CNN)
"Are we on your f***ing agenda today? Get the f*** out of Summerville!" the man, who refused to identify himself.
He went on to accuse the national news network of "stirring s**t up."
"People coming together in peace, why don't you f***ing worry about that? This isn't f***ing peaceful," he said. "You guys are here stirring s**t up."
Watch the video via CNN below:
There have been calls from the left and right to remove the Confederate flag from the Statehouse in South Carolina after the racially motivated massacre in Charleston left nine dead last week. The state Legislature is expected to take up the issue soon.
A major U.S. flag maker also recently announced it will no longer manufacture Confederate flags, following in the footsteps of companies like Walmart, Sears, eBay and Amazon, which announced they will stop selling Confederate-themed merchandise.
(H/T: Mediaite)
---