A New York City sanitation worker's courageous act is being hailed as an act of heroism.
Curtis Jackson, a retired Marine, told the New York Times that he and his partner were on their way to start clearing trashcans in Midtown Manhattan around 6 a.m. Tuesday morning.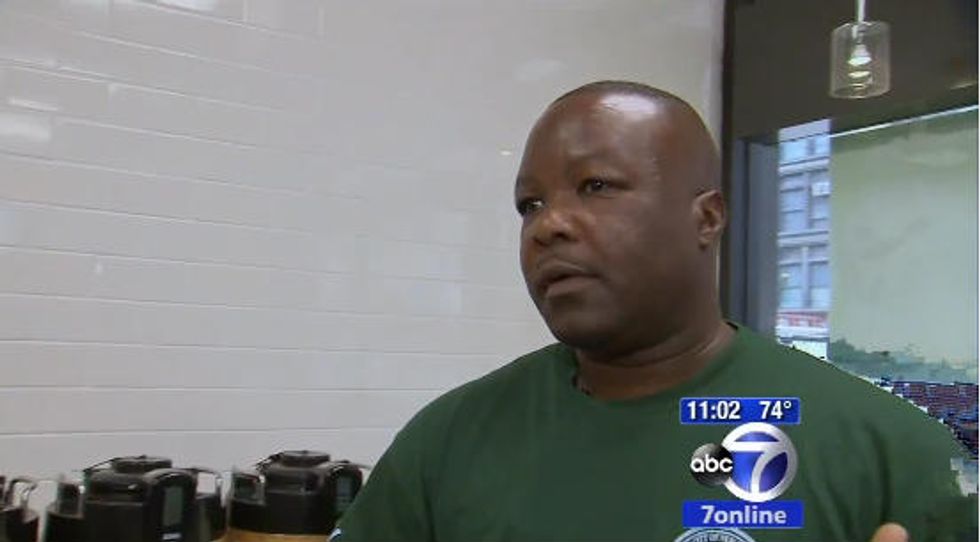 Former Marine and New York City sanitation worker Curtis Jackson (Image source: WABC-TV)
Along the way, the two made what was supposed to be a brief pitstop at a 7-Eleven. When the sign for the bathroom said "employees only," Jackson made his way over to the cashier to ask for the key.
That's when he noticed a man at the counter who looked suspicious.
"I noticed a gentleman with his hand. At first, I didn't know what it was. I saw him just like this pointing what appeared to be a weapon at the cashier," Jackson told WABC-TV.
That's when the ex-military man crept down one of the aisles behind the man, grabbed his arm and pinned him to the floor.
"My main concern was to try to get the weapon away from that cashier and not point it to my partner," Jackson told the Times. "I didn't even think about it. I just did it."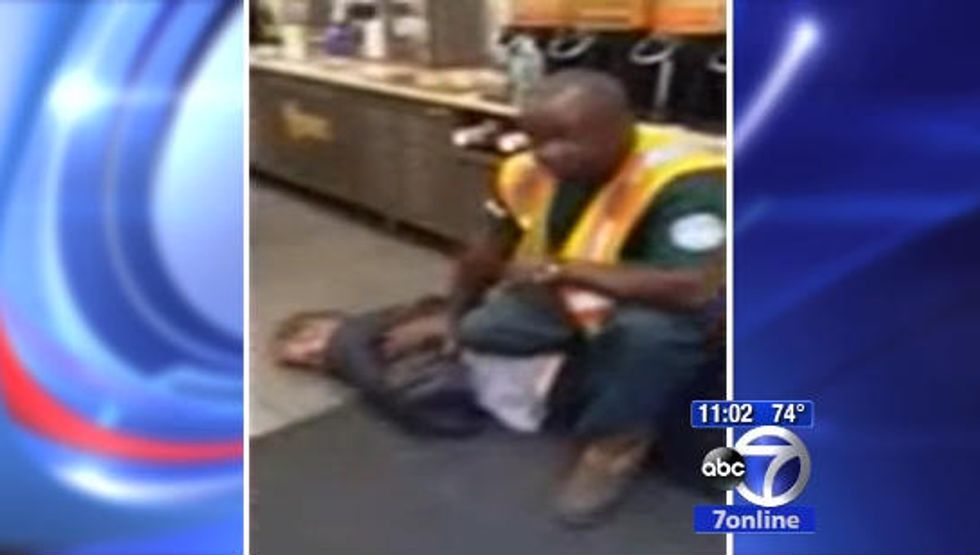 Image source: WABC-TV
While Jackson kept the suspect pinned, his sanitation partner Keiron Phillips called police, who arrived just minutes later.
Nicholas Micena, 47, was arrested and booked on charges of third-degree robbery, criminal possession of a hypodermic instrument and criminal possession of a weapon. Officers later discovered that the "weapon" Micena was carrying was only a marker. Micena is homeless and has a lengthy criminal record, according to police.
Jackson has been hailed a hero for playing a part in what he perceived as a potentially deadly situation. He said he has been inundated with calls from officials wanting to commend him and reporters seeking interviews.
Despite all the attention, however, Jackson said he just wanted to stop what was going on without anyone getting shot.
"All I wanted to do was to use the bathroom. And then all of this happened. But that's just taking out the garbage," Jackson said.
See the courageous move, caught on surveillance video:
Jackson joined the city's sanitation department in July 2014 after working 15 years as an emergency medical technician for the fire department. He served as a Marine from 1995 to 2003, retiring as a corporal.
–
Follow Jon Street (@JonStreet) on Twitter